Published on Monterey Car Week (FFR Mk4 Cobra)
1,500 Mile Factory Five Racing Mk4 427SC Cobra Roadster
By D. Brian Smith
Photography: D. Brian Smith
This Factory Five Racing Mk4 Cobra Roadster replica was built by the last editor of KIT CAR magazine and was the subject of a CarTech Books Technical, SA Design Series how-to build book with the title How To Build Cobra Kit Cars + Buying Used. From April 2010 through April 2012, the car was built over a two year period in conjunction with the book being photographed and written. The book was subsequently published in July of 2012 in time for the 50th birthday of the original 260, 289 and 427 Ford Shelby Cobras that first graced racetracks and boulevards the world over starting in 1962. The 1,000 or so variants of the Ford Cobra culminated in 1967, so it's more likely that when you see a Shelby Cobra prowling the streets, it's likely to be a replica.
MCW Details
Lot #427
Location: Oceanside, CA 92058
Chassis: California SB100 Smog Exempt 2012 FFR Cobra
1,500 Miles Shown
427ci V8 with Aluminum Dart Manufacturing Block & Cylinder Heads
Tremec T56 Magnum 6-Speed Manual Transmission
One Owner
Titanium, Blood Red, Caspian Blue over Black Leather and Black Wool
Ford 8.8-inch IRS
Four-Wheel Disc Brakes
Side Exhaust
Replica of Knock-off Wheels with 5-bolt Ford Lug Pattern
Receipts from Build and CarTech Books Build Book
Private Party or Dealer: Private Party
Category: American
CONTACT SELLER
This particular Cobra replica is finished in the owner/author's interpretation of Ford Caspian Blue (a Ford Cobra and Ford Mustang hue for 1965) with Titanium Le Mans stripes and Blood Red team racing stripes on the driver's side fender. Leather bucket racing seats, Simpson Racing 5-point safety harnesses, black wool carpet, Smiths gauges and a LeCarra wood rimmed steering wheel equip the cockpit of this replica 427SC, just as it used to in the original 427SC Cobras built by Carroll Shelby's crew at Shelby American in Venice, California.
The FFR MK4 has a QMP Racing Engines' built Dart Manufacturing aluminum 427 cubic inch stroker mill with Dart Pro CNC aluminum cylinder heads. According to QMP Racing's dynamometer, it produces abundant horsepower and torque. To be specific, the engine was run in on QMP Racing's engine dyno and achieved 516-horsepower and 592 ft-lbs. of torque at the flywheel. The engine's mated to a  Tremec T56 Magnum 6-speed manual transmission. This is a welcome departure from the original Cobras, since most were equipped with Ford Top-Loader 4-speed manual transmissions and a few had Ford C4 or C6 automatics. None of these venerable gearboxes had overdrive gears. The Tremec T56 gearbox has overdrive in 5th and 6th gears, which should make it a much more amenable cruiser on the highways and freeways. A couple of other changes make this sports car a more modern and reliable performing machine. The engine has a Holley Avenger throttle body electronic fuel-injection system in addition to a MSD electronic ignition system.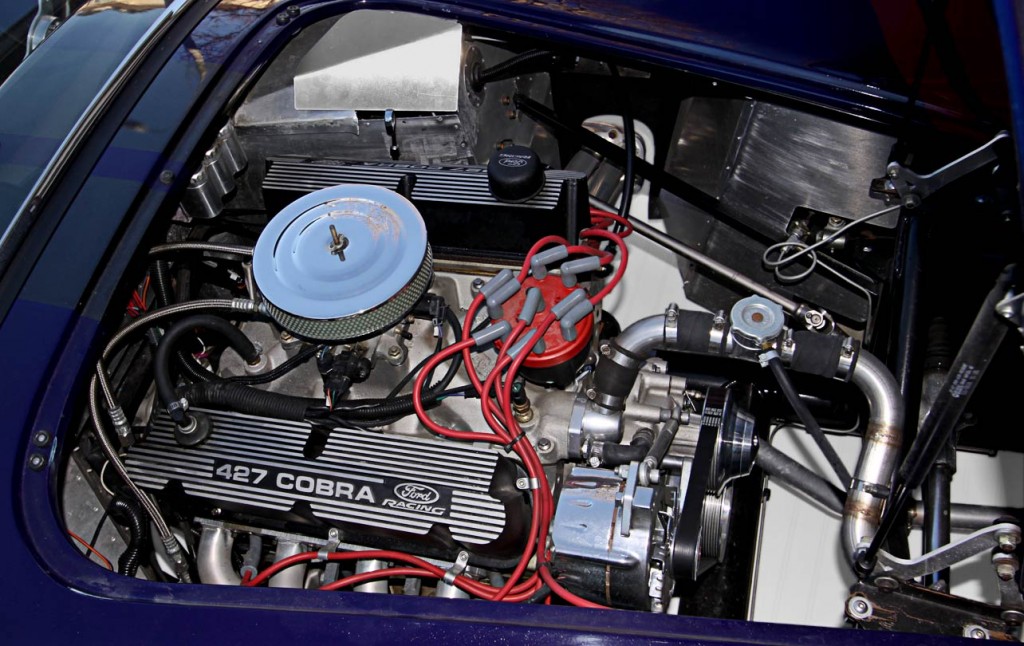 The owner reports that the Factory Five Racing Complete Kit was originally supplied with a Willwood Engineering cable clutch quadrant component that was recalled. Factory Five Racing sent a new and improved Willwood clutch quadrant with instructions for installing the new quadrant. The owner installed the new quadrant and reports that the clutch arm and clutch now engage and disengage properly and with no issues.
Like the original 427SC Shelby Cobras, the FFR Mk4 roadster chassis is of round tube, space frame construction, with aluminum riveted panels forming the trunk, cockpit and engine firewall portions of the chassis and body structure. A modern manual rack and pinion steering system is installed. There's also a chrome driver's side rollbar that bolts directly to the chassis. Unlike the original Cobras, thicker wall round frame tubes eliminate any potential for chassis flex, as was prevalent on the genuine Shelby/Ford Cobras. Other features true to the original Cobras include independent rear suspension and independent front suspension, four-wheel disc brakes and 12-volt battery placement in the trunk to help achieve the near perfect Cobra's 50/50 front to rear weight distribution for optimal handling while racing or driving to the grocery store.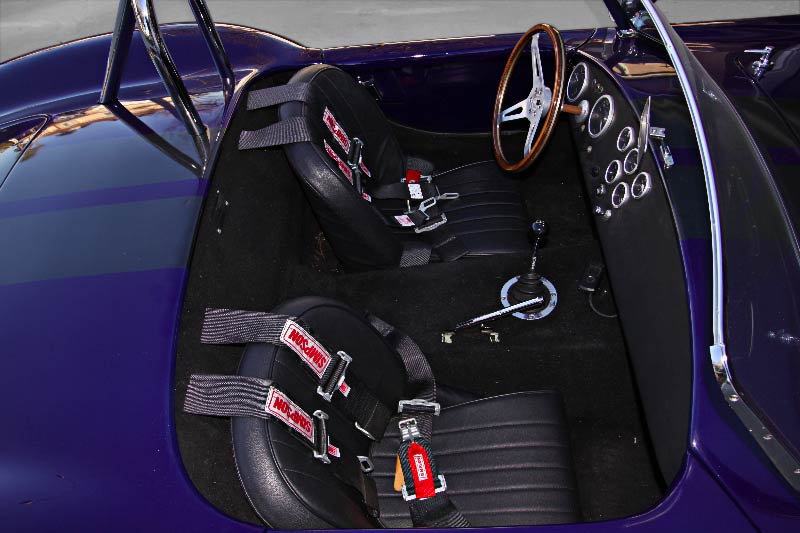 The sale includes all of the build receipts, which total more than $65,000 in parts, labor and materials and the CarTech technical, how-to build book. This is a well documented Factory Five Racing Mk4 Cobra roadster replica.
BID ON THIS VEHICLE
Current Bid USD $69,750
Time Left 5 days, 12 hours, 16 minutes, 33 seconds *
Ends On Friday, January 5 at 11:20am remind me
Bids 9
Place Bid REGISTER TO BID
How bidding works | Watch auction 7,293 views | 983 watchers