By D. Brian Smith
Photography: D. Brian Smith, Kevin D. Smith, Mark Williamson & Auto Union & Wanderer Archives
In the summer of 1974, my life took a U-turn. While other teenaged males practiced driving to the basket like Dr. J, or throwing a bomb for six like Johnny Unitas, I scoured the want ads for a dream.
Wanderer W25K Roadster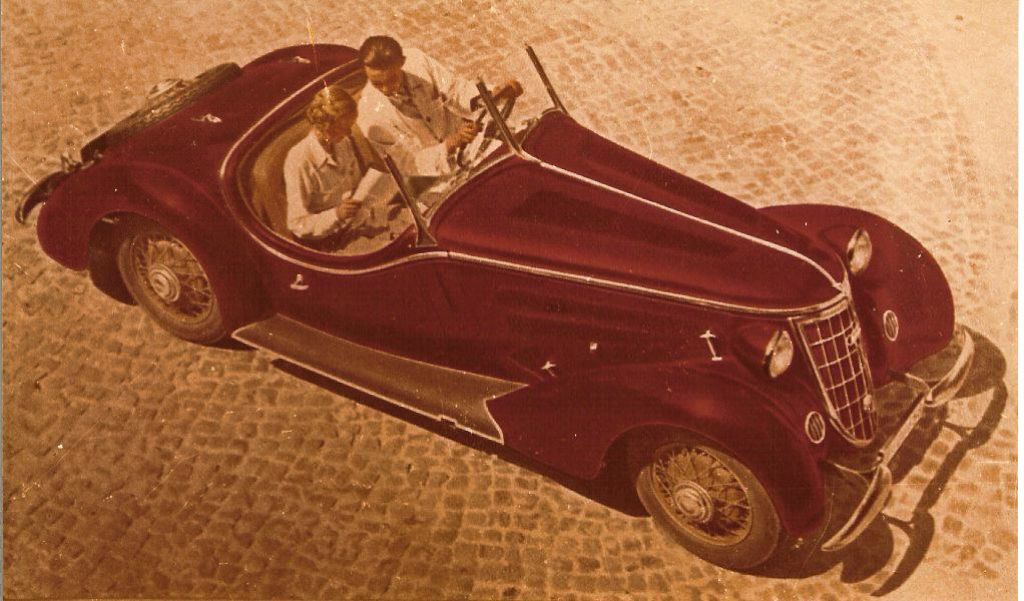 With the other men in my family, I shared a vision to acquire a 1932-36 open Ford V-8. Every Saturday and Sunday I was the first to pore over the "Antiques and Classics" section of The Los Angeles Times in search of our ideal auto. I got up before anyone-I wanted to be the one who found our antique car, circling the autos within our price range and interest, numbering the ones I wanted to call. Dad barred me from phoning before 8 a.m. on weekends, but I was too fired up to find our dream machine to always remember that little rule. There was always the chance someone else would find the car before me. Knowing that drove me to keep phoning, to keep searching.
Every weekend I made several calls, the primary objective finding an old Ford. I responded to many ads-for Jaguar XK120 and 140 roadsters, Austin Healey 100-4s, 6s and 3000s, 1955-57 Chevrolet Bel Air V8 convertibles, 1965-70 Shelbys, and even Cobra 260s, 289s and 427s. Alas, even then the Cobras were well out of our modest price range
And then the ad appeared, one fateful Saturday: "1936 German Wanderer W35K [sic] roadster, looks like Jaguar XK120, (213) XXX-XXXX, best offer."
I checked with Dad, one of the biggest car nuts on the planet, to see if he had ever heard of a Wanderer. To my surprise, he shook his head no. "Why don't you call," he said. "Let's find out what this thing is."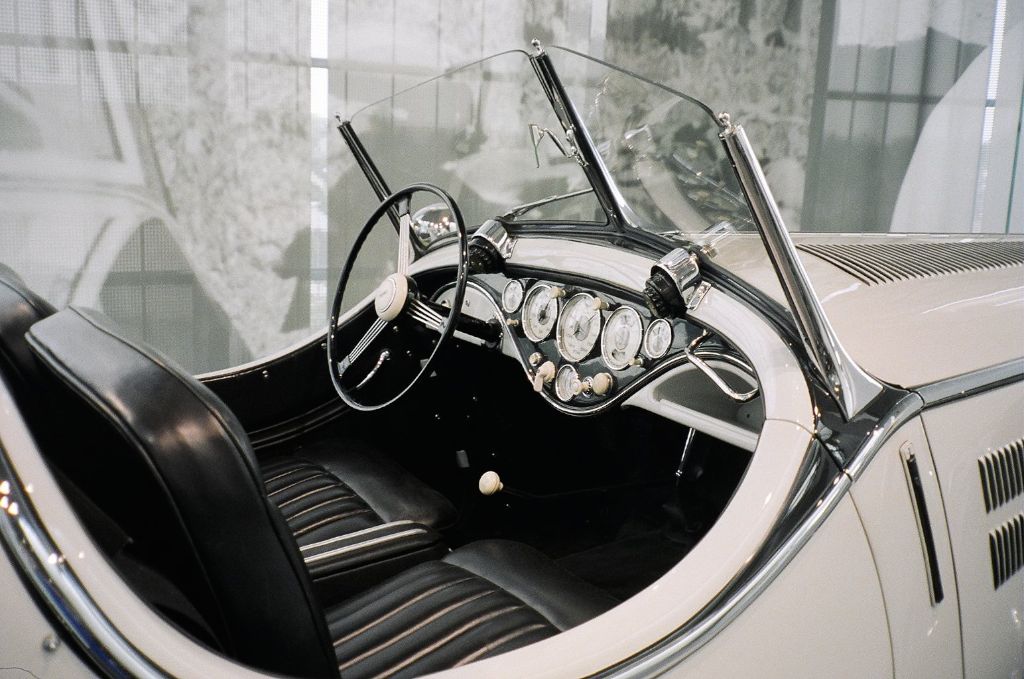 With the enthusiasm of three gearheads on the scent of a rare find, Dad, brother Kevin and I made the drive to San Pedro in record time. We found out that the Wanderer was not at the seller's house, and so the four of us piled in Dad's car and drove to the Wanderer's residence, a weed-infested and gated vacant lot.
Resting atop a thoroughly rusted-out hulk of a trailer sat the automobile of our unimagined dreams, a Wanderer W25K roadster. Upon first glance, its rakish stance looked like a Jag 120 with cut-down roadster doors. This was definitely not typical of 1930's vintage American automobiles. On closer inspection, the grille looked very similar to that of a '36 Ford. One could envision some hot-rodder taking a '36 Ford roadster and radically channeling it on its frame. It seemed that the rodder then sought to elongate the hood and pounded out different sized cooling louvers on the sides and top of this magnificent piece of engine shrouding.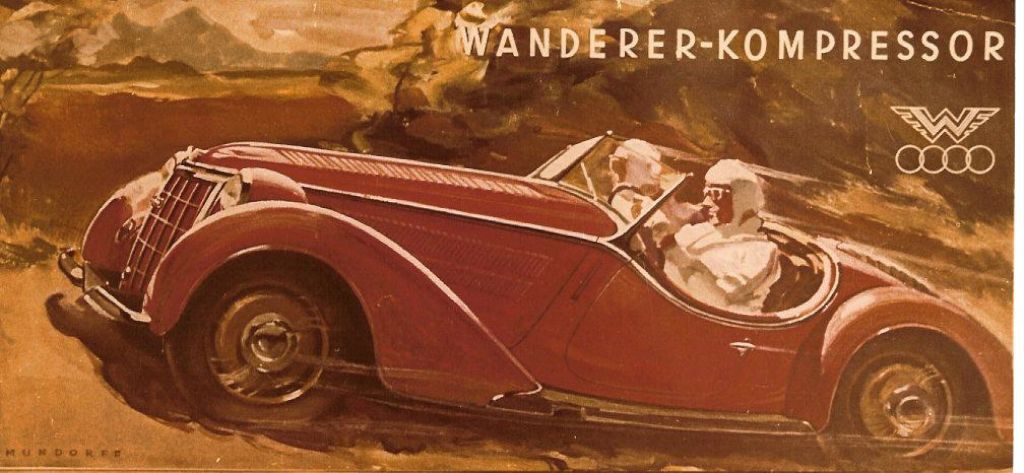 It was a bizarre, unique experience. The Wanderer looked familiar to us, but different, like a red tiger.
Climbing aboard the trailer for a closer look, we did what any self-respecting car nuts would do-we opened the driver's side of the bonnet. No, there wasn't a flathead V8 or small-block Chevy. An aluminum-block straight six lurked within the confines of this strange, tired-looking and yet beautiful piece of history. Two sidedraft SU carbs were bolted up to a pretty ugly hunk of intake manifold. Hoses and wires sort of stuck out every which way, some connected, most not. Reminiscent of a Mercedes SSK roadster from the late '20s, opening up the other side of the hood revealed some purpose-built-looking headers.
The interior consisted of a huge, cracked steering wheel poking out of a racy-looking, fully sports-car-appointed dashboard. The instrument panel had all the necessary gauges-tachometer, kph, fuel level, oil and water temperature. There were several odd-sized holes as well. It would take a fair bit of research and considerable luck, we knew, to find out what had filled those weirdly sized openings.
The windshield was a V-shaped, two-piece affair, similar to an Auburn Speedster's. A concave spare-tire opening adorned the tapered trunklid. This baby could not have been born from the hands of a hot-rodder, could it?
We were certain of one thing-we had to have this car. Many might consider this vehicle to be a rusting relic, but to our lustful eyes it appeared to be beyond cool. It seemed to cry out for us to buy it and rescue it from the current owner, who did not have any interest in bringing it back to life.
We huddled to talk buying strategy. Dad offered the seller cash. The seller countered. Dad held firm and kept using the word cash. Sold! Dad has always been one to haggle. Since the seller wanted to get rid of the W25K, the Smith men scored a strong vintage-car buy, especially considering how rare this Wanderer was-although we did not know it at the time. It was the smartest automotive purchase we've ever made, though Mom and Sister have since argued that point with unending passion.
Wanderer as a company was founded in the late 19th century in Germany. It initially made sewing machines, bicycles and sporty motorcycles, its first automobile appearing in 1913. In ensuing years, the Wanderer gained popularity among Germany's and Europe's middle classes.
In 1932, four German automobile companies-Audi, DKW, Horch and Wanderer-merged to form the Auto Union. The four interlocking rings that grace every Audi grille today signify those four Auto Union marques. DKW was manufactured and priced to appeal to the working class. Audi and Horch were designed and built with luxury and performance in mind, targeting the upper class. Wanderer was founded at the end of the 19th Century. Initially, the firm manufactured bicycles, sewing machines and motorcycles. Later, Wanderer produced its first automobile, called the Puppchen (or Little Doll in English). With the success of the Little Doll, Wanderer began to produce a full line of automobiles and continued manufacturing sewing machines, bicycles and innovative, fast motorcycles.
Before Dr. Ferdinand Porsche founded the fine sports and racecar company that bears his name, he was a consultant to several German car companies in the 1930s and consulted with Wanderer on the design and manufacture of the Wanderer W25K's supercharged engine. The 2-liter Wanderer W25K aluminum block engine with Roots supercharger and updraft Solex double-barrel carburetor was Dr. Porsche's first engineering and design project after he graduated from engineering school
The Wanderer remains a labor of love to Dad, brother Kevin and me. Over 20 years have passed since our grand purchase, and "she" is 70-percent restored. We have learned that restoring a vintage automobile requires a great deal of time, money, patience and persistence. Some of the tasks we thought were completed, like the bodywork, had to be redone. The fact the three of us no longer live in the same area, and we've struggled to find the cash to fund the project, which has also slowed our progress.
From researching our car's history, we have learned that approximately 100 Wanderer W25K roadsters were built over a four-year period, 1936-39. Some of the roadsters built in 1939 were not supercharged. Fortunately, since ours is a 1936, the kompressor was a standard component.
Finding parts for such a rare antique is almost impossible. We have carved pieces out of wood and had them cast in brass or aluminum. The supercharger was found in a vintage sports-car restoration shop and parts supply company in Luxembourg. The adventure of discovering this rare auto and slowly bringing her back to life has brought Dad, Kevin and me closer together. It has also taught us to seek perfection in renovating this mysterious relic from a bygone era. Though we may not have yet achieved German craftsman status in this adventure, we are well beyond the apprentice level of competency in our journey.
The president of the Auto Union Vintage Automobile Club in Germany, Gerd Westermann, is now a good friend of ours. As he is also a W25K owner, he has been an invaluable source for information and parts. Several years ago, Dad and I visited Gerd and his family in Munich. We toured the Bavarian countryside in his 1937 Wanderer W24 sedan, visiting barns that stored his extensive Auto Union collection of vintage cars and Porsche farm tractors. This was a dream holiday for any antique car nut.
Our Wanderer W25K roadster will be finished within the next few years – or sooner if one of us wins the lottery. When she is completed, we intend to show her and drive her as she was meant to be driven, with gusto. Many enthusiast cars have come and gone in our collective lives, a '64 Sunbeam Tiger, two '55 Chevy Bel Air convertibles, a '57 MGA, two '68 Mustang convertibles, a '65 Mustang 2+2 and a '32 Ford 3-window coupe stuffed with a hopped-up '37 flathead V-8.
Don't expect our W25K to ever appear in any classifieds. She is now a Smith, and one day she will live and breathe and run with the best vintage sports cars ever built, at the very front of the pack. With the screams emanating from her Roots-type kompressor and bellowing through her massive headers, our Wanderer will echo all the toil the Smith Men have undertaken to renew her and enable her to be driven in successive Smith generations.