By: D. Brian Smith
Photography: StreetSide Classics of Nashville, TN & Bob Wingate of Southern California
Have you ever owned a car that was a true "chick magnet?" That term is not politically correct, but it most accurately describes my first car, a '55 Chevrolet Bel Air convertible. Whenever I drove it, girls would follow me around and honk their horns at me. Some would pull alongside my cool ride and want to race. If you saw this machine at the time, you might be surprised that I got such a reaction from so many women. Let's just say this Tri-Five was far removed from concours condition.
That car just had an essence, or aura, about it. It is almost as if it had the same sort of charisma that certain people have -- call it automotive sex appeal.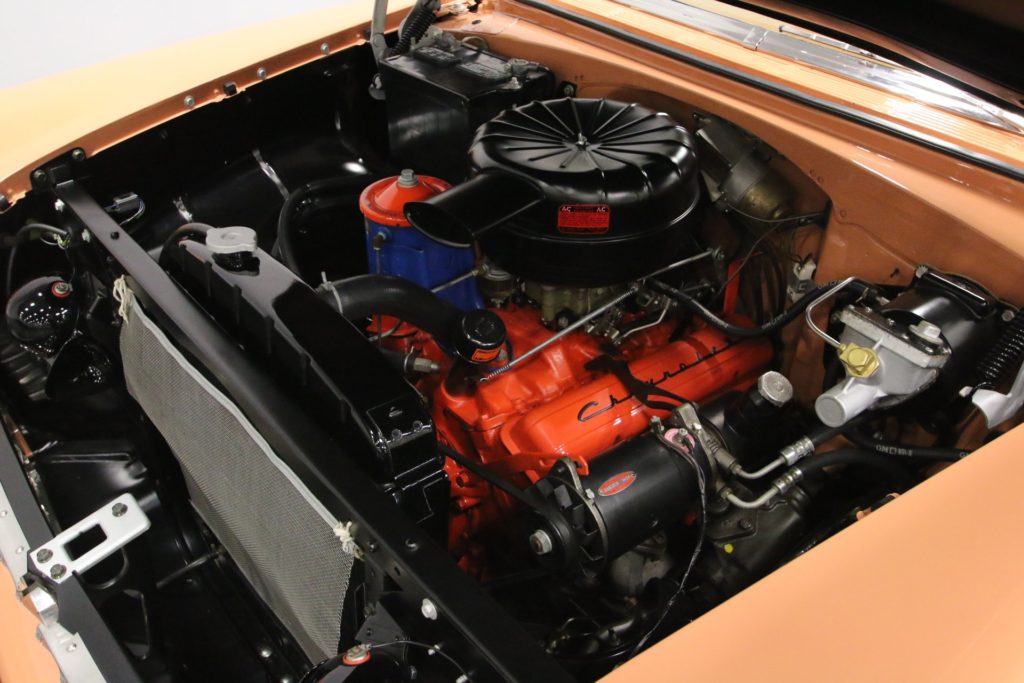 I purchased good old HEF863 from the original owners, a senior citizen couple in Belmont Shores, an affluent suburb of Long Beach, California. In the spring of 1975, the Bel Air had just turned over to 93,000 original miles. Brand new she sported a salmon-and-ivory exterior with a salmon-and-coral interior. By the time I purchased her, she was wearing a smattering of hues -- primer gray, hand-painted bottom-of-the-pool green, a couple spots of ivory, and some vestiges of salmon on the dashboard of the interior.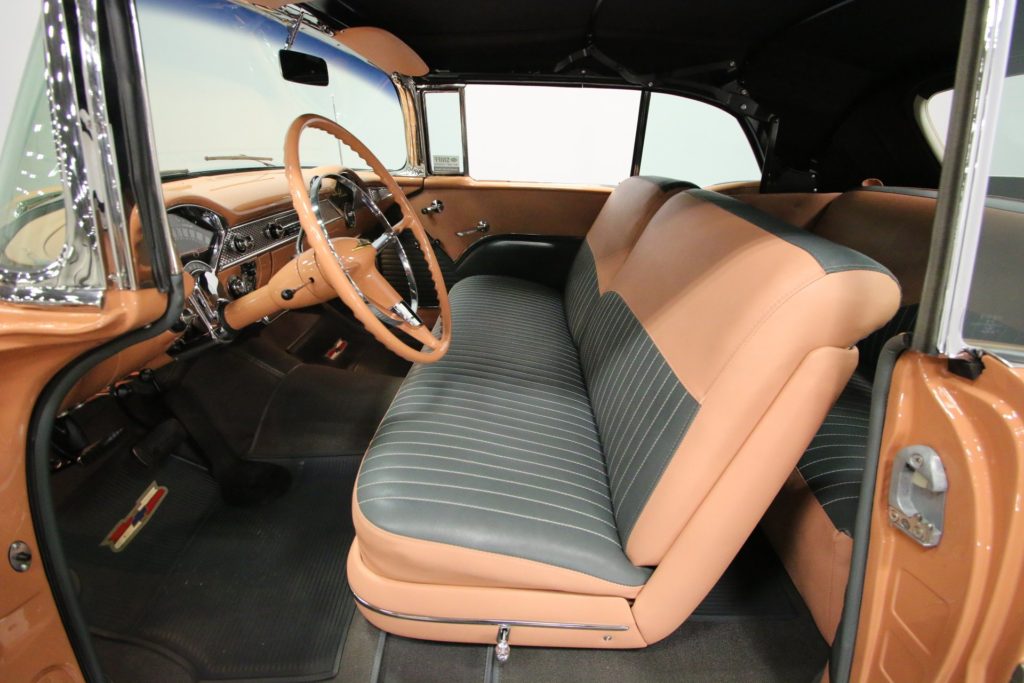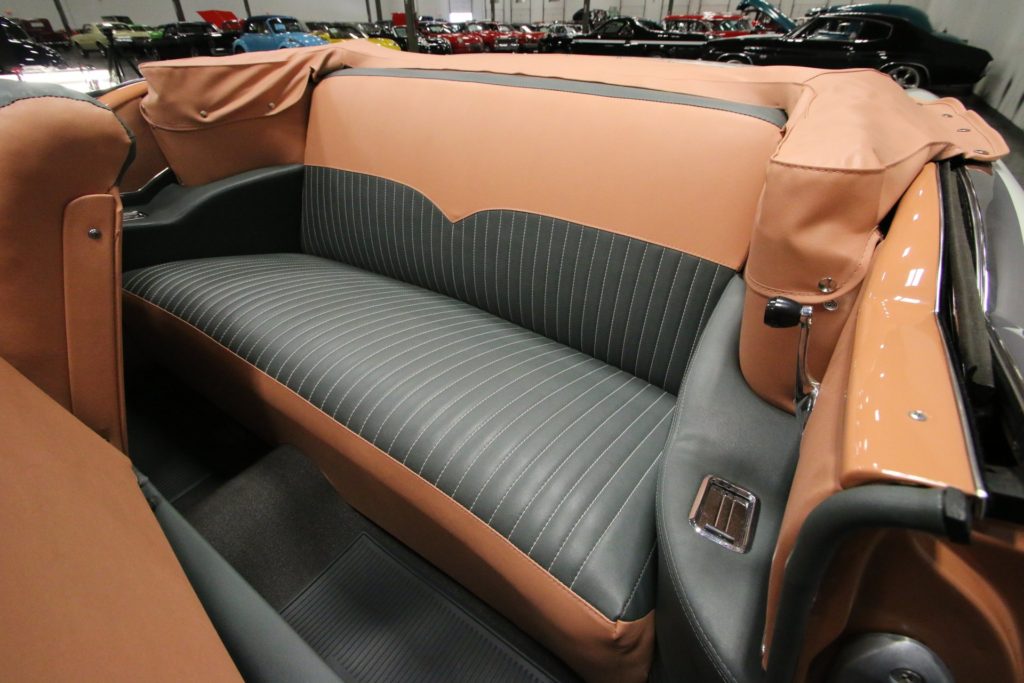 Rust was evident throughout the floorboards. Driving without wearing sunglasses was a huge mistake, especially with the top down; I didn't need flakes of rust blowing into my face and eyes. The emergency brake did not function, so I had to park on flat ground. I'd jump out of the car swiftly with a block of wood, so as to chock off a tire to keep her from rolling away from me.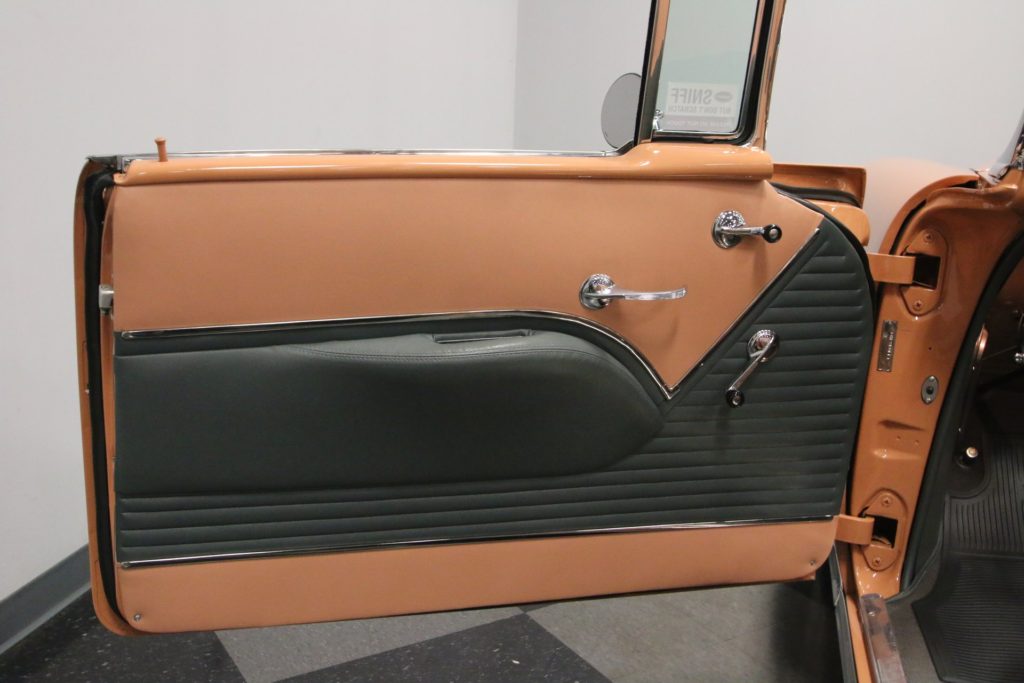 The rips in the seats were held together with an abundance of duct tape. J.C. Whitney terry cloth front seat covers hid all this amateur patchwork. The steering wheel was a massive circle of salmon, seemingly as large as an 18-wheeler's. No sound emanated from the speaker, since the pushbutton Wonderbar AM radio was broken.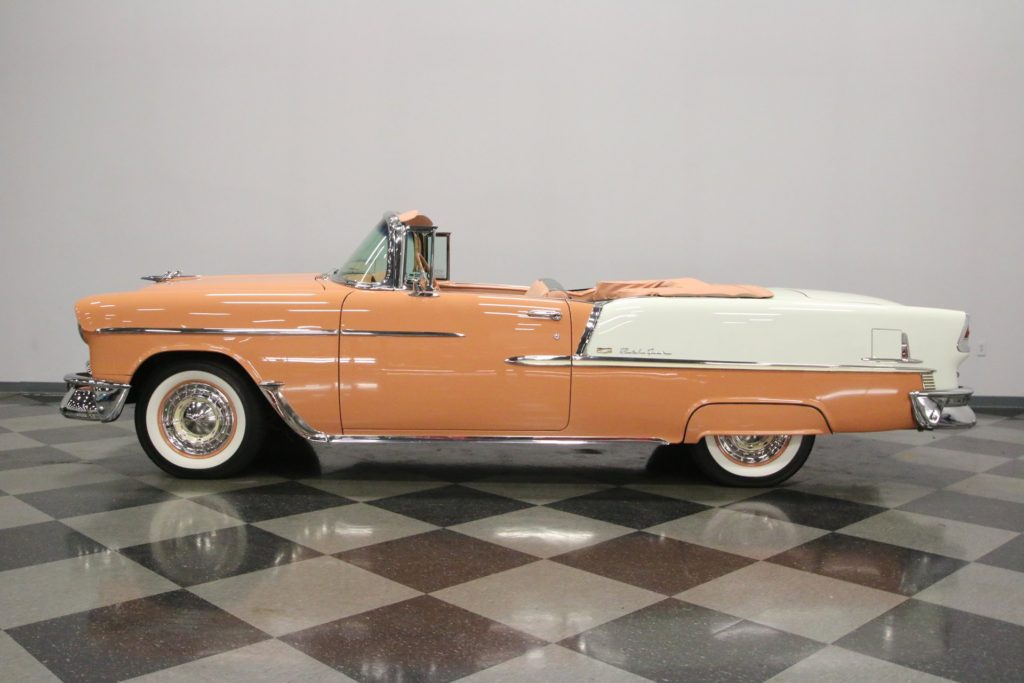 Luckily, the hydraulic power convertible top mechanism worked like a champ. On the other hand, the one-year-old Sears' best convertible canvas top did not fit well. Thanks to my Dad doing all the talking, a trip to Sears for some '70s vintage customer service quickly remedied that problem. Heck, I was just a teenaged gearhead. The only big words in my vocabulary back then were "carburetor" and "crankshaft."
Under the coffin-shaped primer gray hood rested a numbers-matching, well used 265-cubic inch V-8, with a two-barrel Rochester carburetor. The transmission was likewise original, an automatic two-speed, cast-iron Powerglide.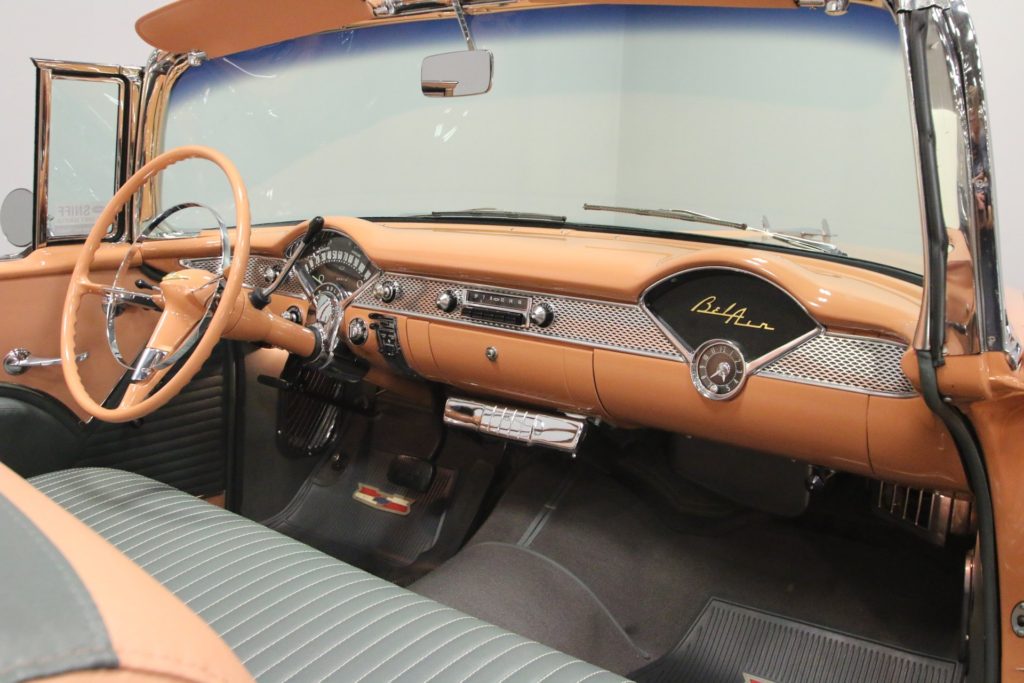 Flying rust particles notwithstanding, my Bel Air drove well throughout the last three years of high school. By this time, thanks to a part-time job as a busboy, I had saved up enough money for an engine rebuild. She still ran okay, but the motor burned and leaked oil. It was a sure sign that she needed an overhaul. Another good indication was the fact that the odometer was showing 13,964 miles, which meant the car and engine probably had over 112,000 miles on it. It was time.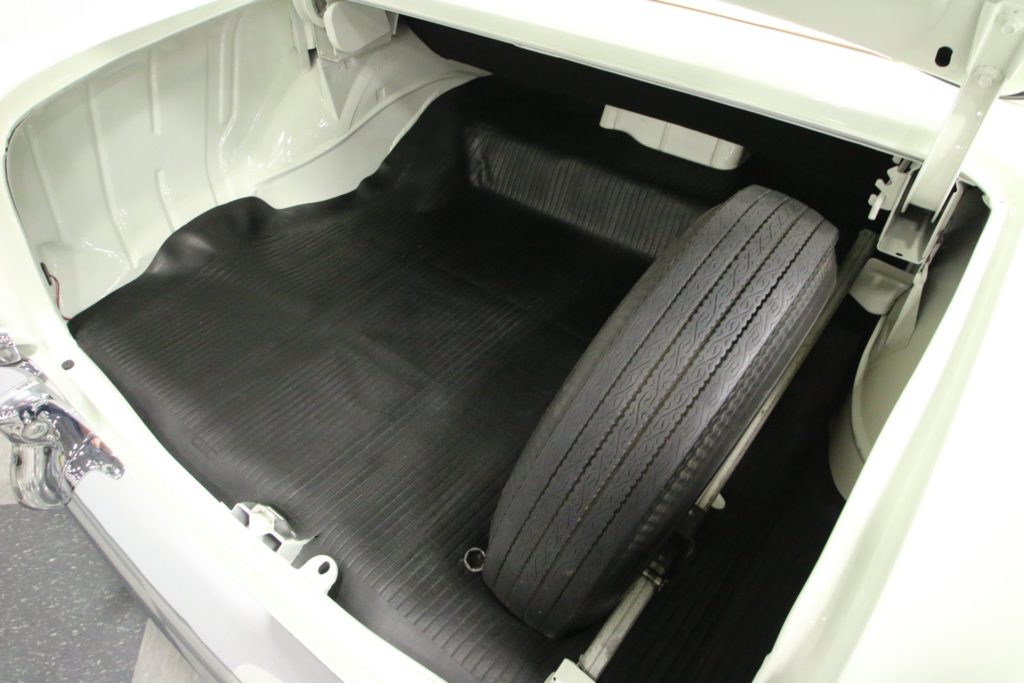 That summer, during one of his vacation weeks, Dad and I mapped out our strategy for pulling the engine. It was tricky getting it done. I was working two summer jobs: one in the morning at my high school as one of the groundskeepers and in the evening I had the restaurant job. With my Dad doing the lion's share of the work, we pulled the motor in a week. The mechanic we selected to perform the work was called Gasser's Garage. This was a well-respected shop in Lomita, California, established in 1927 and owned by Joe Gasser. Dad and I delivered the 265-inch mini-Mouse in Mom's '64 Plymouth Valiant station wagon to Gasser's Garage for a complete overhaul.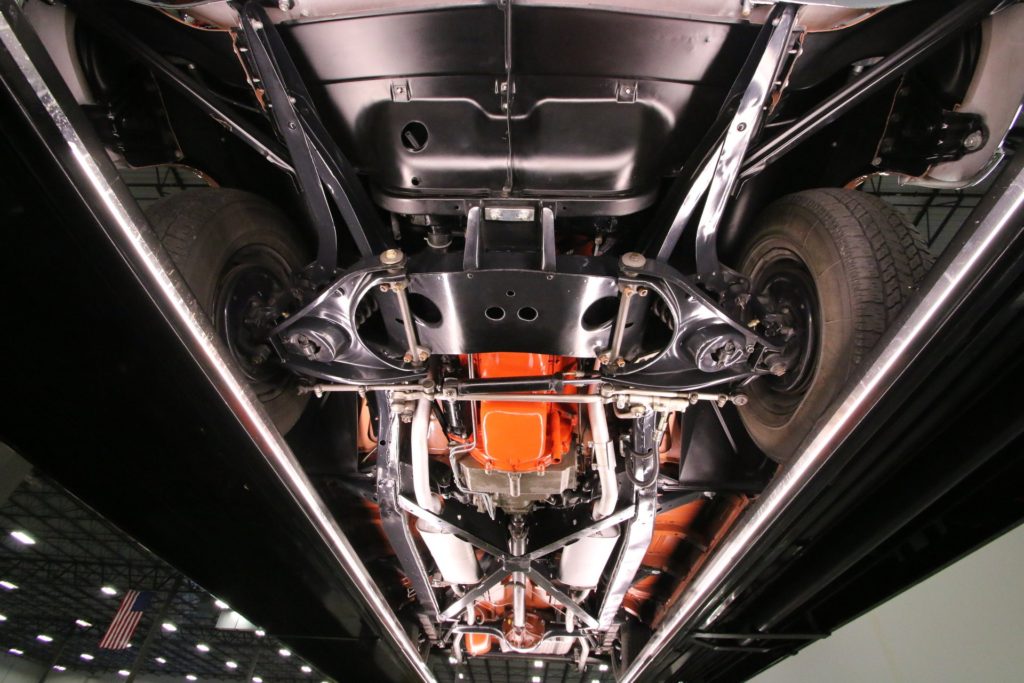 Driving the Bel Air the last two years had also worn out the bias-ply tires. So, I plunked down some cash for new wide whites, painted the wheels ivory, and mounted the period-correct rubber.
These improvements breathed new life into the old classic. The five-five still appeared timeworn and raggedy from the outside, aside from new wide white spats, but it ran swift, strong, and effortless. Women continued to follow me around and attempted to race me, but with my rebuilt motor I could run away from them -- and then let them catch me, of course.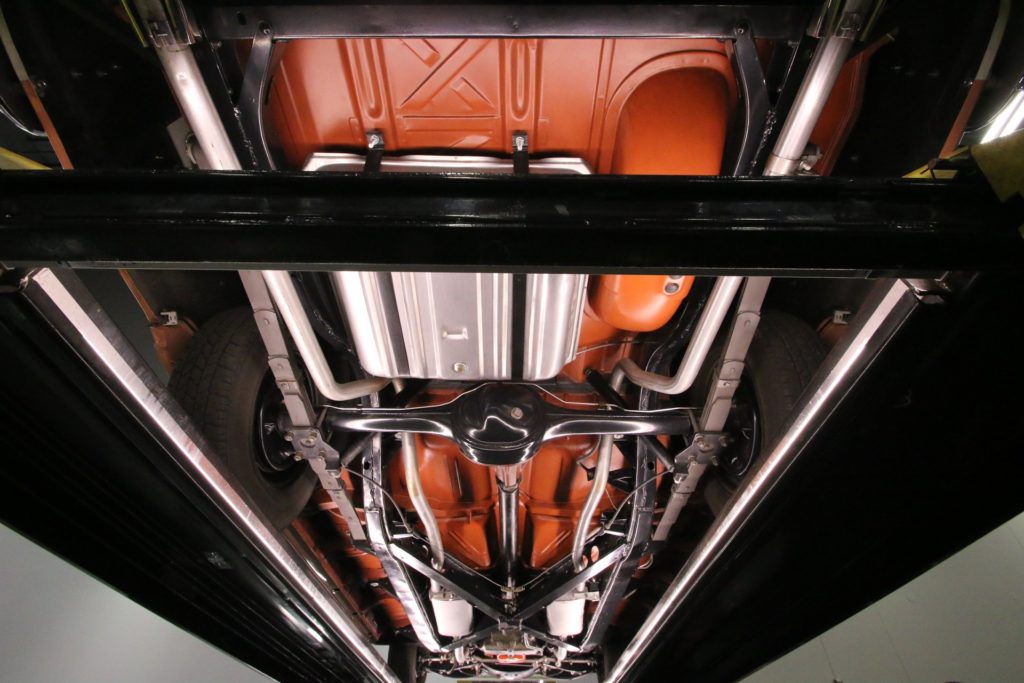 Unfortunately, two-and-a-half-years of full-time college had drained my savings. Though I worked part-time on the weekends, I reasoned that I didn't have enough money to pay for my education and complete the restoration. In reality, other automobiles were beckoning me, most notably '68 Ford Mustang convertibles. One sunny weekend I found a red Mustang ragtop. My multi-colored, rusty-floored '55 was seemingly no match for this flashy Mars Red with new white vinyl interior 302-inch V-8 Mustang convertible. I was just a college kid, without a mature-enough perspective to realize that the Chevy was a keeper, a proven winner. Besides, I was comparing a fully restored car to my work in progress. It wasn't a fair comparison.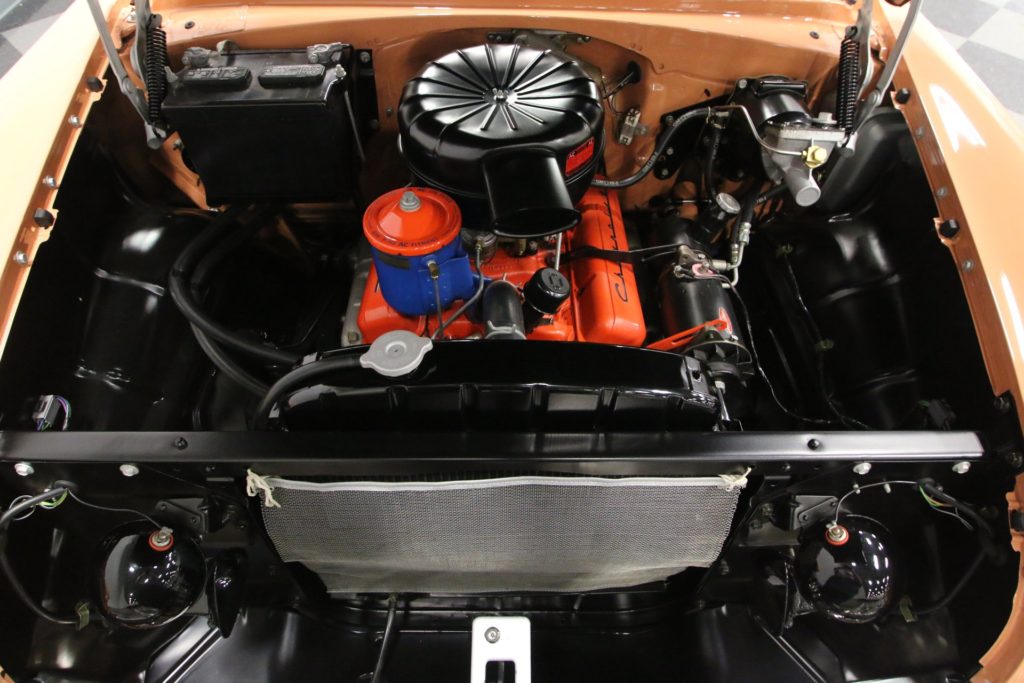 I sold the '55 to Bob Wingate. At the time, he owned one of the largest vintage Chevrolet restoration businesses in the country. Bob completed my ragtop the way that I could have and should have. When he was done, Bob showed me pictures of how my '55 turned out. Mr. Wingate mentioned that Cheech Marin of the comedy duo, Cheech and Chong, bought my completely renovated '55 ragtop. I'd made a tragic mistake.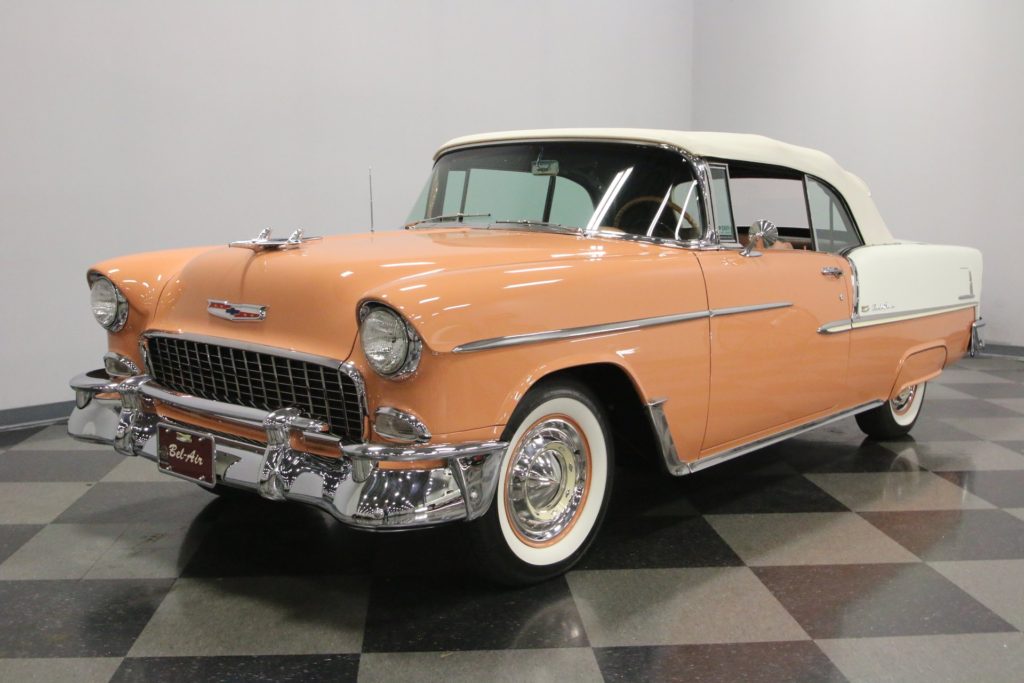 The summer after graduating from college, some buddies, my girlfriend, and I went to the just-released Cheech and Chong movie Nice Dreams. The movie was playing in a broken-down movie house in Newport Beach, California. The air conditioning in the theatre was busted, probably a result of that summer's incredible heat wave. This gave most of the males in the audience the excuse to pull off their shirts to keep cool and to show off. Proper decorum didn't register with such a rowdy throng of spectators; we were watching a Cheech and Chong movie. The start of the flick showed Cheech and Chong driving around Santa Monica in a familiar looking salmon-and-ivory '55 Bel Air convertible.
In my '68 Mustang ragtop, I drove home depressed. Suddenly, Mustangs didn't seem so cool anymore-but at least my new/old Bel Air ragtop was looking better than ever, and it was a movie star, to boot.
Several years later, I read in the Los Angeles Times that Cheech had donated his '55. There was going to be a raffle and the proceeds would go to a local hospital. Hoping that sweet providence would shine on me once again, I bought a bunch of those raffle tickets. The happy ending would have had me driving into the sunset in my '55 Bel Air convertible, with my wife riding shotgun. Alas, such good fortune-in the face of repeated bad decisions-only happens in the movies. When I sold the Tri-Five it was gone forever. Perhaps someday, I will buy another cool vintage auto. Isn't that, after all, the birthright and enduring dream of all car nuts?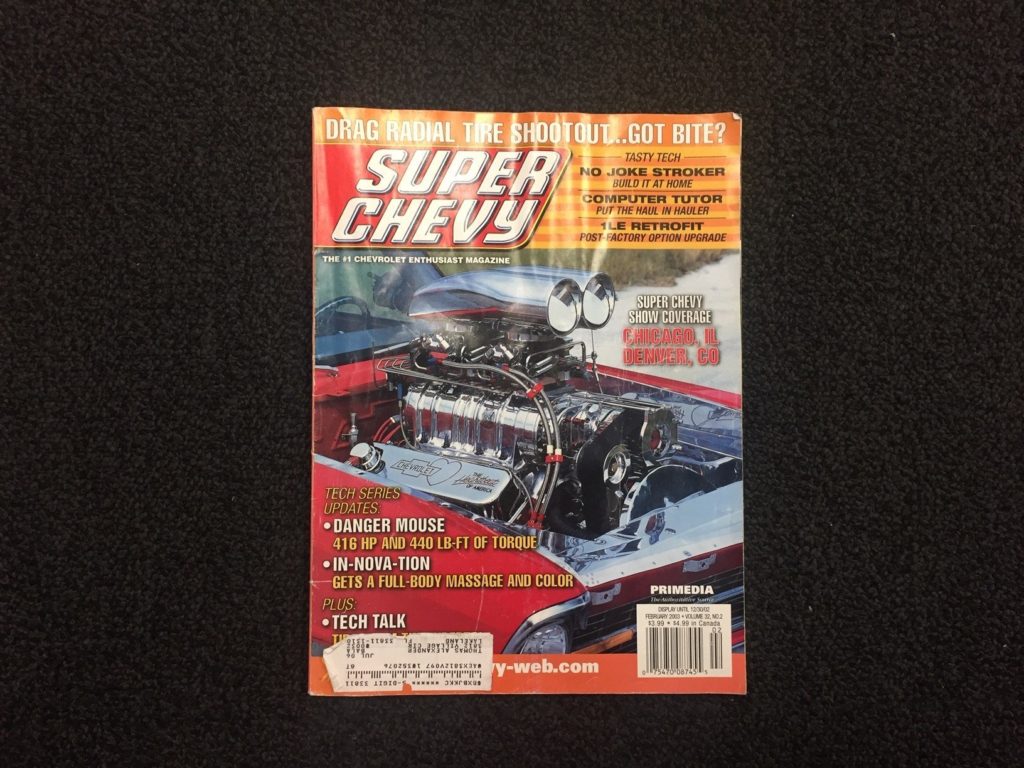 EPILOGUE -- MY STAR-STRUCK 1955 CHEVY BEL AIR CONVERTIBLE
On August 6, 2020 I received a note from someone who wanted to join my LinkedIn network. Upon opening his request, I realized that he had also sent me a personal note. In the note he stated, "I sold your '55 Bel Air and thought I'd connect with you. I thought you might be curious where it ended up."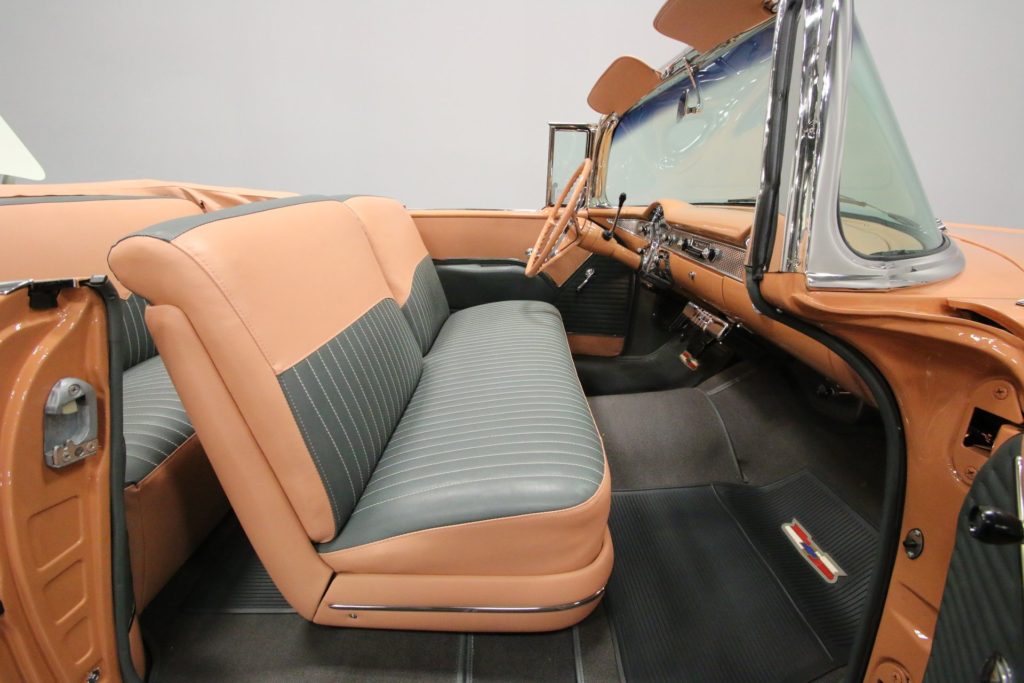 Though I didn't know who this guy was, I was certainly keen to find out what had become of my amazing '55 Bel Air convertible, so of course I accepted his LinkedIn invitation.
He responded later that day with some wonderful news: "Nice to hear back from you. I had the opportunity to see and sell your '55 while working at StreetSide Classics in Nashville, TN. It was owned by one of our very good consignors, who purchased it from the widow of a man in the area. who had it in his collection for several years."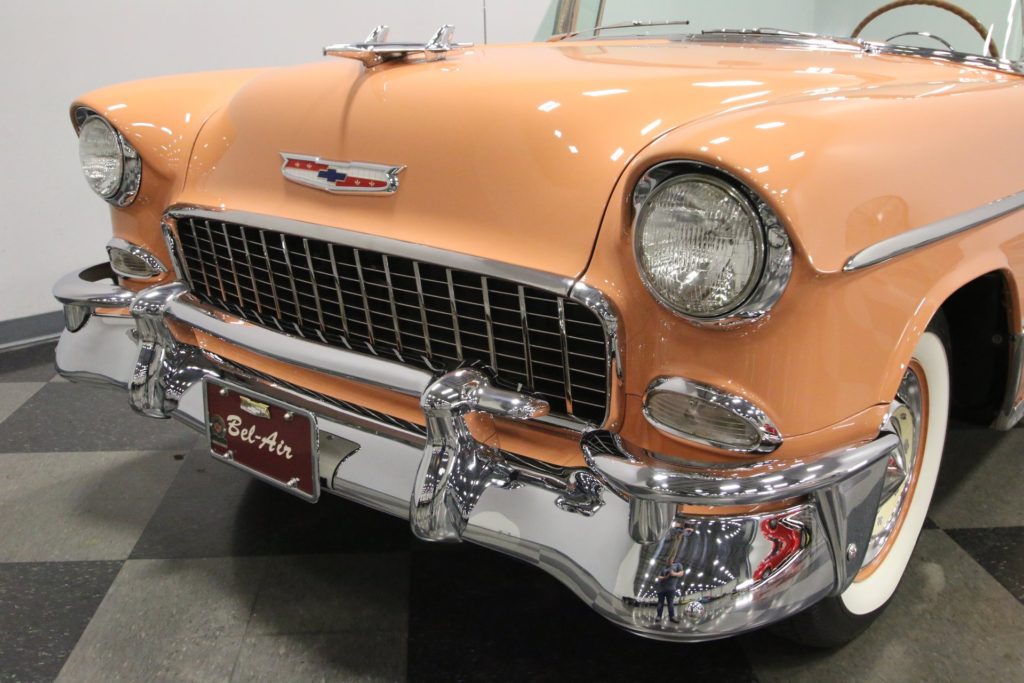 "It now lives in Switzerland to a man named xxxxxx xxxxx (name blanked out to respect his privacy). He had two associates visit our showroom, and they were in awe with how well restored the car was. They said all of the cars in Mr. xxxxx's collection were top shelf, and I think that the '55 fit that bill. He had it flown on a private plane from Houston to Switzerland."
"I found your story long before now, but never thought to reach out."
"I have sold quite a few Tri-Fives over the years, and there are an abundance of them, but your '55 was by far my favorite and one that I remember fondly. Hopefully, seeing her again will put a smile on your face."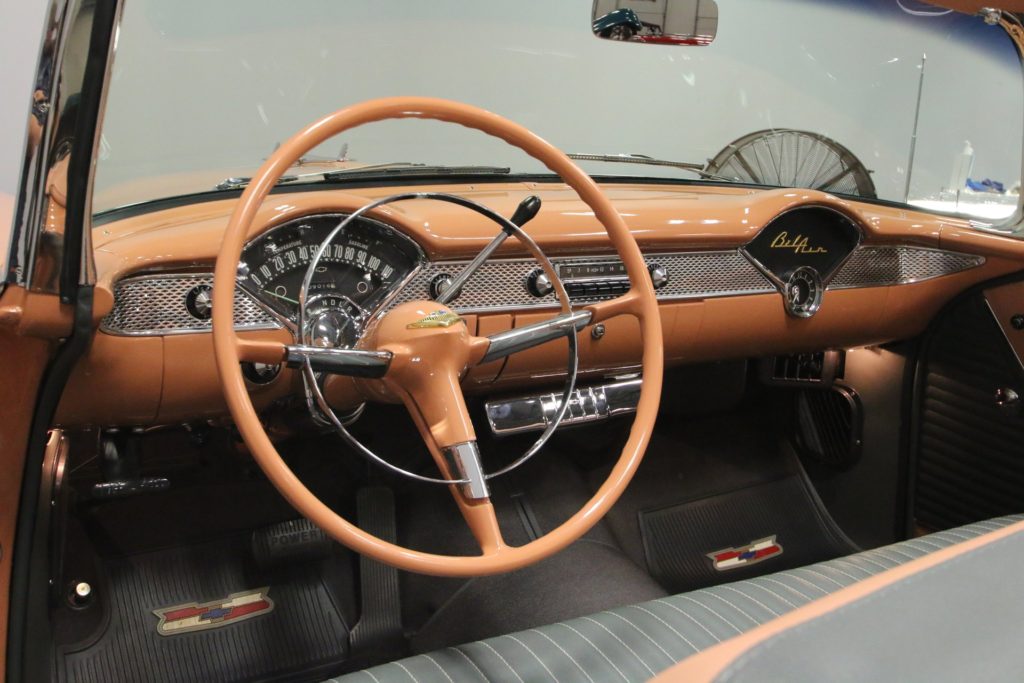 Words cannot convey how I felt reading this nice man's note, looking at the photos that he provided, and watching the walk around video of my beautifully and impeccably well restored Bel Air Convertible. It brought back so so many great memories of driving, working on and enjoying this wonderful machine. The car was, is and always will be pure magic.
I've been to Switzerland once. It looks like I've got a great excuse to get back there again!