By: D. Brian Smith
Photography: D. Brian Smith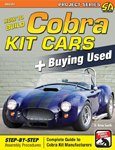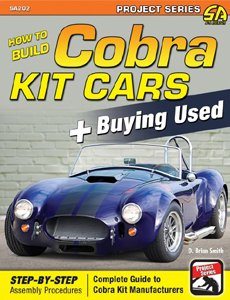 The Cobra established itself as an automotive icon, and when production of the original came to a halt, the revered roadster was destined to return as a replica. For more than 30 years, a variety of manufacturers have offered Cobra replicas as kit cars or in the form of a rolling chassis. When selecting a Cobra replica, determine your intended use, budget, mechanical skills, and application. Once you have determined these factors, you need to do your homework on the kits that fit these parameters.
---
This Tech Tip is From the Full Book, HOW TO BUILD COBRA KIT CARS + BUYING USED. For a comprehensive guide on this entire subject you can visit this link:
SHARE THIS ARTICLE: Please feel free to share this article on Facebook, in Forums, or with any Clubs you participate in. You can copy and paste this link to share: https://www.diyford.com/ultimate-guide-cobra-kit-car-manufacturers/
---
The following guide provides exceptional insight and information to the Cobra replicas on the market, but it is by no means the end point, so talk to Cobra owners, manufacturers, and perform the appropriate Internet searches to acquire the information to make an educated buying decision.
Factory Five Racing
Founded in 1995, Factory Five Racing wasn't the first Cobra replica manufacturer but it is the largest. To date, the company has manufactured and sold well over 7,000 Cobra replicas. FFR also creates the Type 65 Daytona Coupe kit, the GTM supercar that utilizes Corvette drivetrain and suspension components, the 33 Hot Rod, and Project 818, a mid-engine sports car that weighs 1,800 pounds.
Challenge Car
The Challenge car is a heavily modified Factory Five Racing Mk3 roadster kit designed for wheel-to-wheel professional and amateur racing. The big differences between the competition-focused Challenge kit and the street roadster kit are found on Factory Five's website.
The Challenge kit is sold in only one form, the base kit. But this base kit contains many more parts than the base roadster kit. You can still use some Mustang parts, but not as many as with the roadster kit.
Base Kit
In Chapter 1, I provided detailed coverage of the components in the Mk4 Complete Kit. Factory Five also offers a Mk4 Base Kit at $12,990, so you can assemble a Cobra roadster with less financial investment by using the additional components from a 1987–2004 donor Mustang.

The Base Kit contains the same highquality Factory Five components as the Complete Kit, but it simply does not include many of the suspension, brake steering, and other parts that are sourced from the donor car
Due to the complexity of different Mustang parts from 1987 to 2004, Factory Five Racing provides two simple packages that address these parts differences. Nearly all the kit parts that are included are interchangeable.
Major components sourced from the 1987-2004 Ford Mustang are: engine and transmission assembly; driveshaft; 8.8-inch rear end assembly with quad-shocks, springs, and control arms; front and rear brake assemblies with master cylinder; and front-wheel spindles and lower control arm.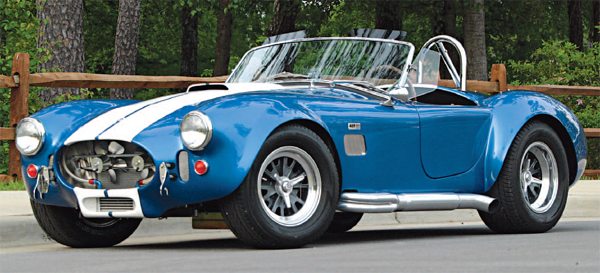 Minor components from the 1987-2004 Ford Mustang are: radiator and cooling fan shroud, Mustang steering rack (with factory ignition for 1987–1995 cars), EFI computer and wire harness (or use aftermarket), fuel tank, fuel filter, emergencybrake handle, and pedal box. Other items you need are paint and wheels.
People who use Mustang parts from 1996 to 2004 get a few extra parts and don't need some others. The ignition switch is transplanted, which includes the key, switch, and electrical connectors to use with 1996–2004 parts. The brake hydroboost mount assembly is used by those with 1996–2004 hydroboost brakes and includes tool. They also use the 1996–2004 radiator mounting assembly, 4.6L oil pan and transmission mount assembly (the later-model oil pans are too low, so an aftermarket needs to be used). Finally, these assemblies are also used: the fuel filler tube, radiator hose, A/C eliminator bracket, and air filter mount.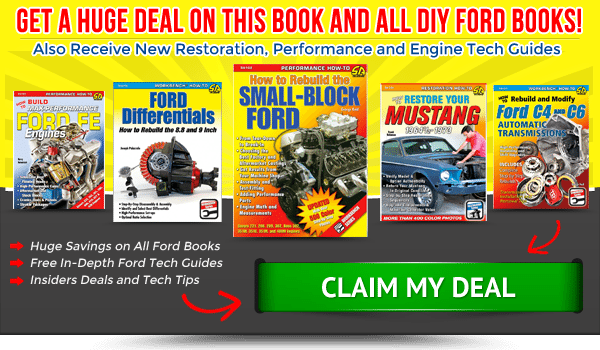 Unique Motorcars
Jean and sons Maurice and Alan Weaver run Unique Motorcars, a Cobra roadster and 1936 Ford Cabriolet replica business. Unique Motorcars, established in 1977, has been building 427 SC roadster replicas since 1979 and the 289FIA competition cars since 1991. To diversify the company's product line, Unique introduced a 1936 Ford Cabriolet kit in 2006 that's every bit as nice as the Cobra replicas
E.R.A. Replicas
E.R.A. Replicas has been producing 289FIA, 427, and E.R.A. GT (Ford GT40 coupe and spyder) replicas for almost as long as Unique Motorcars. The company's component kits are very well engineered, designed, and constructed. In fact, E.R.A. Replicas is known in replica circles as being very authentic reproductions of the original British-American Shelby Cobras.
Unlike my experience with FFR and Unique, I have not had the opportunity to test drive an E.R.A. car. But all of the E.R.A. Cobra replicas that I have seen show superior fit and finish and are exceedingly true to the original Shelby Cobra in terms of body shape and components that go into the vehicles. Neophytes in the Cobra arena are often fooled by the appearance of E.R.A. cars and believe them to be genuine Shelby Cobras, which no doubt makes the roadsters' owners proud.
If you prefer the look of the 289 Slabside street Cobra, E.R.A. has announced that a Slabside Kit will be available soon.
Everett-Morrison Motorcars
In 1983, Buford Everett (B-E) purchased an original mold of a Cobra body and the tooling for the Cheetah Chevrolet race car's chassis from Dean Morrison, in Chicago, Illinois. Everett married the Cobra body with the Cheetah's chassis and had a Cobra replica.
Over the initial five years of development, Everett's replica went from having a solid rear axle to using a Corvette's independent rear suspension (IRS), like an original Cheetah, and then to implementing a Jaguar XKE IRS. In the 1990s, the roadster chassis went from a 90-inch wheelbase, like an original Cobra and Cheetah, to 93 inches and finally to 96 inches. During this time, the company began to use a coil-over independent front suspension (IFS), as opposed to a single shock and kingpins.
E-M began an extensive re-design of the Cobra in 2002, which included a stainless-steel tubular and ladder frame chassis and doing away with the chopper-gun fiberglass body creation in favor of the hand-laid crossstrand fiberglass construction process. The result of all this hard work was the introduction of the all-new Generation-IV Cobra replica in 2003.
In 2007, E-M's founders brought in new management and sold E-M to the current CEO, Julie Fenimore, who is a licensed professional engineer. In addition to all the enhancements made to the Generation-IV Cobra, E-M upgraded its customer service and marketing functions, which enhances the customer experience.
The Generation IV's wheelbase, now 93 inches, offers 3 inches more cockpit legroom than an original Cobra. But the external dimensions and look of the E-M Cobra still appear as a genuine Cobra does—a sort of optical illusion, so to speak.
There are three forms of E-M Generation-IV Kit: Phase 1, Phase 2, and Accessory & Driveline Package. When all three packages are ordered together, everything needed to achieve a drivable Cobra is yours, with the exception of wheels, tires, engine, and paint. Optional components are also available. And EverettMorrison can build a turnkey replica if you prefer.
An important note: The E-M Gen-IV roadster is a replica of a 427SC, so the chassis is set up for a Ford FE engine. The FE-series engines are Ford big-block V-8s—the 390, 406, 427, and 428.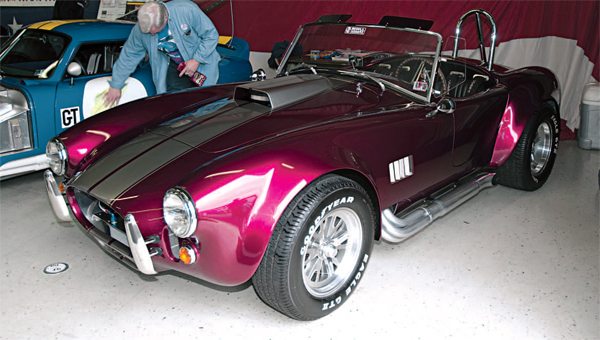 For detailed information, including pricing on the all-new EverettMorrison Generation-IV roadster, visit E-M's Web site, and/or contact Everett-Morrison Motorcars.
Shell Valley Classic Wheels, Inc.
Shell Valley Motors and Shell Valley Fiberglass were founded in 1971. Rich Anderson purchased the company in 1997 and then acquired a Cobra replica competitor, Midstates Classic Cars & Parts, from Bob Kallio in 1999. Anderson brought the company into the new millennium stronger than ever. In 2007 he introduced the Generation-II Cobra, which offered a melding of the best features from the Shell Valley Cobra and the Midstates Classics roadster.
Along with the 427SC Cobra replica, Shell Valley manufactures a 1951 Jaguar C-Type kit, a 1963 Cheetah replica, a 1928 Ford Model A Roadster replica, and a 1964 Daytona Coupe Series-II replica and offers fiberglass Jeep replacement bodies.
Shell Valley Classic Wheels, Inc. provides both a Basic Kit, with pricing starting at $9,995, and a Complete Kit for a 427 Cobra replica.
For more information on these kits and components, visit the company's Web site.
Lone Star Classics
Lone Star Classics offers several component kit cars, in addition to the company's LS427 Roadster (Cobra replica). The LS32 Highboy is a replica of the 1932 Ford roadster. Lone Star's Route 66 Roadster is a 1953 Corvette replica kit. Rounding out Lone Star's corral of kits are the LS300, a Mercedes Gullwing replica, and the Growler, which looks similar to the recent Plymouth Prowler convertible.
The list of components included in Lone Star's LS427 Roadster package for a complete kit is extensive.
For all the details of what's included, visit the Lone Star Classics Web site.
B&B Manufacturing
B&B Manufacturing has more than 20 years' experience manufacturing component kit cars. For an enhanced customer experience, B&B Manufacturing recently launched a new Web site and now offers a Roadster Build-Sheet process. This approach enables customers to spec out what B&B calls "the "66 Roadster" precisely the way they wish to build their dream machine within their budgetary constraints.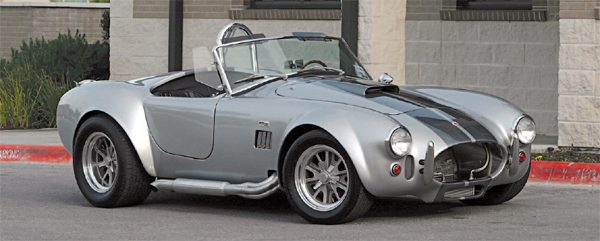 Customers can specify either a Stage-I 1966 Roadster Kit, a Stage-II 1966 Roadster Kit, a Stage-III 1966 Roadster Kit, or a Turn Key Minus 1966 Roadster Kit.
The other component kits that B&B Manufacturing provides include a "34 Coupe" (Ford 1934 3-window coupe replica), a HCS Coupe or Street Coupe (Cobra Daytona Coupe replica in race trim or street trim) and a GT-45 Coupe (Ford GT40 coupe replica).
For all the details, specifications, and pricing visit B&B Manufacturing's Web site.
Hurricane Motorsports
Hurricane Motorsports makes an authentic-looking replica kit called the "427 Roadster." Cobra enthusiasts who have built the Hurricane component kit rave about this car. The company did cease production for a time in 2007 and was sold to new owners. In 2009, Hurricane Motorsports started producing the 427 Roadster once again.
For more information on the Hurricane Motorsports 427 Roadster kit, visit the Web site. Hurricane also supports a web forum for its owners and fans. More information is available from forum members as well.
The Turnkeys
Several manufacturers offer Cobra replicas in what is known as turnkey or "turnkey-minus" form. These replicas are all built, painted, wired, have completed interiors, and only require careful installation of an engine and transmission and final fitment of the necessary wiring. These replica Cobras are for enthusiasts who aren't inclined to build a car of their own, or perhaps don't wish to take the time to construct a Cobra. They'd rather buy the turnkey, have the engine and transmission installed by a professional, and then drive it as soon as possible.
Superformance, LLC
For the past 15 years Superformance has distributed complete rolling-chassis (turnkey replicas) and continuation vehicles in the United States. Hi-Tech Automotive is one of the largest specialty car production facilities in the world. Both located in South Africa, the two companies have enjoyed a long-standing and successful builder/distributor relationship, distributing more than 4,000 rolling-chassis turnkeys worldwide.
Carroll Shelby endorses and licenses the Daytona Coupe, GT40, and Cobra replicas that Superformance/Hi-Tech builds and distributes. He states that the Superformance machines aren't true Shelbys, but that they are "well-built and as close to correct as possible." The Shelby Cobra Daytona Coupe is sold through Shelby Distribution USA.
Superformance/Hi-Tech Automotive creates several coupes, in addition to the Cobra replicas. The Ford GT40 replica, Cobra Daytona Coupe, Perana Z-one (a Zagato-bodied supercar), and Corvette Grand Sport Coupe replica (under license with General Motors) are all road-worthy coupes with an abundance of street or track credibility.
For more information, including pricing, visit the Superformance Web site, where there is detailed information on all the rolling chassis vehicles, as well as a list of dealers.
The MKII
Superformance's latest Cobra replica offering is the MKII. It comes in two variants: the MKII FIA and the MKII USRRC. Both of these cars are careful emulations of the 289- powered FIA and USRRC race cars that achieved so many victories, fame, and fortune for Shelby American and privateers in the 1960s. Superformance has an exclusive agreement with Carroll Shelby for the MKII FIA, making it the latest Shelby-licensed product in the Superformance corral of road burners.
The MKIII
Superformance/Hi-Tech Automotive has provided the Cobra 427SC replica for more than 15 years. Called the MKIII, it comes in three versions: the MKIII, the MKIII Roadster, and the MKIII-R Edition.
Visit the Shelby American Web site to learn about the Shelby American versions of the MKIII.
Backdraft Racing
The Backdraft Racing Mark I Roadster has been a sensation and instant hit since development first started in December 2000 and shown as a finished turnkey by October 2001. Since 2003 the cars have been built in a 53,000-square-foot manufacturing facility in South Africa. The Backdraft Racing Cobra replicas are produced in left- and right-hand drive versions, and are available for worldwide distribution. There are four dealerships in the United States and three more dealers internationally.
For more information on any of the Backdraft kits, or to find a dealer, visit the company's Web site.
The RT3
The Backdraft Roadster is a refined, high-quality sports car that has been developed over many years. This turnkey car offers comfort, quality of construction, a comfortable ride, and exhilarating performance, all in an economically priced package.
The RT3B
The B in this model designation stands for Black Label, which indicates that the RT3B is fitted with styling components influenced by and used by the world's best supercars.
The TD
If you guessed that the TD stands for touchdown, you're not entirely wrong. Rather, Backdraft Racing uses the TD designation to stand for the company's Track Day terrorizer. Features such as a full roll cage that still accommodates a passenger, more suspension adjustments for fine tuning at the racetrack, a full aero package, and weight reduction make a veritable ultra-competitive race car for trackday action. If track time is what you're seeking, the BDR TD may be just your ticket to commanding your local race car circuit.
Kirkham Motorsports
One day in 1995 the Kirkham Motorsports legacy began with the following words scribbled on a piece of paper and sent via fax to Poland, "Can you guys build an aluminumbodied car?" Less than a day later brothers David and Thomas Kirkham received the faxed reply that they had hoped for, "No problem."
What started the idea for the Kirkham brothers was the fact that a relative had purchased and imported a Polish MIG fighter jet at the same time that they were restoring an original Shelby Cobra CSX3104. Seeing the fighter jet up close and personal, the brothers realized many similarities between the aluminum jet and their aluminum roadster.They found the manufacturer's name on the MIG and decided to send the fateful fax.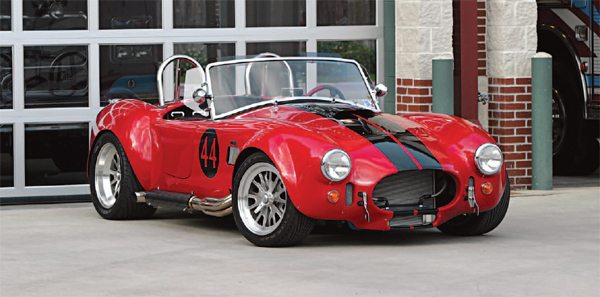 With a toy model Cobra, an English-Polish dictionary, and a large enough dream to make even Steven Spielberg blush, David Kirkham flew to Warsaw one week after receiving the "No problem" fax. He met with MIG fabricators and toured the idle factories that had produced Cold War aircraft and fighter jets for more than 60 years. Wouldn't any car enthusiast in the same situation as David be thinking the same thing, "If those craftsmen can build supersonic aluminum fighter jets, couldn't they can create some aluminum-bodied roadsters that replicate the Cobra?"
He left Poland with build contracts in hand and, with his brother, launched a component-car company that is held in high regard by every automotive enthusiast who knows kit cars. More than 15 years later, Kirkham Motorsports is going strong.
The Kirkham's Web site has detailed information on all six turnkey Cobra replicas:
427 KMS/SC: A beautiful re-creation of the Shelby Cobra 427SC
427 KMS/Lemans: This is aKMS/ SC with a Le Mans-style hard top
427 KMS/Street: The fender flares are smaller, there is no hood scoop, and the tubular exhaust system runs under the car and exits the rear. There are no side pipes.
289 KMS/FIA: A faithful rendition of the Shelby 289 FIA race cars that helped team Shelby American win the World Championship in 1965 in FIA racing
289 KMS/Lemans: See the Kirkham Motorsports Web site for more information
289 KMS/Street: An accurate re-creation of the original 289 Cobra street car, also called the "slab-side."
Unique Motorcars
Unique Motorcars can build a 427- or 289-body-style turnkey car ($40,495) with the following standard features:
Solid-color paint scheme (some dark colors cost more)
Custom coil-over front suspension
Jaguar-style independent rear suspension
Black-painted exhaust system
Black competition Quickjack pads
Chrome valve covers and air cleaner
3-inch lap belts
Le Mans fuel filler cap, tires, and reproduction wheels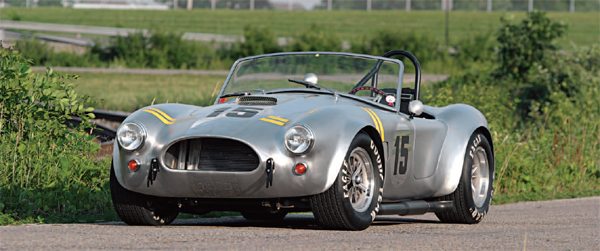 You add the engine and transmission, and you're ready for the road. Or Unique Motorcars can install the engine and transmission. Optional accessories are listed with the corresponding pricing on the Web site.
E.R.A. Replicas
E.R.A. Replicas builds turnkey cars of all of their authentic Cobra replicas. Pricing includes the engine and transmission. For example, a base-vehicle 289-FIA comp car that's completely finished sells for $50,000. E.R.A. also offers many optional components.
See E.R.A.'s Web site for more information.
Shelby American, Inc.
With the creation of that first Shelby Cobra 260 in 1962, Shelby American, Inc. came to life. Today, this company creates Shelby GT350 and Shelby GT500 Mustangs and also distributes the following continuation cars: 50th Anniversary Shelby Cobra, Shelby Cobra 427 S/C, Shelby Cobra 289 FIA, Shelby Cobra 289 Street, Shelby GT40, and Shelby Daytona Coupe. These cars aren't designated as replicas; they are all turnkeys needing just engines and transmissions to make them sing.
For more information on all of the Shelby American machines, visit the company's Web site.
Written by D. Brian Smith and Posted with Permission of CarTechBooks
GET A DEAL ON THIS BOOK!
If you liked this article you will LOVE the full book. Click the button below and we will send you an exclusive deal on this book.