Editor's Note: This exquisite Porsche 904 Carrera will go up for sale at RM Auctions Paris, France event, which starts February 4, 2015. Thank you RM Auctions for permitting Monterey Car Week to run these words and most excellent photos on our peerless automotive enthusiast website.

Photo Credit: Cymon Taylor ©2015 Courtesy of RM Auctions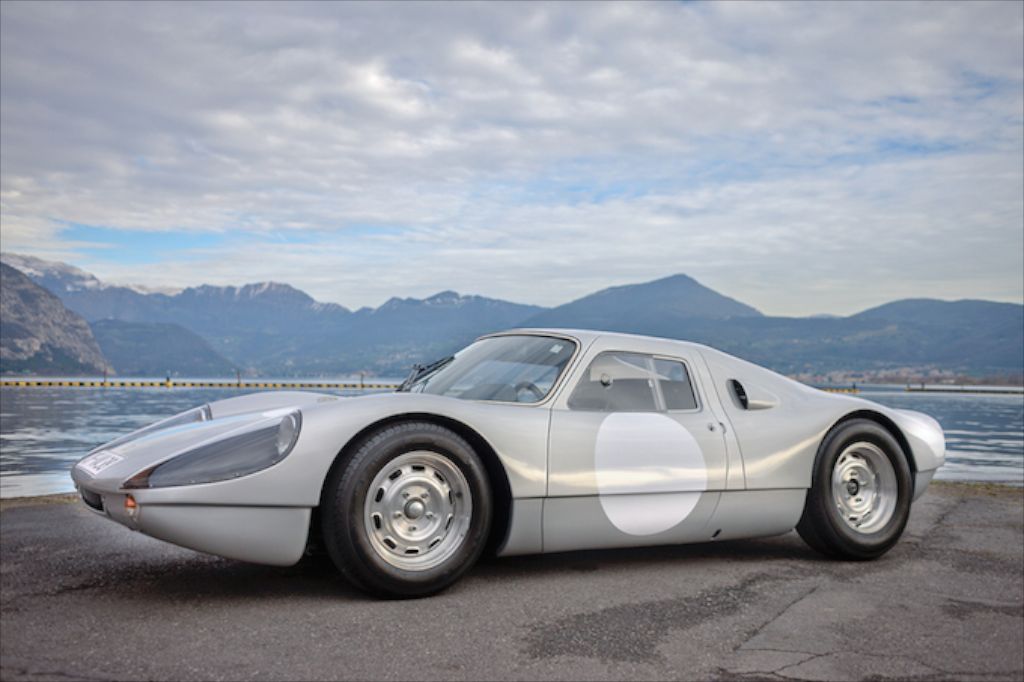 Porsche 904 Carrera
Est. 180 bhp, 1,966 cc air-cooled horizontally opposed Type 587/3 four-cylinder engine with two Weber 46IDM twin-choke carburettors, five-speed manual transmission with a ZF limited-slip differential, independent front and rear suspension with coil-over shock absorbers, and front and rear disc brakes. Wheelbase: 2,300 mm.
Recent complete restoration to exacting standards
Documented ownership and extensive successful competition history
Hugely eligible for leading historic motoring events and rallies
The Type 904, born of Porsche's disappointing foray into Formula One in the early 1960s, was produced to bring the company back to its racing sports car roots. In 1962, the immensely talented Ferdinand A. "Butzi" Porsche was tasked with designing a new two-seat competition coupé that could also be driven on the street by utilising the mid-engine chassis configuration that had proven so successful with the racing department's lightweight spyders.
Porsche had hoped to have its new six-cylinder Type 901 engine ready for the new mid-engined coupé to run at Le Mans, but he was not convinced that the new engine could go the distance. Thus, most 904s were fitted with the Type 547 (1.6 litre) and Type 587/3 (2.0 litre) Carrera four-cylinder motors, and it wasn't until the end of production that they were fitted with the 2.0-litre 901 flat-six. The beautifully balanced 904 GTS was introduced in early 1964 and would enjoy a brilliant inaugural season, scoring victories at Sebring, the Targa Florio, Spa, the Nürburgring 1000 KM, the 24 Hours of Le Mans (a 1-4 class sweep), the 12 Hours of Reims, the Coppa Inter-Europa, the Tour de France, the Bridgehampton 500 KM, and the 1000 KM of Paris.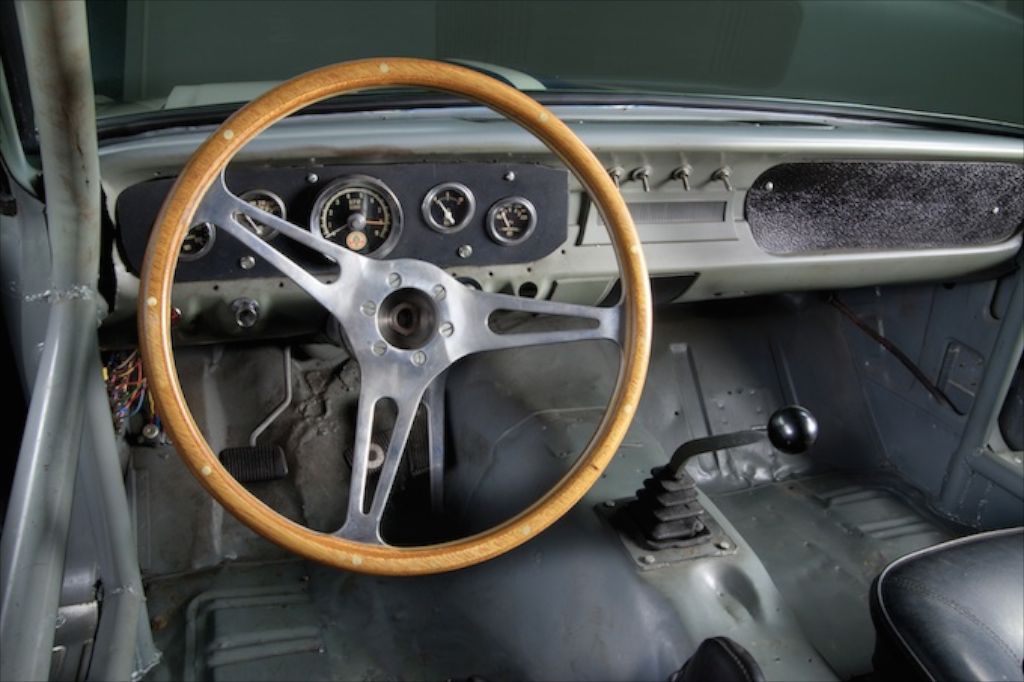 CHASSIS NUMBER 904-026
Chassis number 904-026 was originally delivered to Porsche dealer Rittersbacher in Kaiserslautern, Germany, on 19 February 1964. At this time, it was finished in Silver Metallic with blue upholstery and was fitted with safety seat belts and a sports exhaust. Clearly, the car was intended for competition. In April, Fritz Leinenweber, of Pirmasens, purchased the Porsche. Leinenweber was already a successful competitor, having been actively involved with motorsport since 1956, but he became particularly well-known for his exploits with the 904.
The first outing for 904-026 was at the Hunstrück Bergrennen Revival on 19 August 1964. Leinenweber was hugely impressive, as he not only won the GT class, but he also posted the day's best overall time and set a new hill record. He followed the dominant performance with two more 1st in class wins, one at Bergrennen Happerg and the other at Course de Côte d'Urcy, France.
Bergrennen Luxemburg, which was held on 13 September, was to be the setting for Leinenweber's fourth consecutive class victory, which was complemented by a 5th overall at the Course de Côte Merveilleuse the following weekend. The next round in which 904-026 would compete at was held in early November at the Bergrennen Viaden, in Belgium. Again, this was a hugely successful weekend, one that resulted in a 1st place finish in the GT class. The final event in the 1964 season was the Bergrennen Taubensuhl, which was held later in November, and it resulted in another overall victory and new course record, ending the 904's first competition season in true Porsche style.
The 1965 season also started with great success, with a 2nd in class and 4th overall at the Bergrennen Kautenbach. After the meeting, the car was sold to textile dealer and talented sports car driver Michel Weber, who had previously competed with the Signal Red 904-029 during the 1964 season, as well as a self-tuned 356 Carrera 1600. Weber had his sights firmly set on the 1965 German Hill Climb Championship. The first meeting for the pair was at the Bergpreis Bad Neuenahr, which resulted in a 1st in class, setting a strong tone for the remainder of the season.
Four weeks later, at Taunus, Weber competed against Rolf Stommelen and Udo Schütz. Unfortunately, on this day, Weber and 026 had to settle for 3rd in class, behind both Stommelen and Shütz. Unfazed, Weber and 904-026 took three consecutive class victories in the following meetings, which took place at Bergrennen Eberbach, Sudelfeld-Bergrennen, and Spessart-Bergrennen.
The biggest event of the year was held on 13 June, at the Alpen-Bergpreis Rossfeld. Weber managed to impress the crowd and secure both a 5th overall and 2nd in class finish. Two weeks later, at the Olympia-Bergrennen Axamar Lizum in Austria, 904-026 was back to its winning ways, finishing 1st in class and 1st overall. It is believed that prior to this hugely successful outing, Weber fitted wider rear wheels and tyres, which required a slight faring of the rear arches.
In August 1965, Weber again won the GT class, and this time it was at the Bergpreis Freiburg-Schauinsland, where he raced ahead of Sepp Greger and Günter Klass, who were driving a Works 904, and gained points in the European Hill Climb Championship. At the next meeting, which was held at the Bergrennen Ratisbona, Sepp Gregor and Weber set identical times, resulting in a tie for top honours! Weber was able to maintain momentum one week later, and he took an overall victory, with 904-026 claiming another track record at the Hunsrück-Bergrennen Revival.
The Bergpreis Rhön, which was held on 1 November 1965, was the final event of the 1965 season, and it proved to be one of Weber's most noteworthy performances. The event was plagued by treacherous rain and fog, with the leading Works prototypes of Ferrari and Porsche lacking grip. This was the ideal setting for the agile-handling Porsche 904 to shine, and by the end of the day, the top three spots were taken by 904s, with Weber and 026 taking the outright victory. After a terrifically successful season, Weber finished in a three-way tie for 1st place in the German GT Hill Climb Championship, alongside Reinhold Joest and Siegfried Spiess. However, due to the displacement handicap regulation, Spiess was awarded the championship.
For the 1966 season, Weber was beginning to focus on Le Mans, but he still continued to use his 904, and their first outing together was at the 1000 KM of Monza, which took place on 25 April. For this event, Weber teamed up with Jochen Neerpasch, who would later go on to win the 1968 24 Hours of Daytona with a Porsche 907. However, with the turn of the year came the end of the three-year GT class homologation of the Porsche 904, which resulted in the car being forced to compete in the sports car field, where Ford GT40s, a Ferrari 330 P3, and Ferrari 250 LMs could be found. The pair qualified the 904 well and headed their class by nearly three seconds over an Alfa Romeo TZ2. Unfortunately, engine problems would force the car's eventual retirement. After this event, Weber decided to trade in the 904 for an ex-Works 904/6. He would complete the remainder of the season with that car.
Jerry Pantis' book, Porsche 904, 906 & 910 in the Americas, lists the next owner as Armando Capriles, of Venezuela, who bought the car through Porsche in 1966. During 1966 and into 1967, the car was raced by Alfredo Atencio and Armando Capriles at events in and around Venezuela. It is then believed that Flavio Espino from Caracas bought the car and raced it at Road Atlanta in October 1972; at this time, it was fitted with a six-cylinder engine, which had presumably been fitted after the engine issue Weber had encountered at Monza in 1966.
Chassis number 904-026 was next seen for sale by Harem Cruz, who was based in Caracas, Venezuela. He advertised the car in a 1973 issue of Road & Track for $8,500, and at that time, it was fitted with a new factory four-cam Type 587/3 engine (number 99 099). It is recorded in Rolf Sprenger and Steve Heinrichs' Porsche Carrera and the Early Years of Porsche Motorsport that 904-026 is the only car which engine 99 099 has been fitted to. This engine change has also been noted on the factory Kardex. Harem Cruz sold the car in August 1973 to Jim Wayman, of Hawaii, who did some work on the aging race car, which included painting the bodywork Ruby Red. He then advertised the car for sale in Panorama, with an advertised asking price of $15,000.
By December 1975, the car was owned by Bill Steen in Shreveport, Louisiana. A year later, Steen sold 026 to John Robbins, of Omaha, Nebraska. Robins found some parts to be missing, so he refitted the correct pedals, taillights, and front indicator lights, as well as performed other minor modifications, and after the work was completed, he used the car on the road. In 1986, the car was acquired by Mark Chmar, of Rittermark Porsche in Savannah, Georgia, and then it was offered for sale through Nick Soprano, eventually taking residence with Raymond Perroud, who returned the Porsche to Continental Europe. Chassis number 904-026 remained in Perroud's collection for nearly two decades before being sold to the previous owner, a knowledgeable Swiss enthusiast with a significant sports racing car collection.
During this ownership, the car was completely restored by Raceline Feustel GmbH, a German company that specialises in racing Porsches. The meticulous restoration addressed every aspect of the 904 and was performed to the highest possible standard, even going so far as to use the original bench on which the first 904 chassis were assembled. In total, this owner reportedly spent $800,000 on the full restoration and preparation. In this ownership, the car was not raced, rallied, or shown post-restoration.
The current owner bought the car in recent years, and it has been campaigned at the 2012 Silver Flag event in Vernasca, where it won the prize for the best GT-category car. The car received a new FIVA Identity Card in April 2014, and in May 2014, chassis 904-026 was also shown at Villa d'Este, where it looked as magnificent as it would have on any race track.
Chassis number 904-026 offers a very rare opportunity to obtain one of the most successful survivors of an iconic series, as it is in stunning condition and comes with great competition history.