Published on Monterey Car Week (Turbo Carrera U.S.)
Editor's Note: This 1976 Porsche Turbo Carrera U.S. Prototype goes on sale at the RM Auctions' event in Monterey during Monterey Car Week 2015 in August. We believe it will earn a big payday for the soon-to-be-former owner. Thanks RM Auctions for permitting Monterey Car Week to publish the wonderful article and photos.
Photo Credit: Erik Fuller ©2015 Courtesy of RM Sotheby's
234 bhp, 2,993 cc SOHC air-cooled horizontally opposed six-cylinder engine with single turbocharger and Bosch K-Jetronic fuel injection, four-speed manual transmission, independent front and rear suspension, and front and rear ventilated disc brakes. Wheelbase: 89.4 in.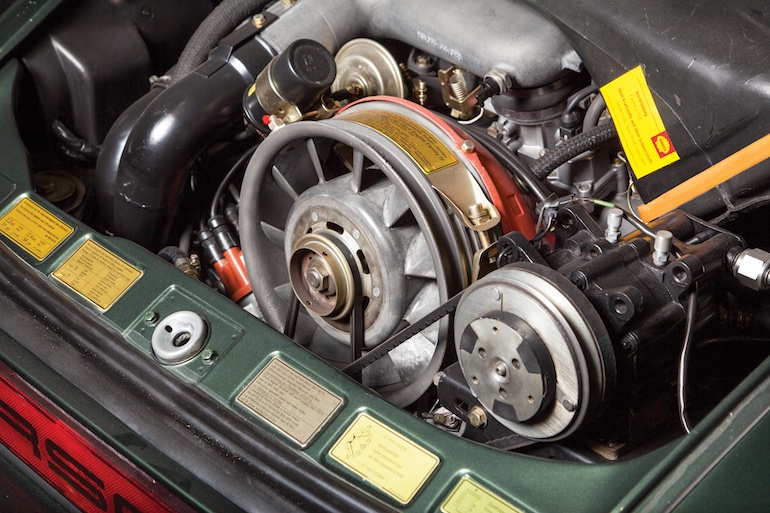 Last of four U.S.-specification 930 prototypes
Featured in numerous publications, as well as in Porsche advertising
Restored in its original and rare color combination
Known ownership history from new
Includes Porsche Certificate of Authenticity
Turbo Carrera U.S.
Not long before the term "Porsche Turbo" became an ingrained part of the world's sports car lexicon, the German manufacturer was working feverishly to ready the potent new 911 derivative for retail customers, especially in the United States, its most important market. The Type 930 was introduced at the 1974 Paris Auto Show as a 1975 model, and it would be the homologated version of the new 934 race car. The new model was intended to be the fastest and quickest street-legal Porsche ever built. It certainly had great visual appeal, with its sexy whale-tail, widely flared front fenders, and rear quarters.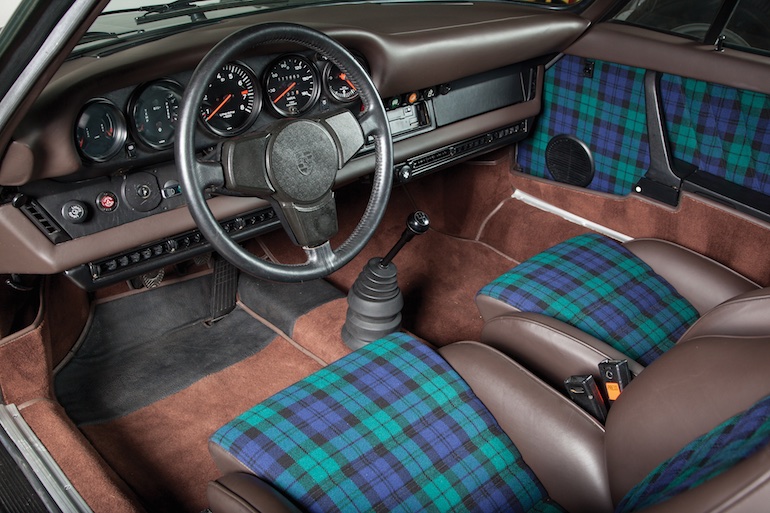 During the summer of 1975, months before the start of actual 911 Turbo production, four pre-production cars were taken aside for careful preparation and detailing: chassis numbers 930680011, -0012, -0013, and -0014. According to Porsche's Olaf Lang, their marketing department posed them for photographs that would be used in advertising brochures and advance publicity. Chassis numbers 0011 and 0012 remained at the factory, while 0013 and 0014 were shipped to Porsche Cars North America in Englewood Cliffs, New Jersey, for type approval, EPA testing, and eventual disposal.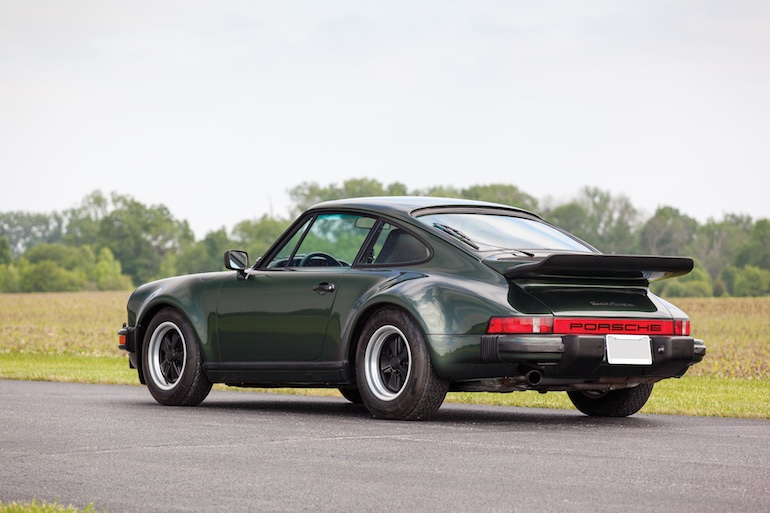 This Turbo Carrera U.S. (as the early U.S. examples were dubbed), chassis number 0014, was completed August 29, 1975, leaving Zuffenhausen loaded with an electric sunroof, air conditioning and automatic temperature control, driving lamps, a rear-window wiper, and bumper-mounted headlamp washers. It was also finished in Ferry Porsche's favorite color, Oak Green Metallic. The car's interior featured a pair of sports seats and door panels trimmed in brown leather with Black Watch tartan fabric inserts. Both the dashboard and rear package shelf were leather-covered. Interestingly, Porsche did not provide these early examples with boost gauges (included the following year).
On the cars' arrival in New Jersey, their engines and four-speed gearboxes, which had received such careful massaging at the factory, received additional attention at PCNA and then were sealed with daubs of paint so they couldn't be tampered with. They were much better finished in every regard than the standard Turbos that would follow.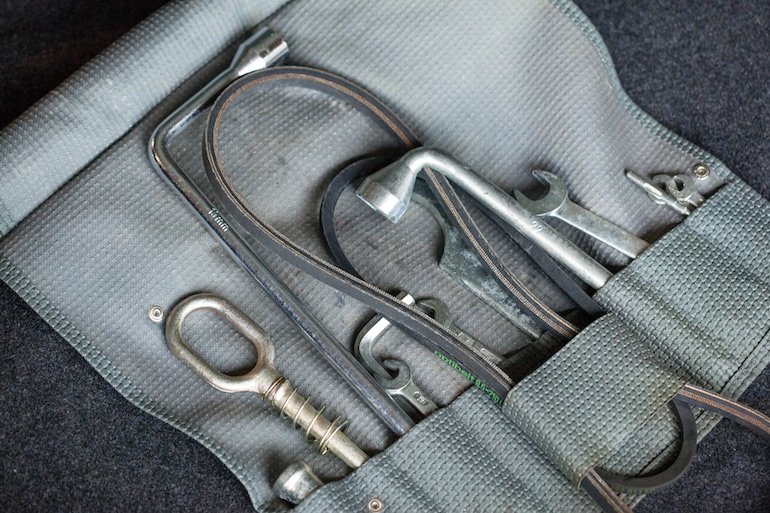 Chassis 0014 was sent to the EPA's emissions test facility in Ann Arbor, Michigan, for further evaluation. Number 0013 was sent to the Transportation Research Center in Ohio, where journalists were allowed to wring it out on that facility's test track. It duly impressed, with a top-recorded speed of 156 mph, and magazine reviewers gushed with praise. Those assignments completed, both cars were delivered to the company's West Coast distributor in Culver City, California, for "real world" testing in urban traffic.
In a 2009 interview for an Excellence magazine feature, Porsche publicist Andy Schupack recalled that both of the 930s suffered from turbocharger bearing and wastegate problems. The Porsche technicians in Los Angeles had neither spare parts nor technical manuals, and the practice of allowing a hot turbocharger to idle for a few minutes before shutdown had yet to be established. Eventually, the spares arrived, along with the maintenance books, and the problems were resolved. Then, number 0013 was stolen; it was later found stripped in a chop shop.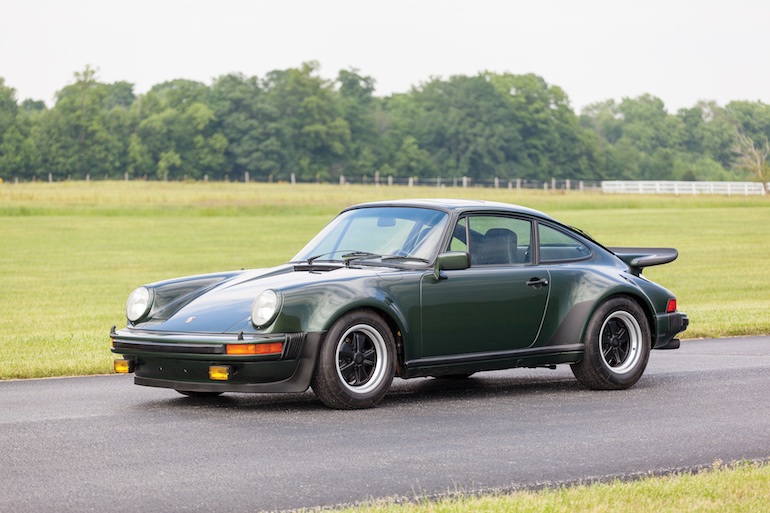 Thankfully, the example offered here fared better. Once PCNA was through with it, chassis 0014 was sold to Pete Smith at Bob Smith Porsche in Hollywood, California, with about 4,000 miles on the odometer. The car was purchased by Steve Earle, organizer of the annual Monterey Historic Automobile Races. Around 1979, upholstery shop owner Dale Delanders purchased the car from Earle and replaced the interior with brown leather—fortunately retaining the original seat covers. Ten years later, with the odometer now reading 101,000 miles, the car was acquired by Los Angeles architect Mark Palmer. He kept the car more than 18 years but added fewer than 10,000 additional miles. Palmer told Excellence, "I could twist the motor past 8,000 (the factory-recommended redline was 6,850), and there was very little turbo lag. It was basically a race engine, obviously much more carefully prepared than a standard car."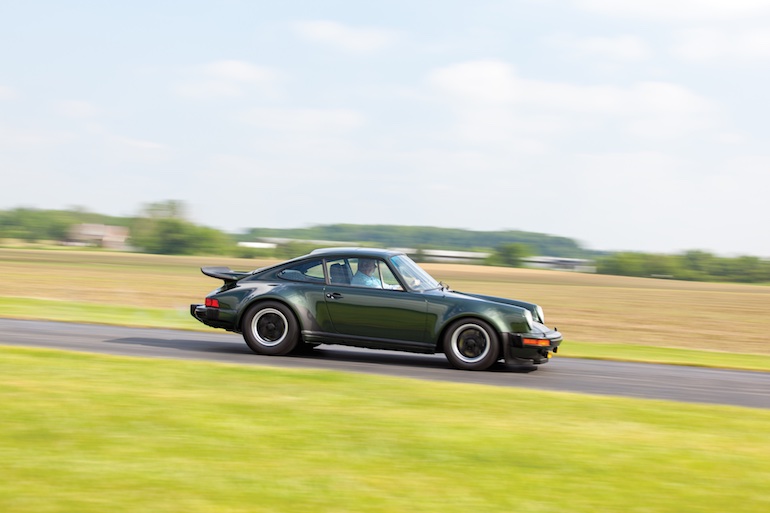 In 2000, Palmer gave the car a bare-metal repaint at Brace's Auto Body in Marina Del Rey. He also upgraded the engine with Carrera pressure-fed chain tensioners, later Turbo brakes, and the 16-inch Fuchs alloy wheels that became standard fitment on Turbo Carreras in 1977. Joe Sackey then purchased the car in 2008 and reinstalled the original tartan-insert seats and interior. He subsequently traded the car to the current owners, who have displayed it in their Indiana showroom to the present day. Chassis 0014 has recorded 111,437 miles at the time of cataloguing.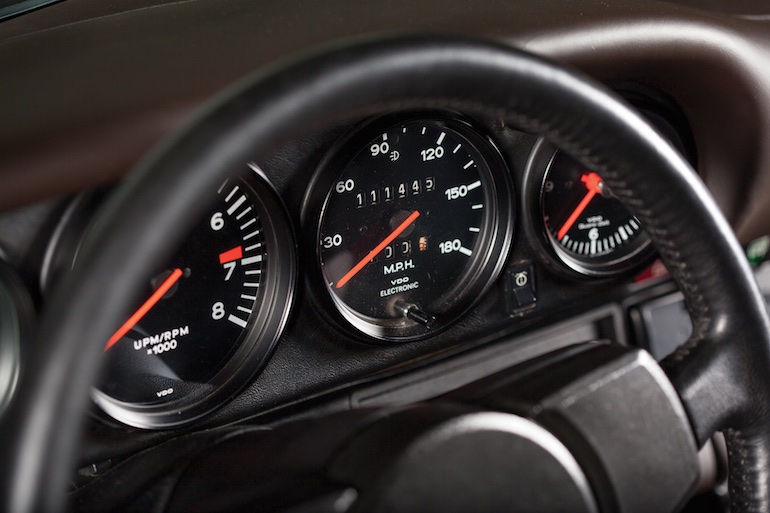 As the last of four U.S. prototype examples, this 930 Turbo has been featured in Henry Rasmussen's Porsche—Six-Cylinder Supercars and the November 2009 issue of Excellence, the Magazine About Porsche. It is supplied with a Porsche Certificate of Authenticity, correct spare wheel and compressor, jack, tools, owner's manual, warranty book, and service invoices. This is undoubtedly among the most important modern Porsches, representing the crest of a performance revolution.