BUGATTI TYPE 57C
Published by Monterey Car Week (Bugatti Type 57C)
Editor's Note: Bugattis are always striking in appearance and superlative in terms of performance. This 1938 Bugatti Type 57C Aravis Cabriolet by Gangloff proves the point. Thank you RM Auctions for permitting Monterey Car Week to publish this informative article and the well-wrought photographs on a stunning Bugatti, which will be crossing the block at the RM Auctions event at Amelia Island, Florida on March 14, 2015.
Photo Credit: Darin Schnabel ©2015 Courtesy of RM Auctions
Body Style 3912. 160 bhp, 3,257 cc dual overhead-camshaft inline eight-cylinder engine with a Roots-type supercharger, four-speed manual gearbox, solid front axle with semi-elliptic leaf springs, solid rear axle with quarter-elliptic leaf springs, and four-wheel Lockheed dual master hydraulic drum brakes. Wheelbase: 130 in.
One of three extant Aravis Cabriolets by Gangloff
Desirable supercharged specification
The 2012 Amelia Island Best of Show winner
Documented by Bugatti historian Pierre-Yves Laugier
Bugatti Type 57C Chassis 57710 is one of only three extant examples of the Aravis Cabriolet by Gangloff that were built in 1938 and 1939. Like other Bugatti bodies, the Aravis was named after a beautiful mountain range, and it was designated as a 2/3-seater cabriolet when it was first offered in the 1938 catalogue. Only Gangloff and Letourneur et Marchand were allowed to dub their 2/3-seater cabriolets the Aravis, and it is believed that each coachbuilder produced six of these bodies, of which three by Gangloff survive, as do three by Letourneur et Marchand.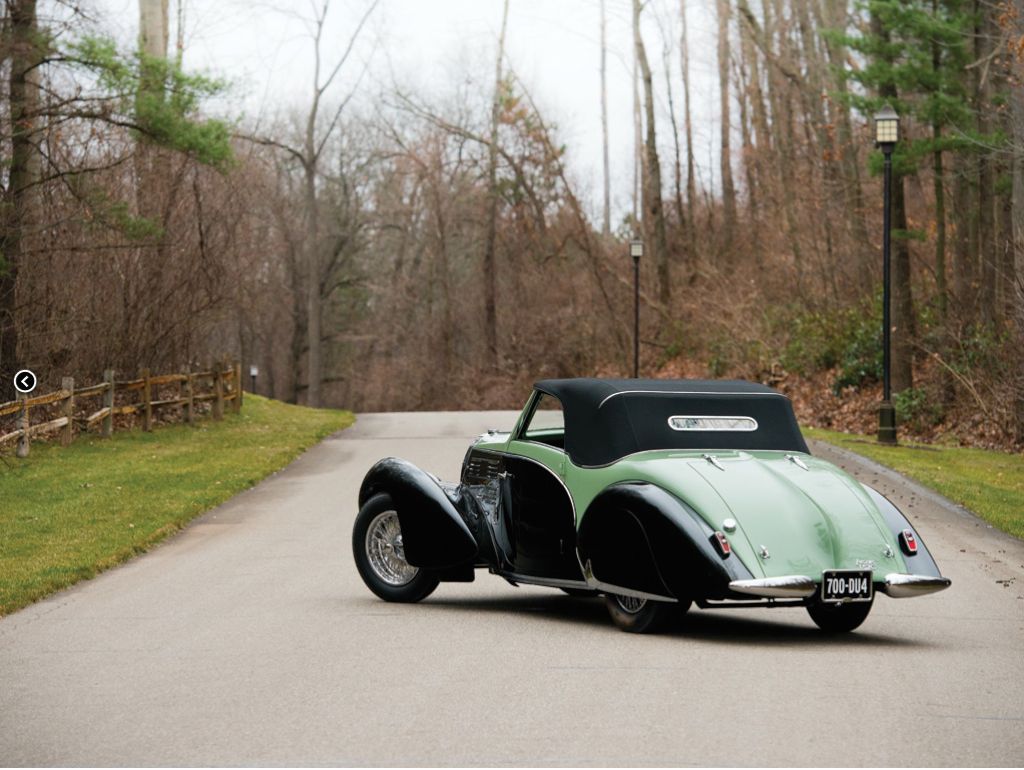 This car is based on a Gangloff drawing, number 3912, which is dated October 7, 1938, and a copy of this drawing is in the car's file as part of a report prepared by Bugatti historian Pierre-Yves Laugier. According to Gangloff records, the order for this Aravis Cabriolet, style number 3912, was placed by the Piot Garage, under number 235, and it was delivered there in November 1938, with chassis 57710 and a naturally aspirated engine, number 510. According to the Bugatti factory list of agents, the Piot Garage was located in Dijon, France.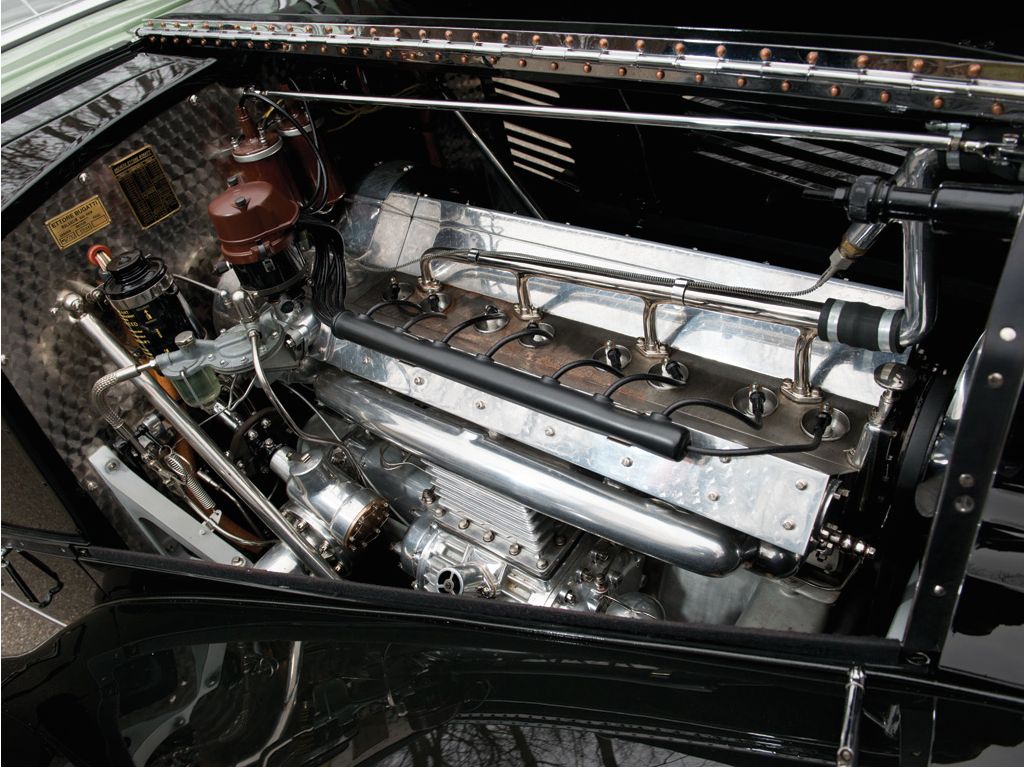 On November 5, 1938, chassis number 57710 was officially registered in the name of its first private owner, Mr. Fernand Rey of Dijon, who was the proprietor of a pharmaceutical company, and it was licensed under the number 700 DU 4. A copy of the registration record, which is also on file, contains a note indicating that the car was sent to the south of France at the beginning of the war, and it likely remained there for the rest of the conflict.

Fortunately, Mr. Rey was able to retain ownership of his Bugatti throughout the war, and then, in 1950, he sold it to Roger Teillac. Teillac was a Bugatti specialist who had been in business since before the war, and at that time, he was the proprietor of the Laos Garage in Paris. Teillac continued to drive the Bugatti under its original registration, and thus, the Dijon police received a letter from Rey, which indicated that he had sold the car to Teillac on August 11, 1950.

Around the autumn of 1950, the car was sold by Teillac to Raoul Bensoussan, a garage owner living in Oran, Algeria. According to his younger brother, Edgard, the car was purchased for about 9,000 francs. It is believed that Raoul left the car in Marseille and let Edgard use it when he was on holiday in the Alps in the summer of 1952. Afterwards, the car was sold to a Mr. Weiss, a bailiff from Oran.

Weiss was very interested in the car but could not pay cash, so he proposed to the Bensoussan brothers that he would trade it for his Delahaye Coupe des Alpes and some cash, to which they agreed. Legal ownership of the car was transferred to Weiss, and the brothers learned later on that Weiss was divorcing from his wife and would not be able to complete the deal because he needed to pay for alimony, so there was no car and no money for the brothers.

Around 1960, Bugatti enthusiast J. Liscourt, who would own around eight examples of the marque in the early 1960s, found Weiss' Aravis in a garage in Toulouse, where it was reportedly in excellent condition and wearing its original two-tone blue paint. Liscourt, along with noted collector Yves Dalmier, helped direct Bugattis to well-known Brussels dealer Jean de Dobbeleer. After owning the car for a short period and using it to travel to his family's home in the north of France, Liscourt ultimately sold 57710 through de Dobbeleer to the United States in April 1961.

At some point before the car left Europe, its original motor, number 510, was removed and installed in 55223, and a replacement Type 57 motor was restamped and installed. De Dobbeleer's associate in the U.S. was Gene Cesari, who helped find a new owner for the car within weeks. As such, it can be seen in both Charles Fawcett's The Bugattis of Jean de Dobeleer and Gene Cesari's Bugatti Memories.

The purchaser of 57710 was Dr. J.E. Fields, of Joliett, Illinois, and his ownership was noted in Hugh Conway's 1962 Bugatti Register. By 1979, the American Bugatti Register quotes the new owner as Edwin Andrews, of Evanston, Illinois. It was subsequently owned by well-known Chicago collector William Jacobs, after which it was acquired by the Behring Collection and then eventually passed to a noted East Coast collector.

During a previous restoration, the dorsal fin was lengthened to allow for the removal of the European-style license plate cutout, the hood louvers had also been restyled, and an original supercharger was added to upgrade the car to the potent 57C specification.

The current owners acquired the car in the mid-2000s and consigned it to respected restorers at LaVine Restorations, who performed a full concours-quality restoration. In the process, the hood louvers were changed back to their original style and the single blade bumpers, which had been added in the 1950s, were replaced with the standard Type 57 bumpers, as seen in period photos.

The engine was fully rebuilt by Sam Jepson and incorporated a high-quality recast block that had been sourced by Scott Sergeant; specification and dynamometer sheets from the rebuild are available for inspection. As completed, this 57C Aravis performs as well as it looks, having won numerous awards, including Best of Show at the Glenmoor Gathering in 2011 and subsequently Amelia Island in 2012.

This rare 1938 Bugatti Type 57C Aravis is a very proper car, having had only a few French owners during its early life. It is known that the Gangloff coachwork was well-preserved when it was eventually shipped to its new home, where it was in the hands of caring collectors, and it has lived there ever since. The other two surviving Bugatti Type 57C Aravis by Gangloff are in the hands of long-term collections, making the offering of this particularly flamboyant car a special opportunity indeed.