Austin-Healey 100S
Published by Monterey Car Week (Austin-Healey 100S)
Editor's Note: This Austin-Healey 100S will be going to auction at RM Auctions Amelia Island event on March 14, 2015. Thanks to RM for permitting Monterey Car Week to publish the photos and article on this rare 1955 Austin-Healey 100S race car.
132 bhp, 2,660 cc pushrod inline four-cylinder engine, four-speed manual transmission, front independent coil springs, rear semi-elliptic leaf springs, and four-wheel Dunlop hydraulic disc brakes. Wheelbase: 90 in.
The first chassis of just fifty built of this special alloy-bodied racing model
The fourth car to be finished; custom-ordered for actor Jackie Cooper
Delivered to Cooper at the 1955 12 Hours of Sebring race
Driven by Cooper, with co-driver Roy Jackson-Moore
The only 100S delivered in Spruce Green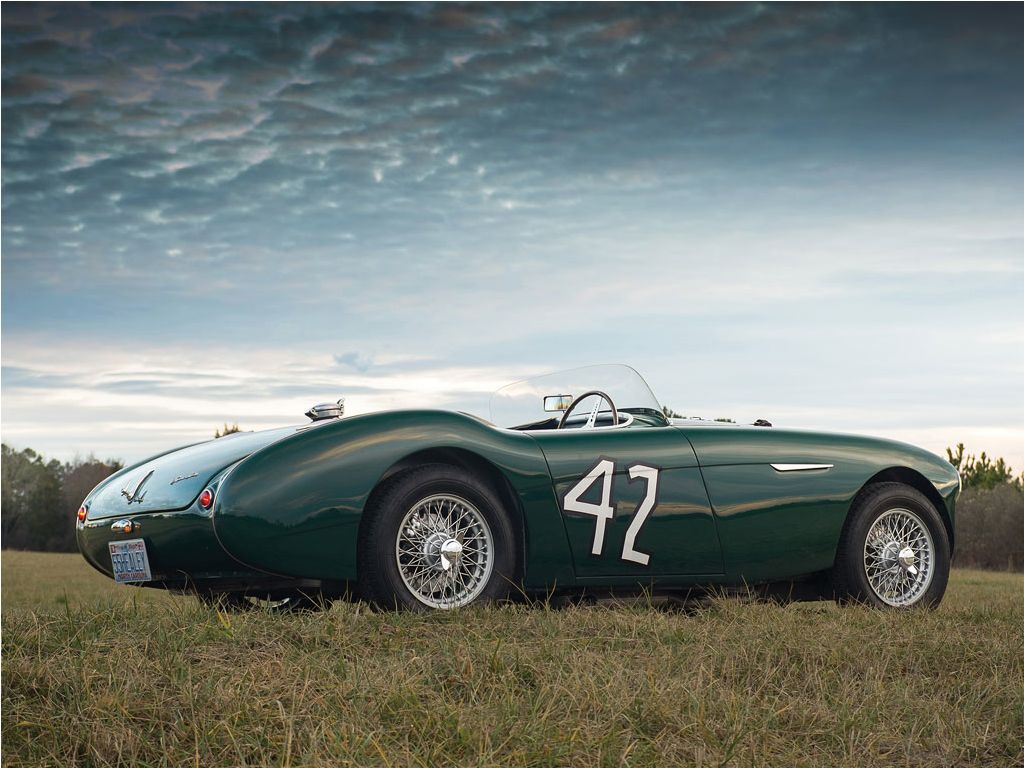 The story of Donald Healey and his motor company, which was founded in the English Midlands town of Warwick immediately following World War II, is well-known. It was an era when a small group of dedicated and talented people could create great automobiles, and Healey's tiny company did just that even during an era of post-war shortages and an economy still struggling to recover.
In 1952, Healey had struck a deal with Austin for them to assemble his "Healey Hundred" in far greater quantity than his tiny Warwick-based company ever could have. As part of that arrangement, Healey continued development of the car and embarked upon a competition and record-setting program to garner publicity to boost sales. The key element of that effort was the development and creation of the Austin-Healey 100S, a car conceived not to make a profit but rather to advance the marque's sporting image by its appearance on race tracks around the world.
The 100S was developed throughout 1953 and 1954, and what emerged was a car that looked very similar to the standard 100 but was, in fact, built by hand at the Healey Works in Warwick, where scores of improvements and modifications were incorporated to make it more competitive in racing. As with any race car, weight was always a principal concern, and to lighten the 100S, an all-alloy body was used, along with an alloy substructure. To further contribute to weight savings, the standard car's bumpers were shed, as was the large glass windscreen and the "weather equipment," which included the top and side curtains. The result was a curb weight of just 1,876 pounds. The 100S was a purpose-built racing car from the beginning.
The engine was also highly modified, resulting in a power increase from 90 to 132 brake horsepower. This was achieved by dozens of modifications, with the most apparent being a specially designed aluminum Weslake cylinder head that required the intake and exhaust manifolds to be on opposite sides from those of the production cars. Although ostensibly still an "Austin" engine, they were actually built at the Morris engine plant in Coventry.
Among other notable features of the 100S are the brakes. Dunlop hydraulic disc brakes at all four corners were cutting edge in the mid-1950s. The early Dunlop systems used a Plessey mechanical pump to energize the braking system. However, with advances in disc brake design, the pump was believed to be unnecessary, and Healey and Dunlop installed a new design in the Cooper 100S chassis. Through trial and error, the final set-up was determined and used on the subsequent 100S Healeys.
THE JACKIE COOPER 100S: CHASSIS AHS 3504
While this was going on in Warwick, American actor Jackie Cooper was racing his standard Austin-Healey 100, which was painted Spruce Green. At this point, he had already become a huge fan of the marque and was also a great friend and supporter of Donald Healey. Cooper had begun his acting career as a child star in the 1920s, and at age 9, he became the first child actor to receive an Academy Award nomination. He joined the U.S. Navy during World War II, and afterwards, he returned to acting. He remained involved with the Navy as a line officer and jet co-pilot, which lead to a distinguished career and him eventually achieving the rank of captain. Cooper's dedication to the Austin-Healey marque was such that he traveled with the Donald Healey Motor Company to the Bonneville Salt Flats for the record attempts in 1954. Cooper even narrated the British Motor Corporation's publicity film of the venture, concluding it by stating that Donald Healey was the "Wizard of Warwick"!
Thus, when the 100S was announced, Cooper was a ready customer. The car offered here is the one he ordered, which was produced in the first batch. It is the first production chassis and the fourth 100S completed. It was used as a test-bed for the new upgraded Dunlop disc brake system, and various brake system components are uniquely stamped, with some even being hand-engraved with numbers to help with the initial layout of the braking system. Chassis 3504, used as a guide for building the first three cars, was finished just in time for shipment to Florida for the 1955 12 Hours of Sebring race, where Cooper took delivery of the car. At Cooper's request, it is the only 100S finished in his signature Spruce Green, and its interior was also in a unique and matching green. Additionally, while the other 100S cars wear a dash plaque that attests to their specifications being similar to that of the Austin-Healey 100 that raced at Sebring in 1954, this car, the first chassis, was not originally fitted with that plaque, as stated in a memo written by Cooper to a subsequent owner, Bill Wood. Also unique to 3504, and also at the request of Cooper, this 100S was equipped with a YCM Mallory distributor, which remains with the car today.
For the 1955 12 Hours of Sebring race, Cooper teamed with Englishman Roy Jackson-Moore, an Austin representative then living in the U.S. This was the first Sebring race to include a Hollywood movie star, and seven 100S cars were entered, including one driven for the factory by Stirling Moss and Lance Macklin. Cooper and Jackson-Moore were holding onto 7th position overall and would have finished as the second 100S in the race and 2nd in class, to be beaten only by Moss and Macklin, but as Cooper wrote, "In Sebring, faulty wiring caused battery failure, and I had to push the car over a mile!" The extraordinary effort resulted in a 42nd place finish, but it got him named Auto Sportsman of the Month and pictured on the cover of Sports Car Illustrated magazine. As such, Cooper and AHS 3504 entered Sebring legend. (Cooper, already an active member of the California Sports Car Club and the British Auto Racing Club, began his competition career at Pebble Beach in 1951 with his completely stock Jaguar XK120.)
After that first outing at Sebring, Cooper went on that same year to race 3504 at Thompson Raceway in Connecticut, the Edenvale airport circuit in Ontario, at Beverly in Massachusetts, at Watkins Glen in New York, and at the Nassau Trophy Races in the Bahamas.
Subsequent owners of the car continued to race 3504 for a number of years, and in 1976, it was acquired by Austin-Healey collector Bill Wood, of New England. Originally, Wood had purchased another 100S that was missing various items, and so he placed an ad in Road & Track magazine in search of a 100S grille. He subsequently received a call offering him a 100S engine and gearbox. Wood made the purchase and later discovered that it was the drivetrain from the Cooper 100S. Sometime later, Wood discovered an engineless 100S that the owner was preparing for the installation of an MGB motor. Wood acted quickly and was able to trade a motorcycle for the car, which turned out to be the Cooper 100S. Thus, the car and motor were reunited, and in 1989, Wood sent the somewhat disassembled but quite complete car to Fourintune Garage in Cedarburg, Wisconsin, for a full and correct restoration. Fourintune restored no fewer than four of this rare model, and in 1990, it was finished just in time to compete in the Meadow Brook Hall Concours for the Peter Helck Trophy in the Race Car Circle.
Wood then sold the car in 1997 to Italian Tommaso Gelmini. Gelmini shipped the car to Italy and raced it at the Targa Florio and Mille Miglia Storica in 2001 (as car #174). In 2002, chassis 3504 was purchased by Joe Hayes, of Chicago, Illinois, and he returned it to the U.S.A. In 2003, it was purchased by Bruce Earle, of Pennsylvania. Earle used the car in numerous vintage races, and in 2008, he sold the car to William Story, of California. This unique car was featured in the 2009 Austin-Healey Club of America calendar for the month of April, and it appeared at the 2008 Austin-Healey Club USA's annual Rendezvous. In August 2009, it was the featured car at Botham Vineyard's 14th Annual Vintage Celebration in central Wisconsin. The current owner purchased the car in 2010 and has taken it to several British car shows for charitable causes.
This 100S retains its original engine, chassis, and all-alloy body, and the left front fender was replaced with a NOS fender from a New Jersey dealer after being damaged at Evendale in June 1955. Today, this unique automobile embodies the magical age when a small team of talented and inspired people could develop and create such a car, when a Hollywood celebrity could race one against the likes of Stirling Moss, when the racing circuit included the glamor of Nassau, and when speed records on the Bonneville Salt Flats figured prominently in automobile advertising.
The car had been put aside for preservation during its prep for contemporary vintage racing and included with its purchase is the original Weslake aluminum cylinder head, an original "hippo-type" aluminum oil cooler, and other spares and original parts, which are too numerous to list here but will be available for inspection on site.
This unique car, one of only fifty produced and the first chassis among them, has unique brake parts, and it would make a stunning centerpiece in any high-grade collection of sports cars. Add to that its period racing history, which includes Sebring, and its legendary "press on regardless" finish, and something very exceptional becomes rarer yet. Then account for the celebrity/sportsman original owner and his relationship to Donald Healey, as well as its specially ordered color and features, and one can most certainly consider AHS 3504 among the world's most significant competition sports cars. This extraordinary Austin-Healey is ready to continue to provide adventure on the road and would be enthusiastically welcomed at innumerable prestigious events worldwide.
No finer example Austin-Healey 100S known to exist and this racing car will complement even the most exquisite of car collections.