By D. Brian Smith
Photography: D. Brian Smith
The LA Auto Show seemingly gets bigger and more spectacular every single year. How do they do it? We at Autobahn Buzz don't know for sure, except that automotive manufacturers around the world are always tasked with engineering, designing and building cars that are more fuel efficient, are more environmentally friendly, offer more spirited performance, provide better mobile connectivity and multimedia capabilities, are safer, look more amazing and we could go on and on and on. What's more incredible is that, for the most part, these wonderful companies always seem to rise to the challenge.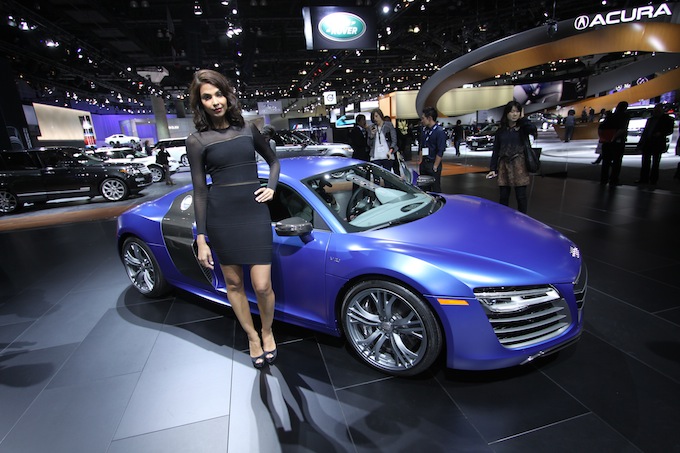 Audi R8 in purple suede – the perfect supercar for the artist formerly known as and now again known as Prince
For the automotive enthusiasts at Autobahn Buzz, we go from being serious, mature adults to exuberant and excited boys every time we go to that next LA Auto Show. Seeing the many new automobiles and the fantastic concept cars evokes a feeling inside that's very much like going to Disneyland and riding the Matterhorn roller coaster as little kids for the first time. When cool cars can still do that to full grown men, you know that you're a certified gearhead, carnut or whatever term you wish to self identify yourself as.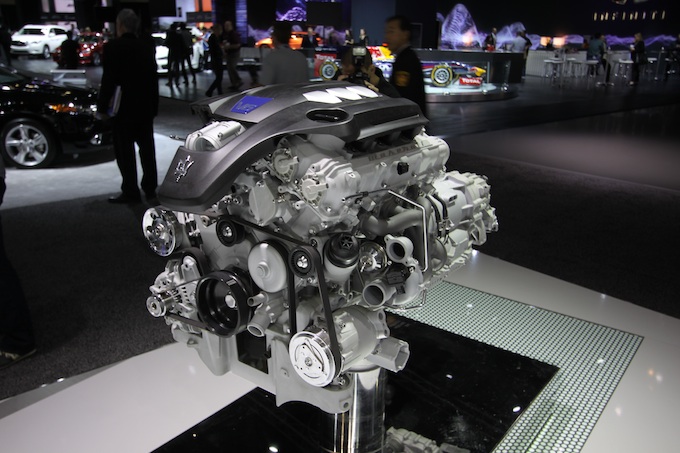 Maserati powerplant – wow!
Unlike with past years, commuting to the first press day was a driving nightmare. Rather than ride the Metrolink train and enjoy the view of the Southern California coast part of the way, Autobahn Buzz braved the Southern California freeways, which was a major mistake. The drive was supposed to last 1.5 hours. It was a bumper-to-bumper bruising that took 2.5 hours. Fortunately, we still made it to the tail end of a Motor Press Guild produced breakfast and informal car show in front of the Los Angeles Convention Center buildings, where the LA Auto Show is held each year in November during the Thanksgiving holiday.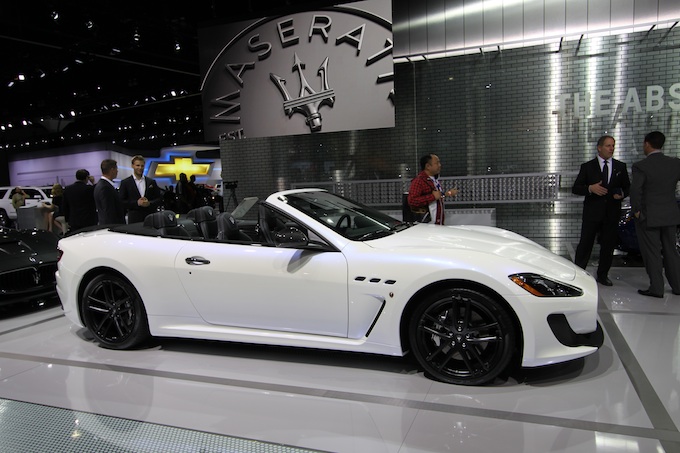 At the Motor Press Guild Motoring Invitational, presented by Forza Motorsport 5 and XBox One, we chowed down sufficient protein cooked up by some of Los Angeles' hottest gourmet mobile food trucks to get us through the entire schedule of auto company press conferences throughout the jam-packed day. There were over 100 automotive luminaries, icons, collectors and celebrities to mingle with and meet, as well as appreciate some of their automobiles before making our way to the first conference. Autobahn Buzz/Redline Review enjoyed meeting David Gooding, the founder and owner of Gooding & Co, a very prominent worldwide auctioneer of iconic classic and exotic automobiles. We conversed with Mr. Gooding about our beautiful and rare 1930s vintage German sports car, the Auto Union Wanderer W25K Roadster that's presently undergoing a full, body-off restoration, before making our way to another notable German automobile manufacturer for the first press conference.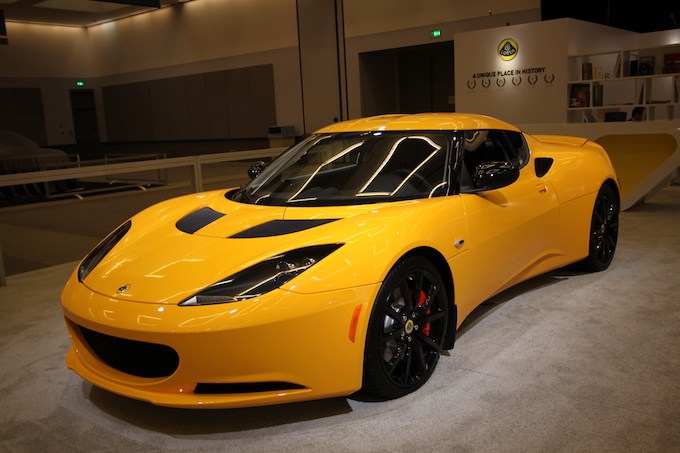 Lotus Evora – a supercar for everyone who loves pure performance and handling
BMW
Bavarian Motor Works treated us scribes to a worldwide premiere of the BMW 4 Series Convertible. Drop top motoring is ever so popular in The Golden State, so seeing the elegant and sporty car in all its four-seat cabriolet glory was a most welcome sight to behold and dream of one day owning.
BMW all-electric i3 – an iPhone on wheels? We think so, but even better!
There was plenty more wow factor to consider, given that the all-electric BMW i3 and the BMW i8 made their US debut in Los Angeles just three weeks after their international launch at the IAA in Frankfurt Germany.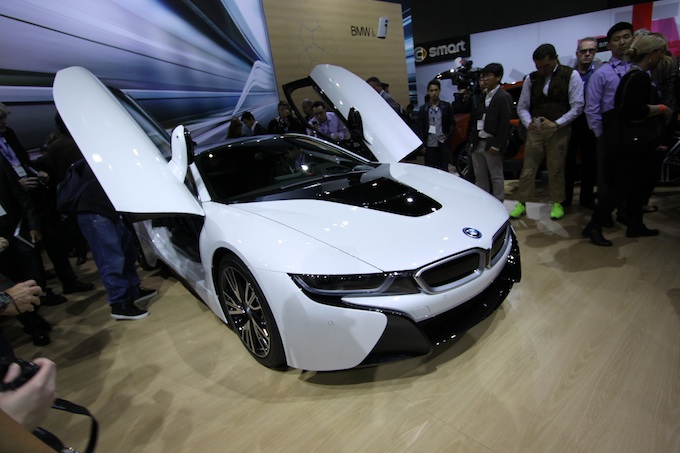 BMW i8 plug-in hybrid supercar – 250 km/h, 0 to 100 kph is 4.4 seconds
Autobahn Buzz was at BMW's simultaneous worldwide launch of the i3 in the summer of 2013. Seeing the innovative, carbon-fiber comprised car again was a reaffirmation of how much we like this groundbreaking, all-electric automobile.
Jaguar/Land Rover
The Jaguar F-Type Coupe debuted at the LA Auto Show and received broad acclaim from the journalists in attendance at the Jaguar/Land Rover press conference. In person, the proportions of this finely wrought sports car are spot-on.
Jaguar F-Type Coupe – not just another pretty face
Ranging from sweet to sublime, there are four F-Types available: F-Type, F-Type S, F-Type V8 S Type Convertible and the F-Type R Coupe. The latter one, the R Coupe, offers supercar performance with superior driver focused handling capabilities. We can attest to the F-Type looking the business. Autobahn Buzz looks forward to taking the R Coupe out for a spin.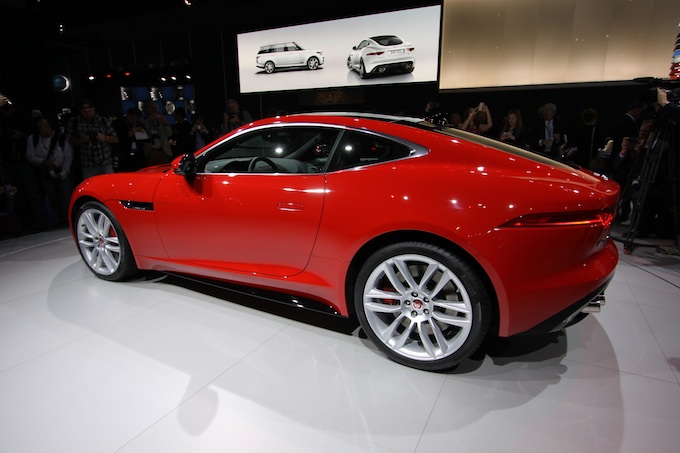 Jaguar F-Type Coupe in profile
Jaguar F-Type Coupe appears ready to pounce
Mercedes-Benz
Leave it to Mercedes-Benz to reveal the sort of show car that used to been seen in the Space Race days of the late 1950s through the 60s. M-B was commissioned to design a GT hypercar for the ever popular Gran Turismo computer game. In fact, the Mercedes-Benz GT6 Concept is a full-size rolling automobile for Gran Turismo 6. We have a full feature article on this beauteous piece of rolling automotive excess on Autobahn Buzz. Here's another photo to stir your video game playing, fast car driving soul.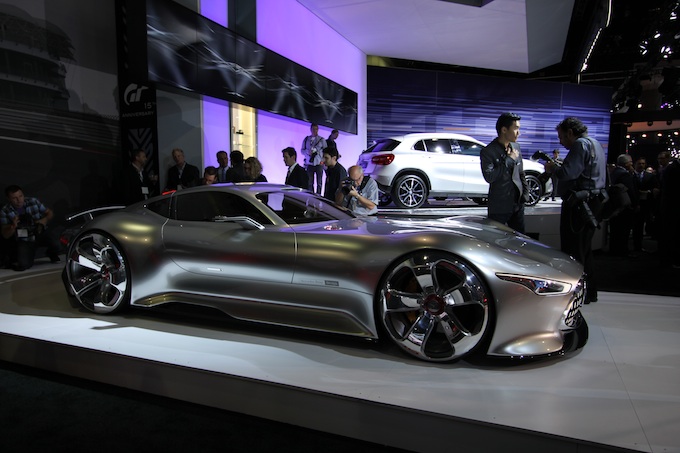 Mercedes-Benz GT6 Concept
Audi
Audi offered up no less than five of its illustrious automobiles up for the first time on exhibit at the LA Auto Show. We enjoyed seeing the Audi A3e-Tron Sportback Plug-in Hybrid, the Audi A3 Sedan (which is the lead photo of this article), the Audi A3 Cabriolet, the Audi 1.8 TFSI and the Audi Quattro Sport Concept.
As many auto historians are aware, the four circles that comprise the Audi logo stood for four German marques that became the all-powerful Auto Union conglomerate of German powerhouse auto manufacturers in 1932. The four companies were Audi, DKW, Horch and Wanderer. The remaining company, Audi, has one of the richest automotive legacy's in all of automotive manufacturing, engineering, design and auto racing, thanks to that collaboration/merger with those other three famous car companies.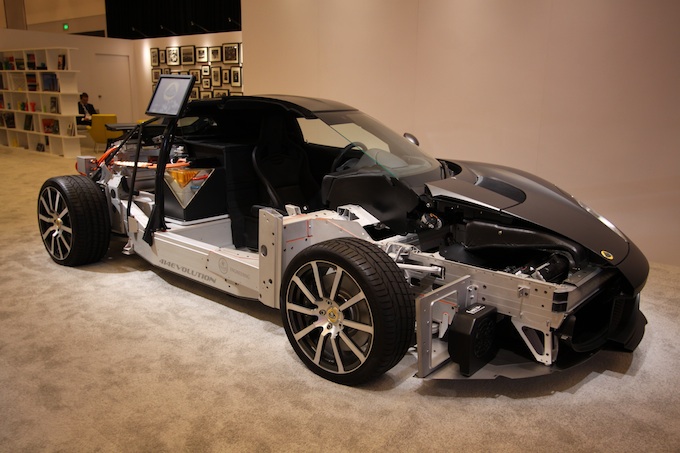 Lotus Evora Cutaway
Lotus
Lotus didn't hold a press conference at the LA Auto Show 2013. The company did however, have a fantastic display of the company's awesome handling/performing sports cars and supercars. Lavished in a luscious Lotus Green hue, a Lotus Exige Cup car was proudly on display, as were a couple of those awesome Lotus Evoras and a Lotus Evora cutaway car, which showed in great detail the amazing, state-of-the-art engineering and design that goes into every Lotus supercar.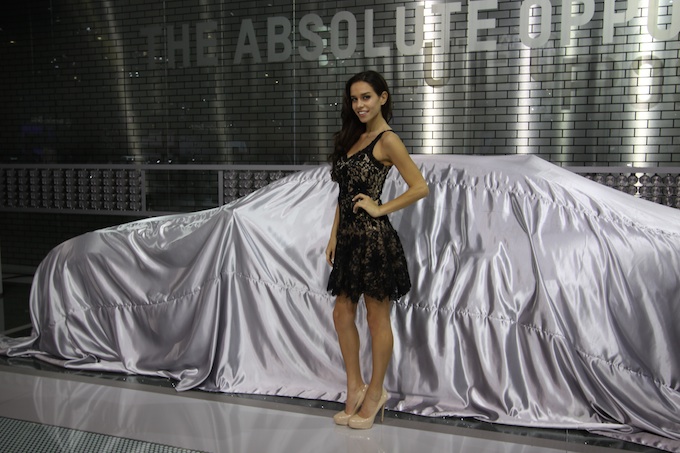 Maserati Ghibli unveil – the Absolute Opposite of Ordinary – fittingly!
Maserati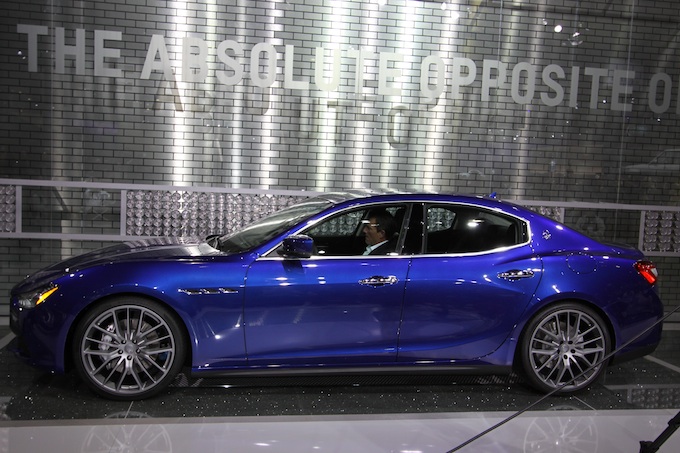 Maserati Ghibli unveiled – a striking profile to be sure!
Making its LA Auto Show debut, the Maserati Ghibli sedan made for a spectacular unveiling. We at Autobahn Buzz have noticed what a great impact Maserati has made in the world of automotive enthusiasts. The famous Italian supercar and luxury car had an enormous presence at the Pebble Beach Concours d'Elegance and at the Concorso Italiano during Monterey Car Week in August of 2013. Maserati also produced a wonderfully orchestrated press conference with the Ghibli unveil and talked about the historical significance of this great Italian automotive marque. We came away from the conference feeling that Maseratis are still created, designed, engineered and manufactured from a collaboration of artistry, creativity, passion, engineering and intellect. This is quite evident when you see a Maserati in person, hear it run or are having fun driving one (someday soon we hope to be).
In Conclusion
The LA Auto Show 2013 was well-worth a 2.5 hour bumper-to-bumper drive the first press day and a 2.5 hour train ride the next press day. Just like back in the day, we felt as though we were at Disneyland riding: the Matterhorn, Space Mountain, the Haunted House, Pirates of the Carribean, Autopia, the Submarines, watching the Wild West Revue in Frontierland, laughing at the Bear Country Jamboree and running with my big sister and little brother to the next ride in the hopes that we'd be first in line. Car shows embody fantasy, fun, excitement, freedom, innovation and creativity, especially for lifelong gearheads like the folks who created Autobahn Buzz. If you keep coming back to our site, we'll keep bringing you all that's right with the automotive industry.