Editor's Note: Since my Dad and I are currently constructing a 1934 Ford Roadster Pickup Hot Rod, you might imagine that this 1934 Ford Roadster is near and dear to my heart and interest. Thank you RM Auctions for permitting Monterey Car Week to run this sweet roadster, both in words and photos.
Photo Credit: Courtesy of RM Auctions
85 hp, 221 cu. in. L-head V-8 engine, three-speed manual transmission, live axle suspension with transverse leaf springs, and four-wheel mechanically actuated drum brakes. Wheelbase: 112 in.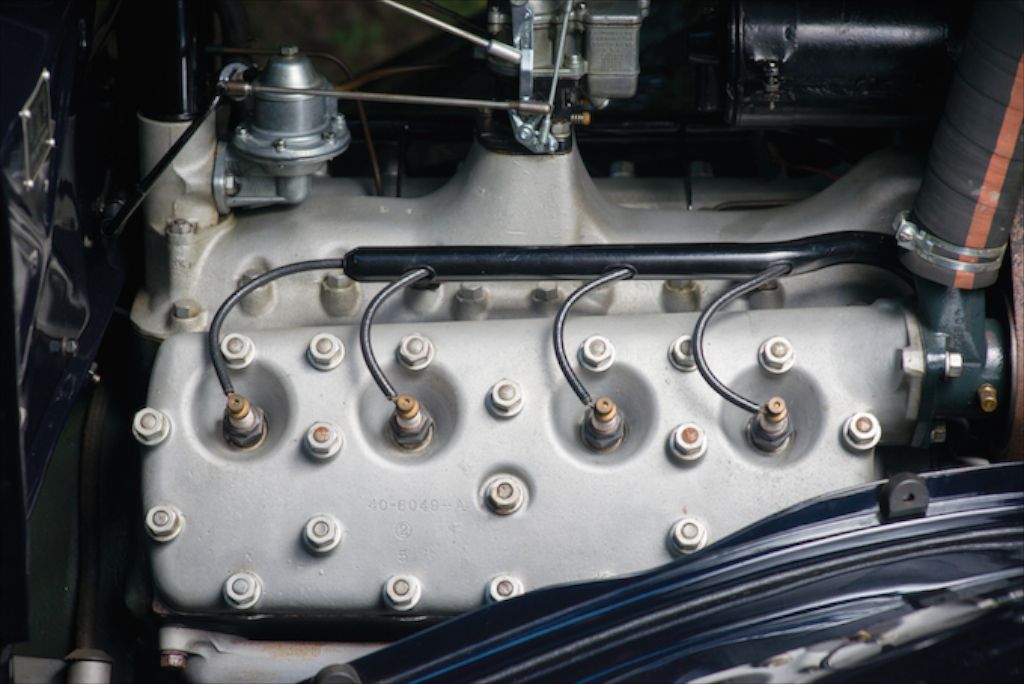 1934 Ford Roadster
Rugged and reliable Ford flathead V-8 performance
Extensive and documented restoration completed between 1991 and 1993
Multiple Early Ford V-8 Club of America Dearborn Award winner
An AACA Junior and Senior Award winner
Includes a complete set of restored tools and side curtains
This jaunty Roadster is painted in a handsome and period-correct combination of Dearborn Blue acrylic enamel with contrasting Tacoma Cream wheels and matching triple pinstripes on the beltline and hood louvers. It is equipped with double whitewall Firestone tires, a wood-grained dash by Benny Estes, a Sandoz rearview mirror clock, a rare and original greyhound radiator cap, and the correct canvas T-14 and interior, which features a copra leather driver's seat and vinyl rumble seat from LeBaron Bonney. A photo-documented frame-off restoration was completed between 1991 and 1993, during which time the engine and drivetrain were completely rebuilt. Since then, it has been meticulously cared for and driven more than 6,800 careful miles, assuring the new owner that it is both properly sorted and reliable. The owner notes that he has driven the car from both Virginia to Auburn, Indiana, and Virginia to Reading, Pennsylvania, to attend Early Ford V-8 Club of America meets.
Attesting to the quality of the work, the car has been the recipient of an AACA First Junior Award at Hershey in 1994 and a Senior Award in Maryland in 1995, as well as three Preservation Awards in 1999, 2004, and 2009. It has been the recipient of multiple Dearborn Awards from the Early Ford V-8 Club of America, and judging sheets from these events are available for inspection, along with extensive documentation and service records.