Editor's Note: RM Auctions has done it again. They've allowed Monterey Car Week to publish this fantastic article and photos of an alluring vintage French race car — a 1935 Delahaye 135 S. Thank you RM Auctions. By the way, if you would like to bid, it will be crossing the block at the RM Auctions affair held in Paris France, starting on February 4, 2015. Bon chance!
Photo Credit: Simon Clay ©2015 Courtesy of RM Auctions
1935 Delahaye 135 S
Est. 160 bhp 3,557 cc inline six-cylinder engine with triple Solex carburettors, four-speed racing gearbox, independent front suspension with transverse leaf springs and Raxef friction dampers, live rear axle with semi-elliptic leaf springs and Raxef friction dampers, and Duo-servo four-wheel cable-operated light alloy drum brakes. Wheelbase: 2,700 mm.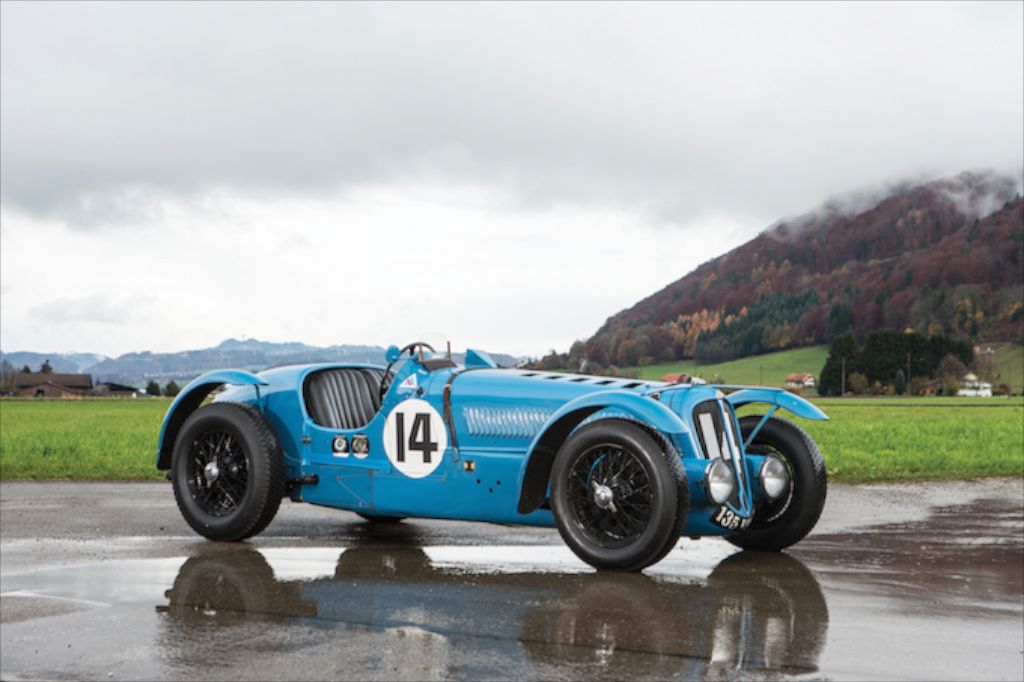 One of only 16 examples constructed
Ex-Ecurie France; raced at Le Mans in 1937, 1938, and 1939
Known ownership from new
Delivered with a valid FIA HTP
The vehicles for Delahaye's new strategic direction were the Superluxe and its sports sibling, the Delahaye Type 135. The Superluxe's and Type 103's engine, a long-stroke, pushrod-operated, overhead-valve, four-main-bearing, F-head inline-six, was designed by Jean François, under the direction of Delahaye's technical director, Amédée Varlet, and it would become one of the most versatile, long-lived engine designs in history.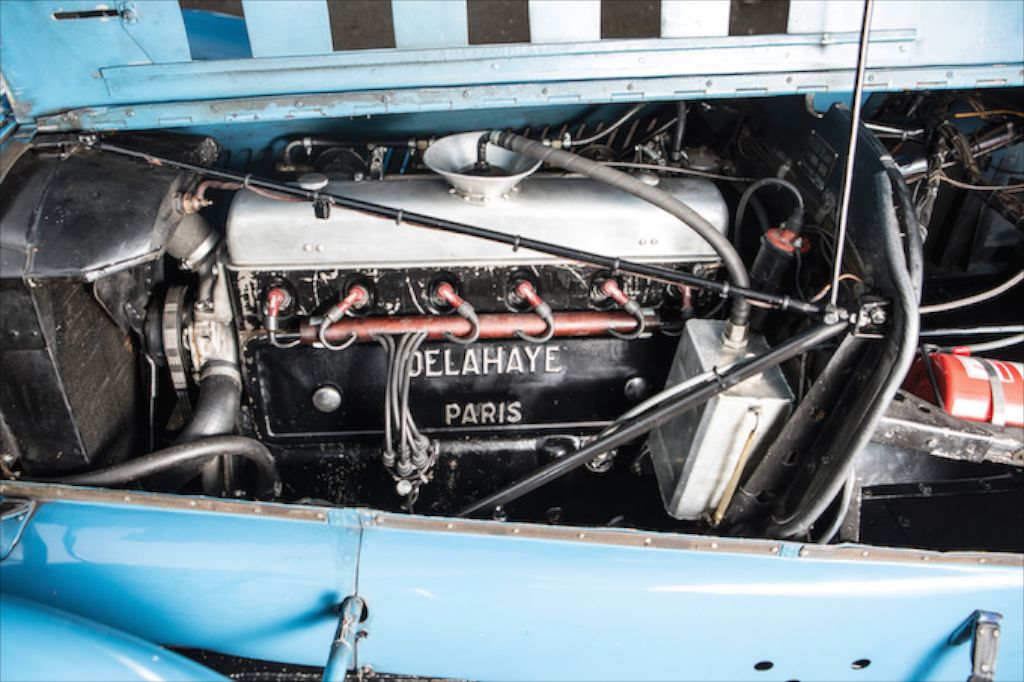 At the same time, Delahaye engineer Jean François was hard at work on a new chassis, the Type 135, which would complement the more powerful engine. The chassis was a particularly advanced assembly for its time, with boxed rectangular rails, a central cross-member, and a welded-in floor, which contributed to additional stiffness and rigidity. The front suspension was independent and used its transverse leaf spring as the lower control arm.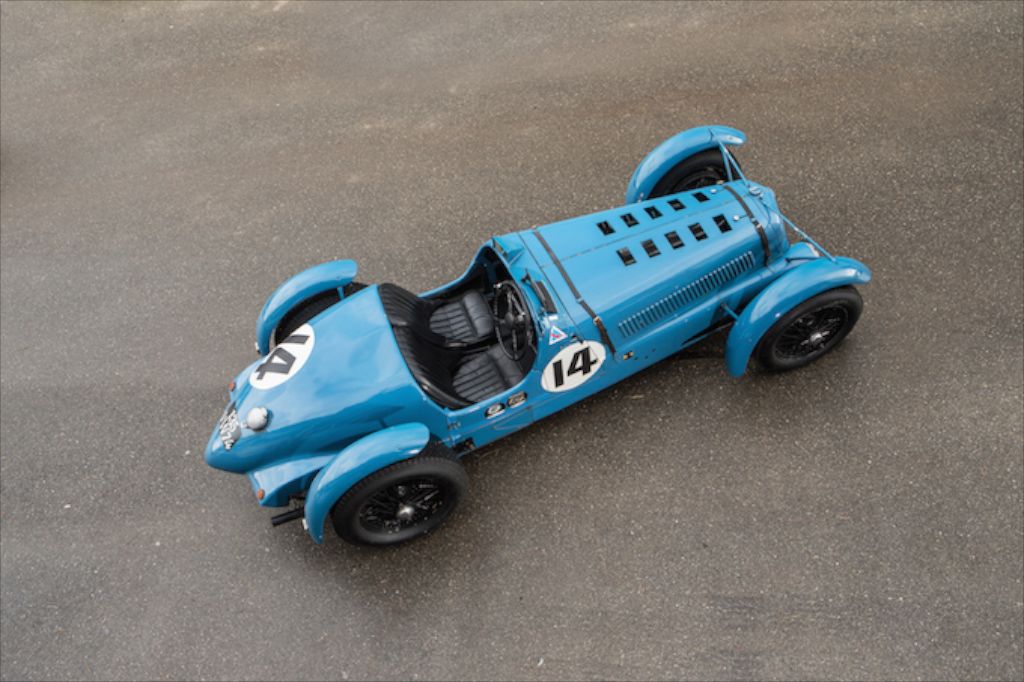 The road going version of the Type 135 was introduced at the 1935 Paris Salon, where it was offered with two engine sizes and two aspiration options, yielding a choice of 95 horsepower, 120 horsepower, and two 110 horsepower configurations. The competition prospects for the Type 135 were embodied in a fifth model, the short-wheelbase Delahaye Type 135 Special, which had a 3,557-cubic centimetre engine with triple carburettors that could produce 160 horsepower. The Type 135 Special was more than just highly tuned, as it also featured additional engine-block cooling passages, a lighter and better-balanced crankshaft that was capable of higher rpms, an 8.4:1 compression ratio cylinder head, a modified valve gear, and a high-lift cam. It breathed through three horizontal Solex carburettors and had six exhaust ports with individual exhaust header pipes.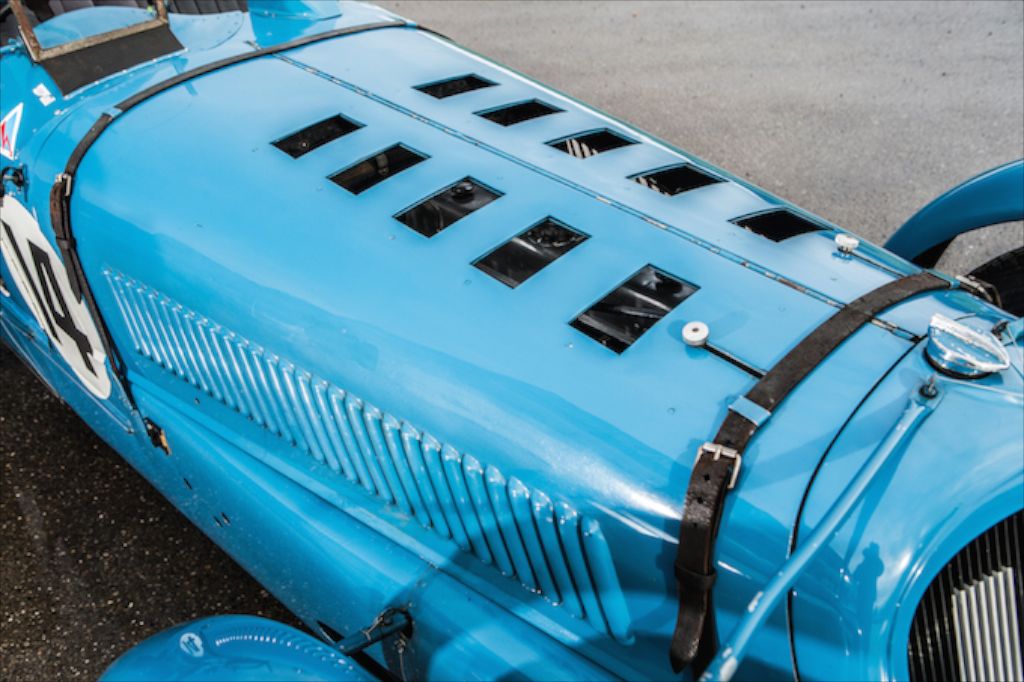 All the Type 135 Specials were bodied with similar lightweight, two-seat coachwork with removable teardrop wings, making them acceptable in both sports car and grand prix competition. They were aggressively functional, gracefully styled, and effectively aerodynamic, and their rugged, naturally aspirated engines and dual-purpose functionality made the Delahaye Type 135 Special the ideal race car for the 1936 French racing season.
The Automobile Club de France had proposed a series of French races for "sport-competition" cars, which were designed to avoid the dominance of German and Italian marques in grand prix. Included in the ACF's schedule, in addition to the 24 Hours of Le Mans, was the French Grand Prix, which was the proudest laurel any French auto manufacturer could win.
The French Grand Prix was held at Montlhèry, located just outside of Paris, on 28 June 1936, and it took place over a distance of 1,000 kilometres. The Delahaye Type 135 Specials threw a scare into Bugatti, as they finished 2nd through 5th, behind Wimille and Sommer in an envelope-bodied Bugatti Type 57G. Albert Perrot and co-driver Dhome finished 5th, just behind Laury Schell and René Carrière. Schell had finished 2nd in the 3 Hours of Marseilles, which was held a month before on the Miramas circuit, and it was part of a sweep of the top six positions by Delahaye Type 135 Specials. Two weeks after the French Grand Prix, Schell and Carrière finished 3rd overall at the 24 Hours of Spa. Delahaye's hopes of adding the victory wreath from the 24 Hours of Le Mans to the company's history was unfortunately interrupted by 1936's social and labour unrest in France, which forced the cancellation of the endurance classic.
Chassis 46094 is one of the sixteen Delahaye 135 S Competition models that were built specially for racing by the factory and selected clients. The entire illustrious racing and owner history of this car has been carefully researched and documented by French authority Pierre Abeillon, and its history is well-known all the way back to its date of delivery.
Its original owner was Joseph Paul, a close friend of the Schells, and in December 1935, he registered it with the Seine et Oise Department as 4400YB5. From 1936 to 1939, Paul competed very regularly and successfully with the car, most notably achieving a 2nd place at the 24 Hours of Le Mans in 1937, where the car was driven by Paul and Marcel Mongin. During this period, Paul and chassis 46094 campaigned in an amazing 30 events, including the 24 Hours of Le Mans for 1937, 1938, and 1939. He finished 2nd in the 1937 event and took a number of 1st place honours at other events, including the 1936 A.C.F. Rally. A full list of Paul's entries, as compiled by Pierre Abeillon, is included with the sale.
Unfortunately, Joseph Paul fell victim to the war, and in 1947, the Delahaye was purchased from the Paul Estate by Paul Vallee. The post-war competition career of 46094 continued with Vallee's famous Ecurie France, before the car was sold to Guy Mairesse in 1948. The car was still competitive in the hands of Mairesse, and it even came in 1st at the Grand Prix des Frontieres in 1948. In 1949, under the ownership of Ecurie Mundia Course, 46094 was piloted by "Ralph" and took part in a number of races, including the Grand Prix des Frontieres and the Grand Prix d'Atbi. Amazingly, the post-war racing career of 46094 from 1945 to 1949 racked up another 19 entries.
In approximately 1949, chassis 46094 was rebodied as a coupé by Antem, and by 1950, the car had been acquired by Grand Garage Mozart. Amazingly, 16 years after its construction, the Delahaye competed in its last race, the 1952 Coupe d'Automne, where it was driven by "Tenno" and reached a very respectable 3rd place.
In 1961, the car was sold to Garage Le Marois and was then purchased from them by Jacques Soyez. Over a decade later, in 1966, the Delahaye passed to Gino Terzulli, and at this time, it still wore the Antem coupé body. Mr Terzulli noticed that the car had a number of unusual features, which gave some indication of its previous life. In 1979, he commissioned three experts, Mr F. Joly, Mr M. Varet, and Mr R. Deleplace, to perform an inspection of the car. The results of this inspection were published in the September 1979 Club Delahaye Newsletter. Included in their findings were the presence of a racing engine block, a race-type exhaust manifold, a race-type funnel oil feeder, a special bulkhead, a special radiator, a racing water pump, large ventilated aluminium drum brakes with lightening holes drilled, a race-type rear axle, large pushrods, leaf springs mounted outside of the chassis, and a front and rear track-to-racing specification.
A restoration did not commence until 1985, and at that time, the engine was overhauled by the racing division of B. Pigelet, who noted some specific details when he opened the engine. On the block, he could read "competition" written in grease pen. He also found additional cooling passages, a different flywheel, a lightweight crankshaft, special cam timing, and larger valves.
Terzulli also ordered restorer Blasquez, of Perpignan, to create a new racing body for the car; this design was based off of the body of 47186, which at the time was owned by Serge Pozzoli. In 1986, the car was sold to Jean-Philippe Peugeot, who commissioned Verne to create a new body to match his tastes. Not knowing that this was the Delahaye of Joseph Paul, the rear of the body was made into a boattail that was similar to that found on chassis 47193. Although this is not to the original design, there is no doubt that the rear of the body, which it still wears today, is most attractive.
Mr Peugeot sold the Delahaye shortly thereafter, only to reacquire it nine years later, after two subsequent owners. In 1996, it was acquired by Jean Sage, who owned it for a decade, until he sold it to its current owner in 2006. The car is currently presented in its 1937 Le Mans livery and is equipped with several important spares, including a set of brake drums, a manual gearbox, a front wheel, a rear wheel, and a set of four aerodynamic wings that had been specially made for Le Mans. It is believed that there were only 16 true Delahaye 135 S examples constructed.
They were purpose-built machines, which, after their job as a tool in the crucible of racing was finished, found second lives as road going vehicles. As such, their historic identities were often lost and, eventually, so were the cars themselves. Today, it is believed that only seven examples of the 135 S remain, and of those, there is perhaps only a single example with its original body. Chassis 46094 is one of a handful of survivors, and with its original racing equipment and full history known, it is one of the most fascinating extant race cars of this illustrious French manufacturer.