Published by Monterey Car Week (Shelby Mustang GT500 KR)
Editor's Note: There's rare and there's super rare. This one's of the latter variety, an Acapulco Blue 1968 Shelby Mustang GT500-KR Convertible with four-speed manual trans and air conditioning. We're talking one-of-four produced this way. It sold at the RM Auctions' John Staluppi Collection event in December 2012. We're quite thankful that RM Auctions permits Monterey Car Week to publish these history pieces on our epic web site.
Photo Credit: Teddy Pieper ©2012 Courtesy of RM Auctions
Lot 232
1968 Shelby Mustang GT500-KR Convertible
Sold for $264,000
Chassis no. 8T03R21012003499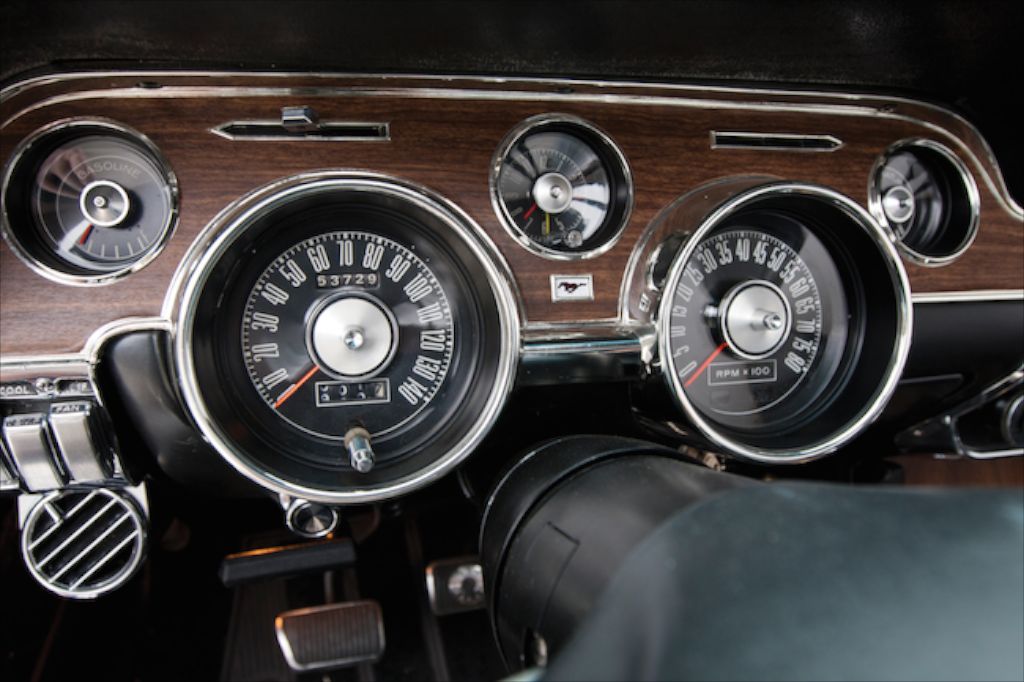 A rare Acapulco Blue example with factory air conditioning
360 bhp, 428 cu. in. OHV V-8 engine, four-speed manual transmission, coil spring independent front suspension, live rear axle with semi-elliptic leaf springs, and four-wheel hydraulic drum brakes. Wheelbase: 108 in.
Shelby Mustang GT500-KR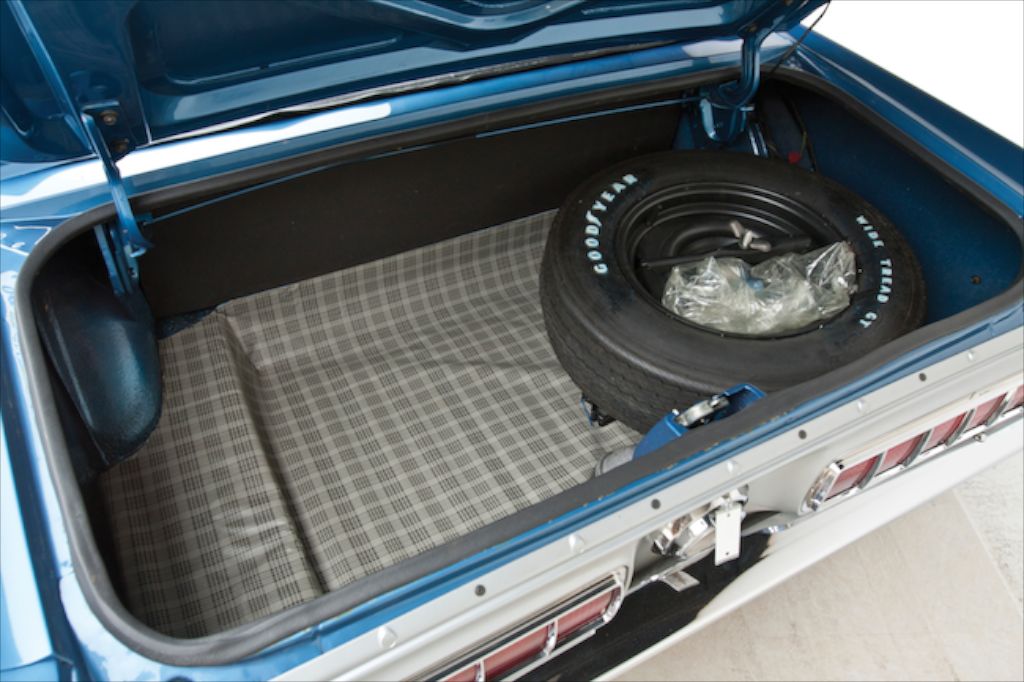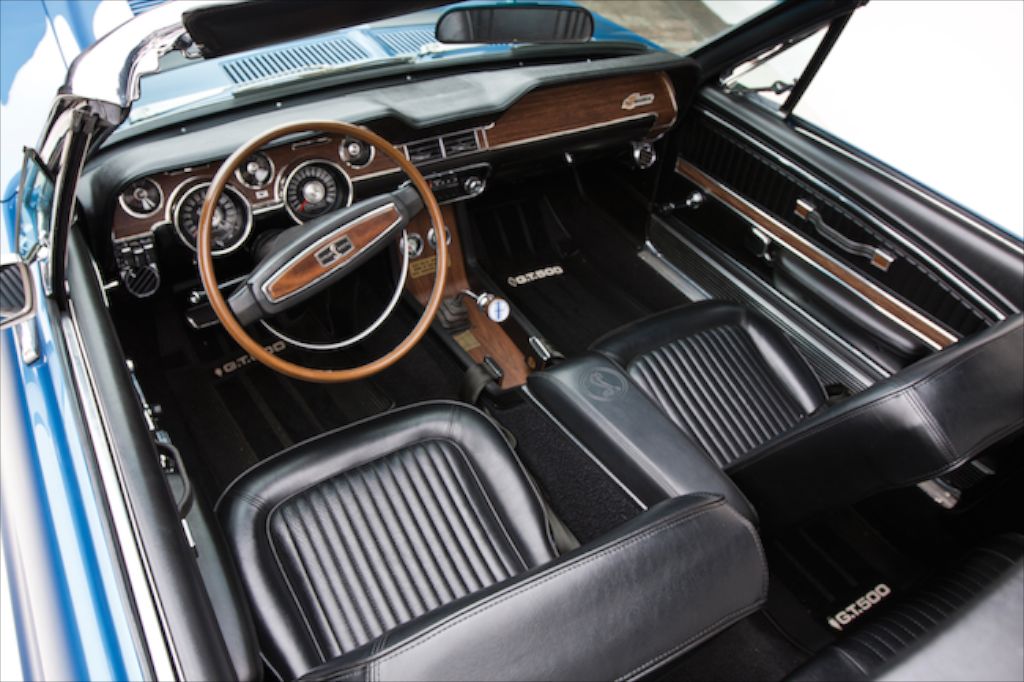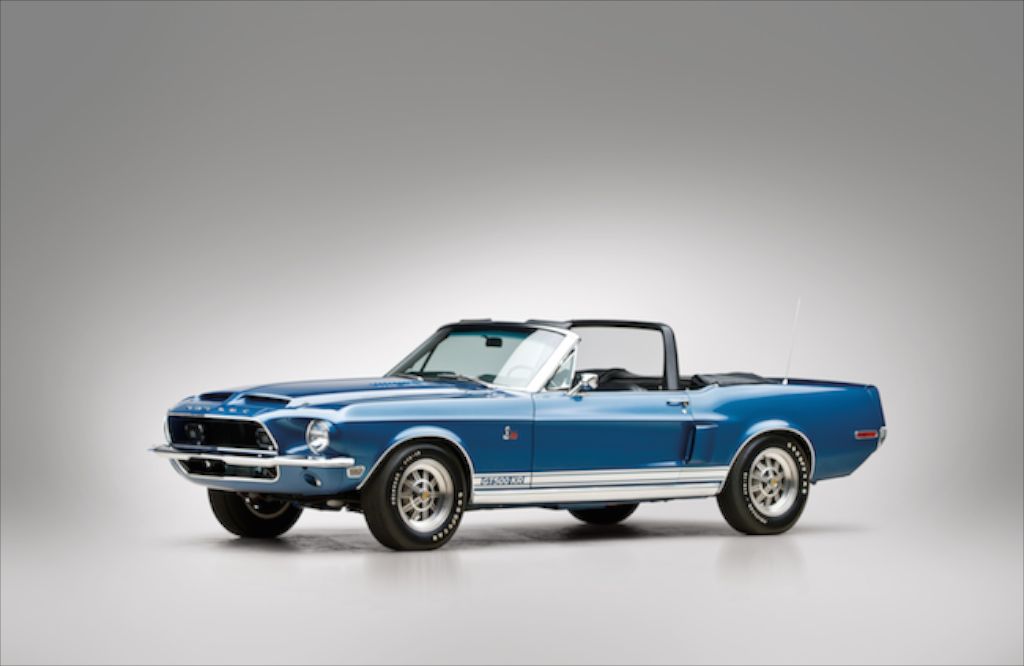 When Ford decided to make a serious performance Mustang, they went to Carroll Shelby, whose Ford-engined Cobras were setting the world on fire. They sent Shelby a white 1965 Fastback without rear seats or hood. He worked his magic with the 289 engine, coaxing it to 306 horsepower, and put on a fiberglass hood with a functional scoop. A blue stripe was applied to the lower side, with a bold "GT350″ aft of the front wheel opening. All external Mustang emblems were removed. Koni shocks were fitted, along with override traction bars at the rear. A larger front stabilizer bar completed the package. Interiors were all black, with a three-spoke wood steering wheel and competition seat belts. The open area for the rear seats was utilized to mount the spare tire. All cars had the Borg-Warner T-10 four-speed transmission. Just 562 were built for 1965, 522 "S" (for street) models, 36 "R" (racing) cars, and four for drag racing.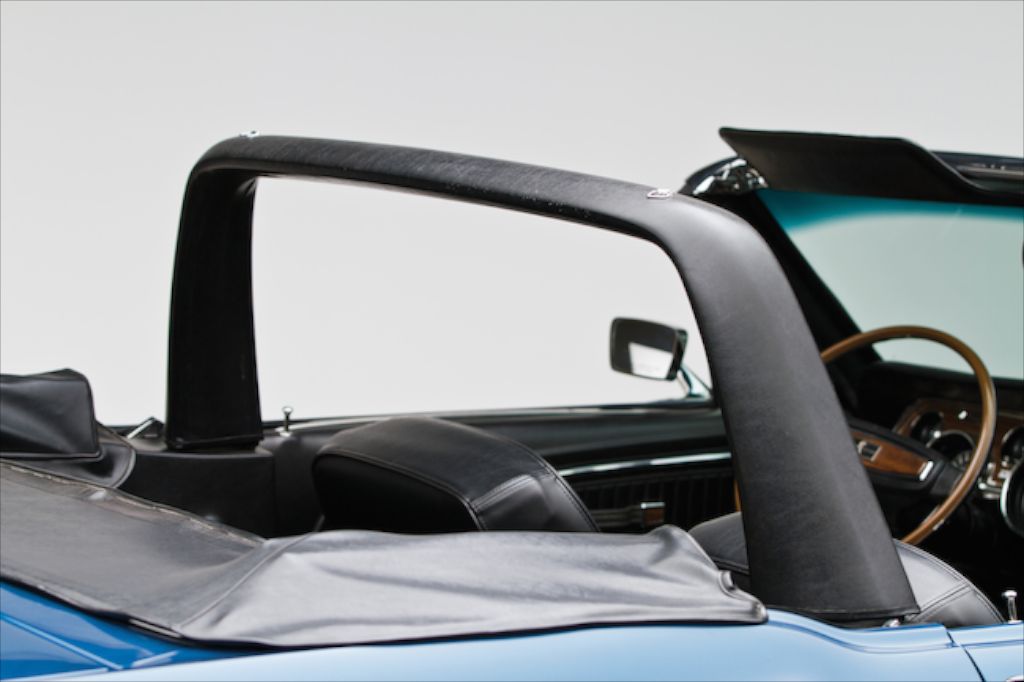 A more ambitious program began in 1966. GT350s became available in red, green, blue, and black, all with white stripes and the GT350 logo. During the year, hoods were changed to steel because the fiberglass was proving troublesome. The grille emblem became smaller, and a new GT350 gas cap was adopted. The Koni shocks became optional to Ford heavy duty units, and many of the Shelby suspension components gave way to standard Ford items. The production of 1966 Shelby Mustangs totaled 2,378 cars, including 1,367 standard fastbacks, four drag racing cars, and four convertibles. In addition, a few were supercharged and 1,000 were supplied to Hertz as performance rental cars. These were the first rent-a-racers, with most driven hard and some apparently even raced. As a result, Hertz began to order these GT350-Hs with automatic transmissions.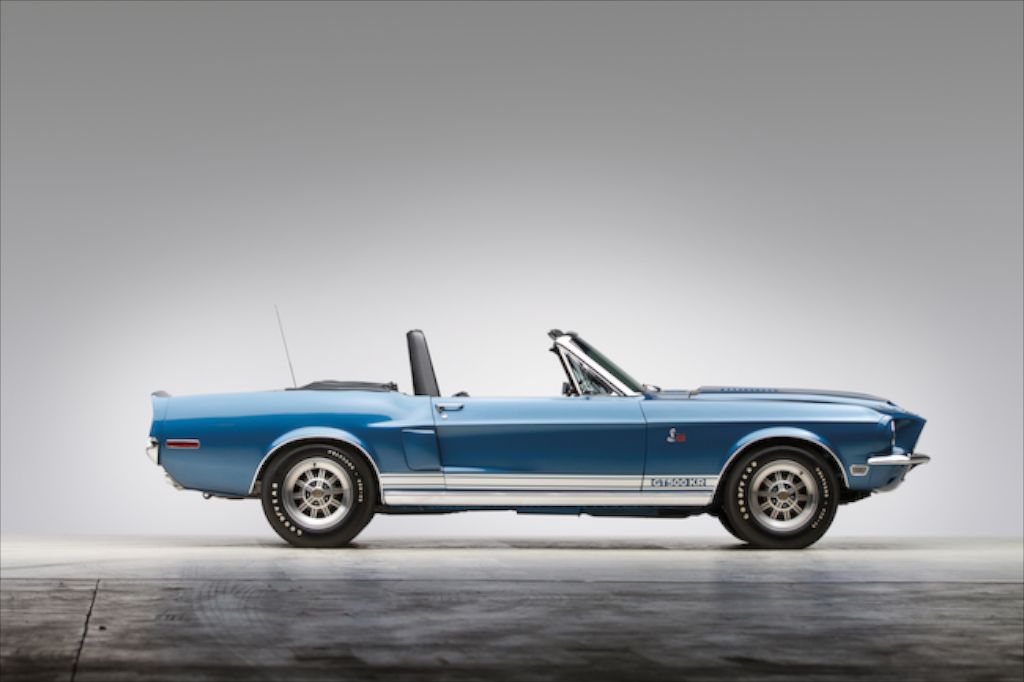 The year 1967 brought a mildly re-contoured Mustang body. Shelby took out the grille and put a pair of high beam lights in the cavity. Taillights were replaced by rectangular units, and the air scoops were punched into the side coves, ahead of the rear wheels.
But the big news was the GT500, with the 428-cubic inch engine used in that year's Shelby Cobra. With 10.5 to 1 compression and a Holley four-barrel, it made 355 brake horsepower. A four-speed manual was standard, but the C6 automatic could be ordered. It proved more popular than the GT350, with 2,050 built. No convertibles were built by Shelby that year, either as GT350s or GT500s.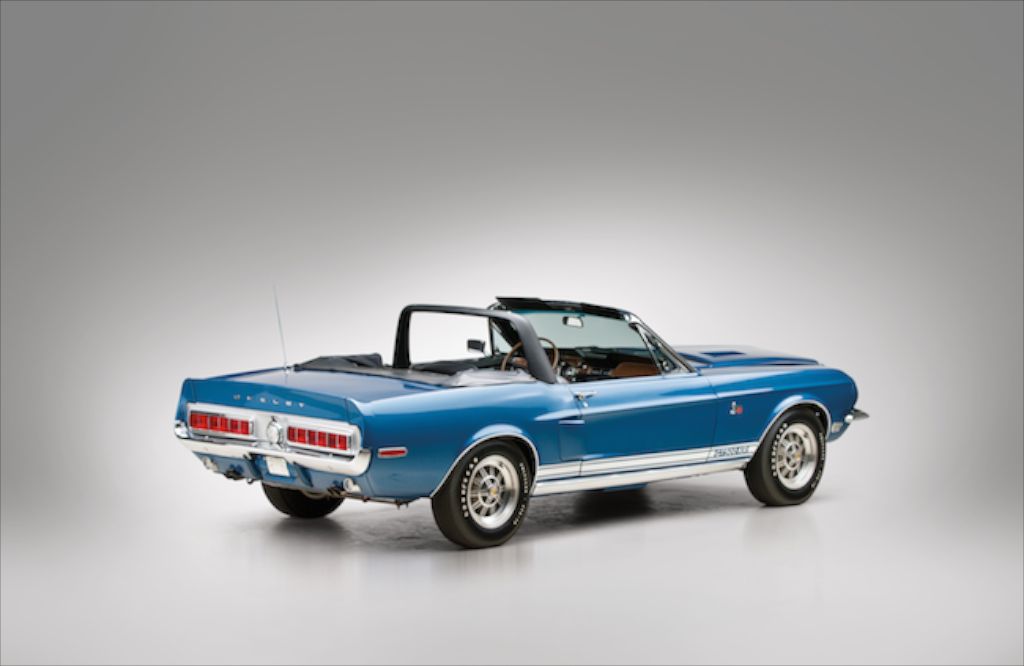 For 1968, Shelby had even more power on tap. The new GT500-KR (for "King of the Road") had a modified 428, now making a reported 400 horsepower. Called the "Cobra Jet," the engine had been concocted at Tasca Ford in East Providence, Rhode Island, then a leading dealer in performance cars and a keen competitor in the 1960s drag racing scene. This became so intense that owner Bob Tasca formed a high-performance division within his dealership, selling some 60 hi-po cars a month and working with Ford engineers and factory tuner Holman-Moody on modifications for his own team cars and cars for sale to the public. Fruits of these efforts included the "Thunderbolt" lightweight Fairlane drag cars and the "Mystery Mustang," a SOHC short-wheelbase match race car.
The Cobra Jet came out of Tasca's disappointment with the 390-powered Mustang introduced for 1967. One of his mechanics over-revved one while "street testing" a car, so Performance Manager Dean Gregson had a 428 Police Interceptor short block reworked with better heads and freer breathing. It went like lightning, but Ford brass was reluctant to give it the blue oval approval. Tasca's influence, plus a push by readers of Hot Rod magazine's technical editor, Eric Dahlquist, resulted in the Cobra Jet's launch in April 1968.
As for the GT500-KR name, Shelby had caught wind of the fact that Chevrolet planned a 396 Camaro called "King of the Road" and promptly snatched the title for his Mustang instead, stealing the march on GM's entrenched bureaucracy. Interestingly, the 427 engine could be had as an option. Other options on the GT500-KR included power steering, power disc brakes, air conditioning, a tilt steering wheel, and an AM radio. The GT500 returned in 1969, but no GT500-KRs were built after 1968. Production totaled 933 coupes and 518 convertibles.

This Shelby GT500-KR convertible is among the rarest of the rare. One of the 518 GT500-KR convertibles, it is gorgeous in its original shade of Acapulco Blue, of which, we are told, just 51 were built. It is equipped with an AM radio, tilt-away steering wheel, console with gauges, starter delay, and smog equipment. Additionally, it is one of four such cars reportedly built with air conditioning.
Its condition is exceptional, with all body contours correct and excellent paint and chrome. The black vinyl interior is as-new, and the floor has GT500-logo black rubber throw mats. The instrument panel boasts a 140-mph speedometer, with the odometer showing 53,729 miles, and an 8,000 rpm tachometer. Underneath, the car is clean and corrosion-free and is exceptionally detailed with proper red oxide and factory overspray. The correct 10-spoke Shelby aluminum wheels are mounted with Goodyear Polyglas F70-15 tires.
The rarity of this car cannot be understated. As one of four with its specification to include air conditioning, it is reportedly the only one delivered in the southern United States. Restored to the highest standards in the most desirable color combinations, it represents an opportunity not soon to be repeated.