Published in Monterey Car Week (1936 SS Jaguar 100)
Editor's Note: A jet-black 1936 SS Jaguar 100 2.5-Litre Roadster went across RM Auctions' London auction block in October 2012 and garnered many Pounds. Thank you, RM Auctions for the words and photos on one of Monterey Car Week's favorite vintage sports cars.
Photo Credit: Tim Scott ©2012 Courtesy of RM Auctions
Lot 161
1936 SS Jaguar 100 2½-Litre Roadster
Sold for £266,000
Chassis no. 18019
102 bhp, 2,663 cc overhead valve inline six-cylinder engine, twin SU carburettors, four-speed manual transmission, beam front axle, live rear axle, front and rear semi-elliptic spring suspension, and four-wheel mechanical drum brakes. Wheelbase: 104 in.
• Recorded in the SS100 Register from the first edition; Heritage certificate on file
• The seventh of only 314 built
• Restored with expert and authentic attention
• Participant in Mille Miglia Retrospective and Louis Vuitton Concours d'Elegance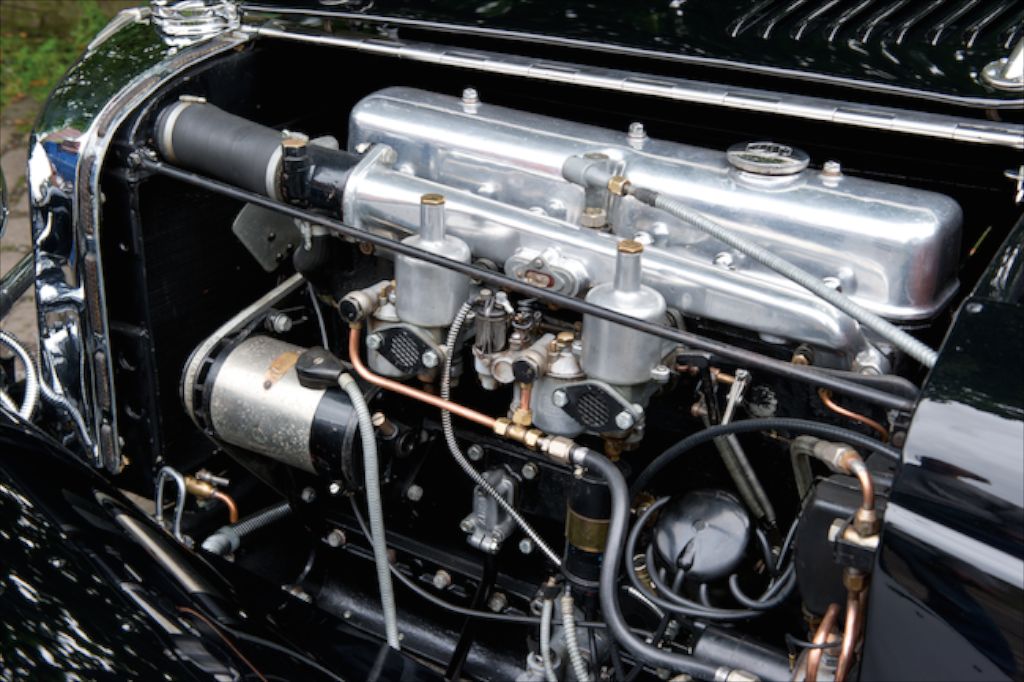 Stunningly beautiful; that was the reaction when the SS Jaguar 100 was introduced in London in 1935. Today, the SS100, of which only 314 were built, is one of the world's most sought after classics, confirmation that really good looks will easily withstand the test of time. William Lyons was only 20 when, in Blackpool, he entered into partnership with William Walmsley, a 29-year-old builder of motorcycle sidecars. Lyons redesigned the sidecars to feature attractive torpedo-like styling and the Swallow Sidecar Company grew quickly. In 1928, they moved to Coventry, and in 1931, they produced their first car, badged as an SS. Long and low, the SS1, using a modified chassis from Standard Motor Company, bore the unmistakable stamp of Lyons' artistry. Subsequent models led to the two-seater SS90, powered by a 2.5-litre six-cylinder side-valve engine from Standard. Walmsley resigned from the company in 1934 and Lyons assumed sole control. Soon after that he rebranded his cars as SS Jaguars. And then, late in 1935, he unveiled the breath-taking SS Jaguar 100.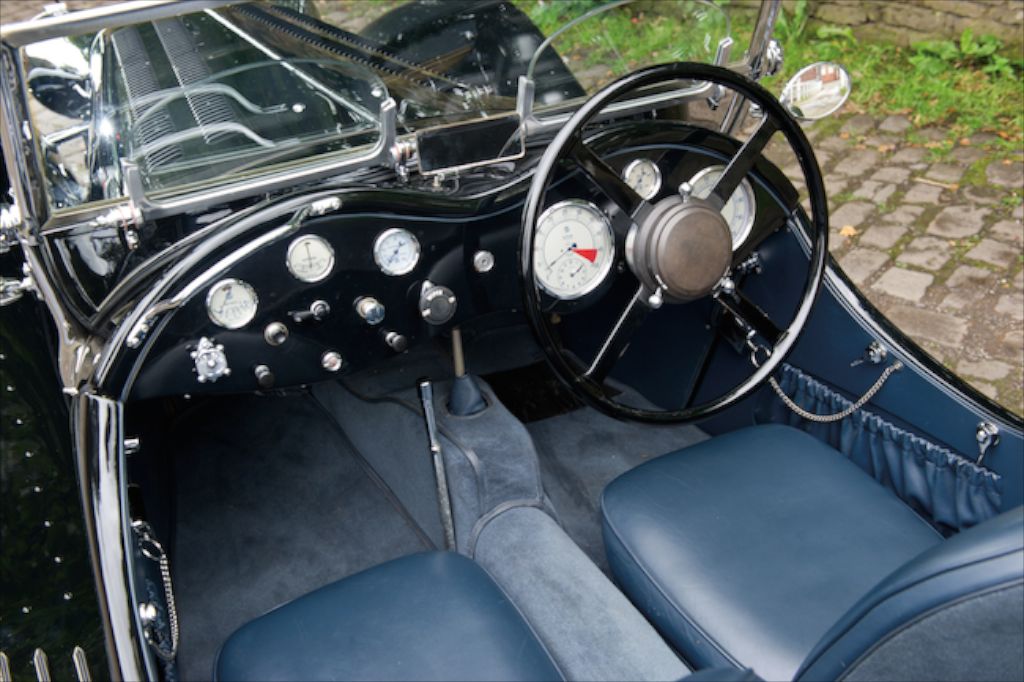 1936 SS Jaguar 100
Lyons, later Sir William, orchestrated the SS100 styling, but credit is also due to two engineers who were closely involved in the car's development and who would become legends in Jaguar history. William Heynes adapted an existing SS Jaguar saloon chassis to SS100 use, one with much bigger brakes. He also modified the bottom end of the six-cylinder Standard engine as part of its conversion from side-valve to overhead valve. Harry Weslake was hired to handle the critical design of the cylinder head. The result was the 2,663-cubic centimetre engine that developed 102 brake-horsepower, with which the SS100 was launched. Two years later, a 3,485-cubic centimetre version with an increased bore and stroke and providing 125 brake-horsepower became optional.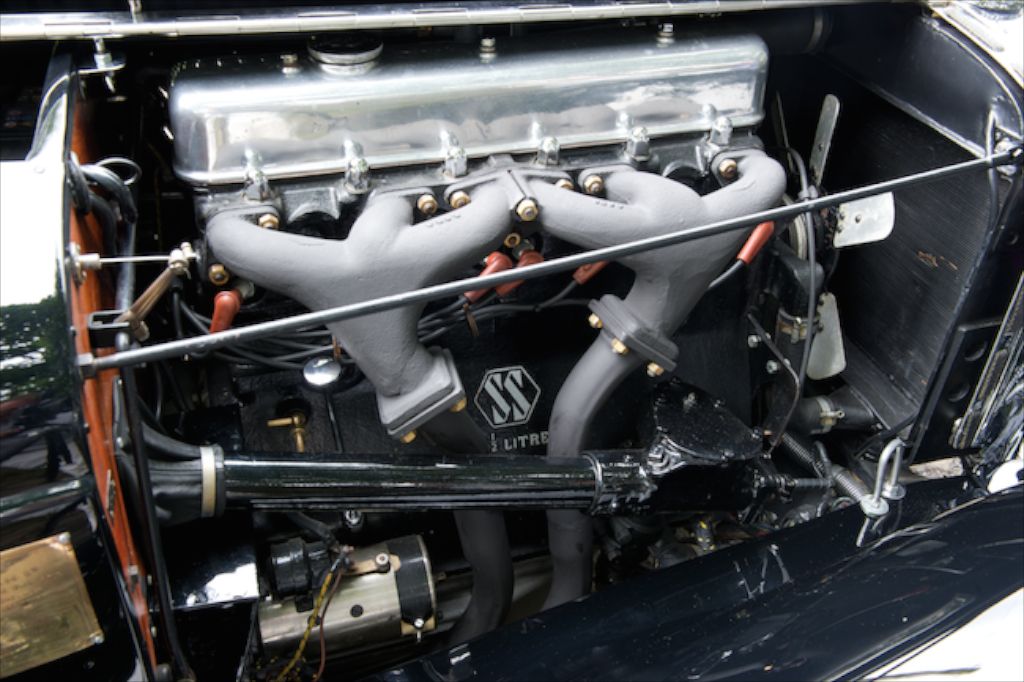 The car being offered is an early example and is, in fact, the seventh SS100 produced. Chassis number 18019 was delivered new on June 1936 to Mrs J. B. Agnew, of Whitley Bay, Northumberland, painted in Nile Blue with light blue trim and bearing registration number CS 4100. It then passed to a Mr Miller, followed by D. B. Steve, of Newcastle upon Tyne, in June 1957, who worked at the physics department at Kings College there. By 1965, it had left Northern England for the warmer climate of California and passed to Gunther Shirley in Los Angeles. By 1989, the car was in residence in Canada until becoming part of the Koelliker Collection in Milan around 1990. Whilst in the Koelliker Collection, the car underwent a full restoration with the assistance of the late David Barber, then the world's leading authority on the marque. At some time during the car's life, the original 2.5-litre engine had been replaced with a 3.5-litre post-war engine. In an effort to keep the car as original as possible, a 2.5-litre block was sourced from a pre-war SS and a replacement engine was built up by David Barber. Since then, the car has taken part in the Mille Miglia Retrospective and in the 1992 Louis Vuitton Bagatelle Concours d'Elegance, running without fault in both events.

With its long louvered hood, its large headlamps set low between generous front wings that flow superbly back to the two-seat cockpit and cutaway doors, and with its ground-hugging stance, the SS100 conjures up visions of a lithe predator set to leap. Finished in immaculate black cellulose and with a mid-blue leather interior, the car looks spectacular. It was recently serviced and still runs beautifully. With impressive provenance, it offers an opportunity to acquire and savour a very rare automotive icon.