Published on Monterey Car Week (Pebble Beach Concours)
By D. Brian Smith
Photography: D. Brian Smith
Like the classic, vintage and exotic automobiles that dress up California's Central Coast during mid-August, Monterey Car Week passes much too fast to be properly savored and appreciated. The Pebble Beach Concours d'Elegance is the climax of the week, and as soon as the event is complete, we find ourselves looking forward to next year.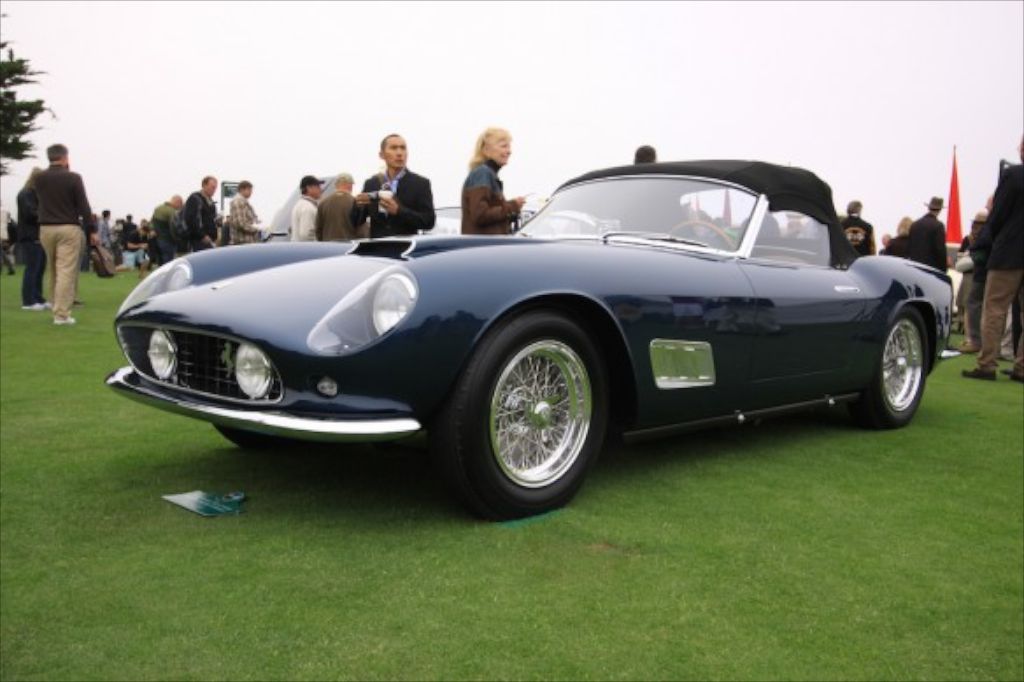 As Pebble Beach is the best Concours event on terra firma, this event is a magnet, drawing a plethora of automotive enthusiasts to the Pebble Beach Golf Course. There's always an abundance of walking, so it's essential that we don't have to walk for miles to get to the golf links. Somehow, each year we find a way to make event-close parking a reality. It's as if the Car Gods are looking down upon us and making sure everything goes our way. It helps that we typically leave our resort hotel at pre-rooster wake up time to get to Pebble.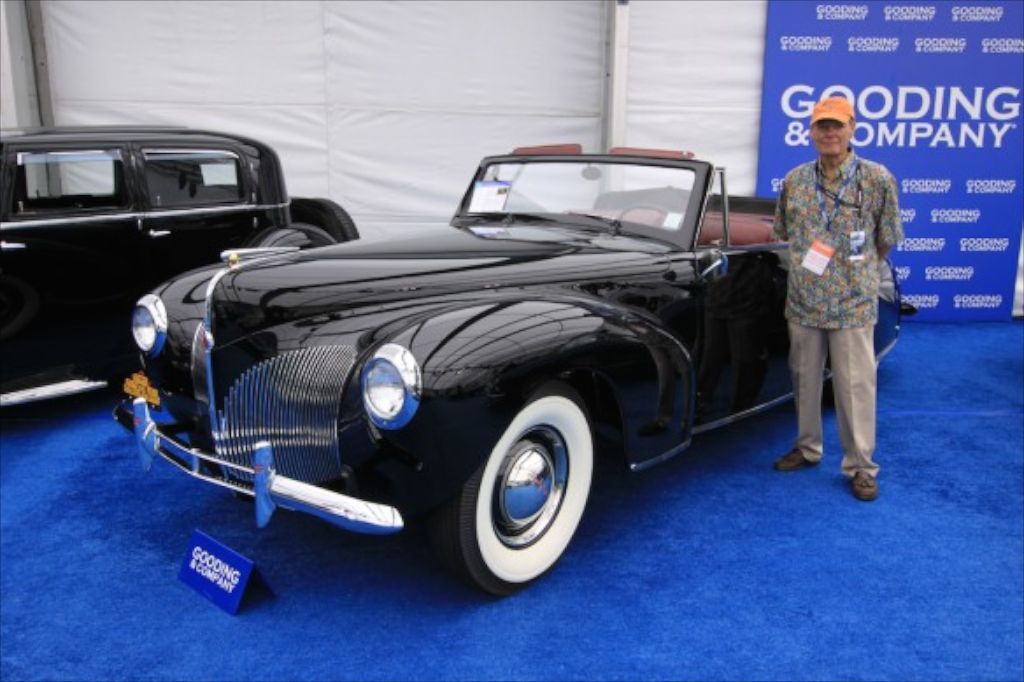 For the first time in several years, my brother Kevin and I wouldn't be seeing Pebble together. Since he is in charge of public relations and marketing for Lotus Cars U.S.A., Kevin and his team of Lotus experts were at Mazda Raceway Laguna Seca for the Monterey Motorsports Reunion vintage races. They talked to sports car enthusiasts about the Lotus Evora supercar, while my Dad and I would be representing Redline Review at the Pebble Beach Concours d'Elegance.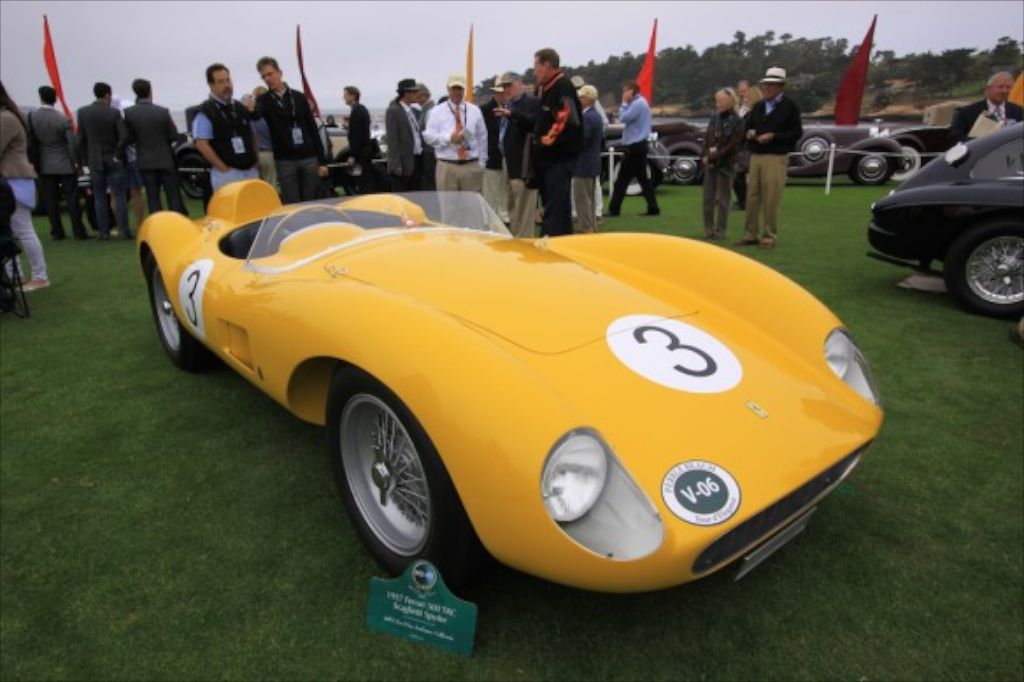 As is always the case for Redline Review, we drove from the resort hotel before dawn. Dad and I were too excited to sleep anyway. Once again, we made our own good luck, getting a California Highway Patrol escort for much of the 17-mile drive, which led us to parking at the Pebble Beach Golf Course. The CHP must have heard that Redline Review was in town and would be covering the Concours. That's certainly how we felt -- V.I.P. treatment all the way. In fact, we were so early, the Concours Media Center wasn't open by the time of our arrival. After waiting for several minutes, we were the first auto journalists inside the facility. We enjoyed some warm beverages and prepared our cameras for capturing the show cars as they drove their way onto the Concours golf links. The most exciting moment of the Pebble Beach Concours d'Elegance is when these vintage machines are being driven on the course during this early morning hour by their current caretakers. Being the Central California Coast, it's typically foggy and frigid. Yet, the Concours autos all seem to start and sound magnificent as they majestically meander their way along the path to their pre-determined exhibit location on the golf links.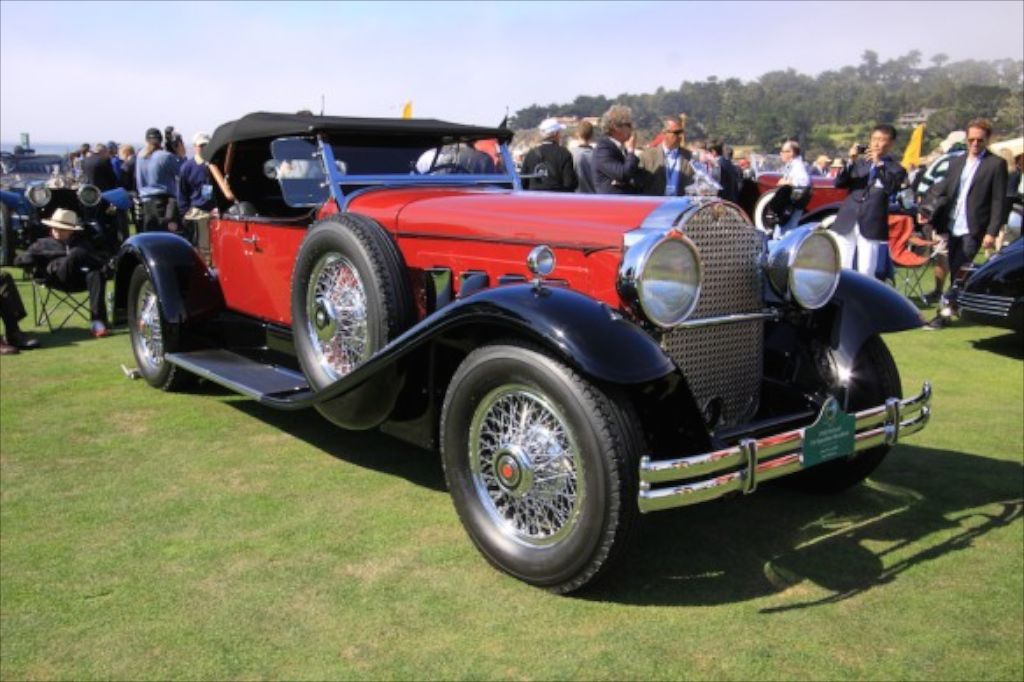 There are amateur and professional videographers and camera people lining both sides of the golf cart trail that soon get to witness an eclectic collection of automotive finery parading along the pavement at evenly spaced intervals. These handpicked and invited autos and motorcycles span the very beginnings of the horseless carriage era up to the epoch of the wild and swinging 1960's. Dad and I get to hear and see some cars we've never witnessed running before, autos that we've yearned to see in real life that used to just exist in the pages of car books within our rather extensive automotive library. Every once in a while, we recognize owners of the cars are celebrities and automotive luminaries. Oh, there's David Gooding, owner of Gooding & Co. and funnyman/car guy extraordinaire Jay Leno.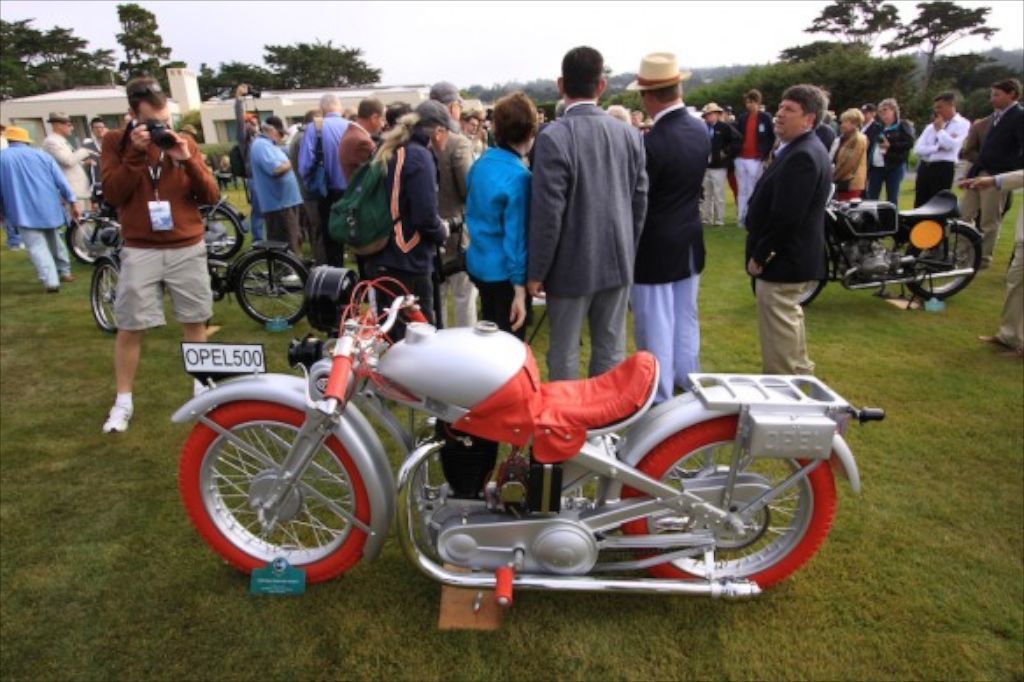 After spending the better part of a couple hours appreciating this automotive parade, we made haste back to the Media Center, in the chance that we might get some breakfast and coffee, English Breakfast Tea for me please. The Car Gods were still in our corner, as we managed to grab some grub amid an ever-growing group of auto journalists, which is no easy task.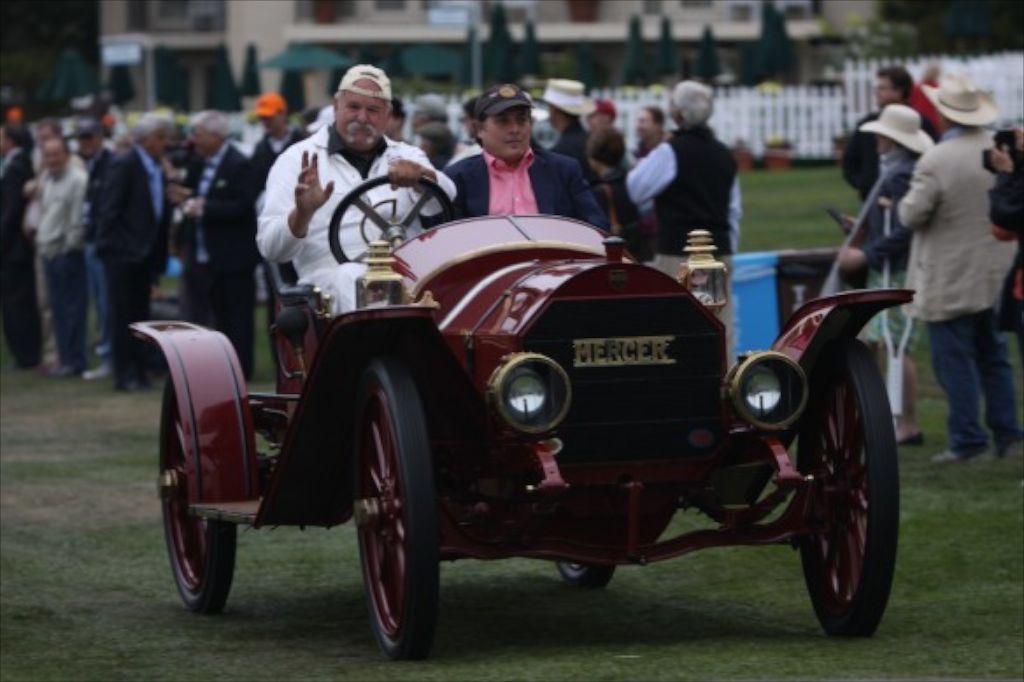 Refueled and recouped, we swapped lens on our cameras, from telephoto to wide angle, and ambled back down to the automotive field. From the time that I was maybe three or four years old, Dad and I have enjoyed going to car shows together. We were a bit bummed that the third Smith Man, Kevin couldn't be there with us. Yet we know that the best part of the old car hobby is partaking in it with family and like-minded friends. If Kevin were walking with us, all three of the Smith Men would select his favorite Concours show car. As it was, Dad and I made our picks. You'll find some of our favorites within the confines of this story. Enjoy!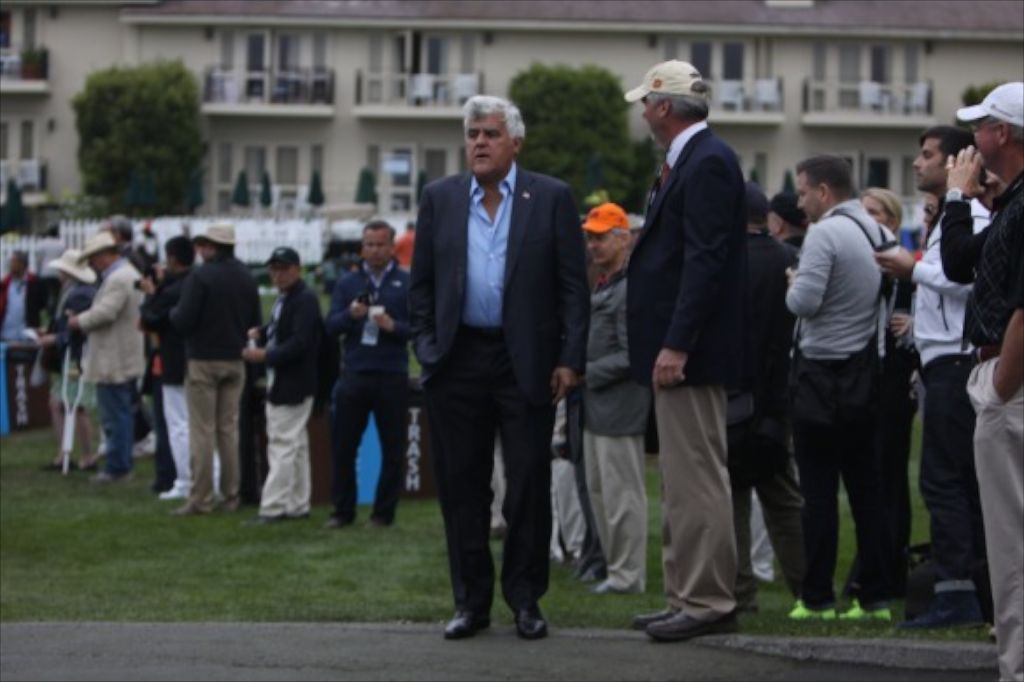 The official results of the 2012 Pebble Beach Concours d'Elegance can be found below. We hope you'll be able to pick your personal favorites from the photos in the gallery. But for next year, why don't you make your way to Monterey for the greatest car week on earth and the penultimate Concours in the universe? To find out more about next year's greatest concours, visit www.pebblebeachconcours.net. It's even better in person than it is on Redline Review. And that's saying something. Until then, enjoy car nuts and get your Pebble on!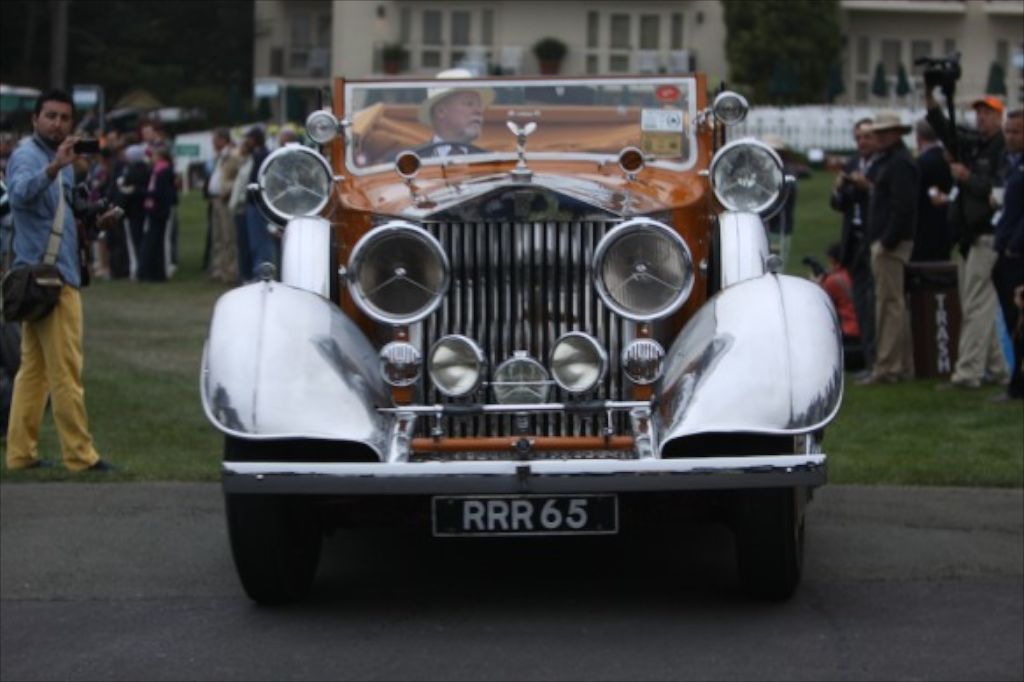 2012 Winners List Provided Courtesy of the Pebble Beach Concours d'Elegance
BEST OF SHOW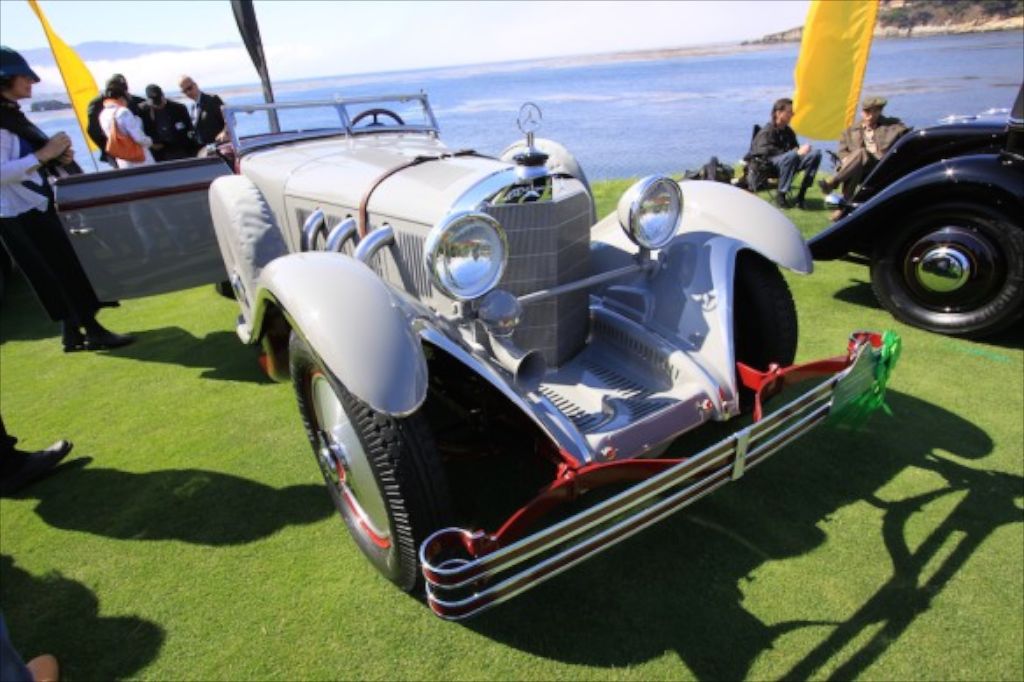 1928 Mercedes-Benz 680S Saoutchik Cabriolet
Paul & Judy Andrews, Fort Worth, Texas (photo of car just above)
BEST OF SHOW NOMINEES
1935 Duesenberg J Gurney-Nutting Speedster
The William Lyon Family, Newport Beach, California
1931 Duesenberg J Derham Tourster
Joseph and Margie Cassini III, West Orange, New Jersey
1933 Alfa Romeo 6C 1750 Gran Sport Figoni Coupé
David and Adele Cohen, West Vancouver, British Columbia, Canada.
MOST ELEGANT AWARDS
J. B. & Dorothy Nethercutt Most Elegant Closed Car
1930 Bentley Speed Six H. J. Mulliner Saloon
John & Gwen McCaw
Gwenn Graham Most Elegant Convertible
1939 Delage D8-120 S Saoutchik Cabriolet
John W. Rich Jr., Auburn, Pennsylvania
Most Elegant Open Car
1929 duPont Model G Merrimac Speedster
Sam & Emily Mann, Englewood, New Jersey
Strother MacMinn Most Elegant Sports Car
1933 Alfa Romeo 6C 1750 Gran Sport Figoni Coupé
David & Adele Cohen, West Vancouver, Canada
CLASS AWARDS
Class A-1: Small Horse Power
1st 1903 Packard Model F Rear Entrance Tonneau, Joseph & Janice Conzonire, San Marino
2nd 1901 De Dion-Bouton Motorette Vis à Vis, John Banner, Long Melford, England
3rd 1904 Franklin Open Four Seater, Calilo Sielecki, Buenos Aires, Argentina
Class A-2: Antique
1st 1919 McFarlan Type 125 Touring, Fountainhead Antique Auto Museum, Fairbanks, Alaska
2nd 1911 Isotta Fraschini PM Pavesi & Crespi Co. Roadster, Dick & Marcia King, Redding, Connecticut
3rd 1905 Clément SD Sedan, Barry G. Hon, Dana Point
Class C-1: American Classic Open
1st 1929 duPont Model G Merrimac Speedster, Sam & Emily Mann, Englewood, New Jersey
2nd 1930 Cadillac 452 Fleetwood Roadster, Bob & Brigitte Thayer, Atlanta, Georgia
3rd 1937 Cord 812 SC Convertible Phaeton Sedan, Bob, Pat & Chris White, Scottsdale, Arizona
Class C-2: American Classic Closed
1st 1931 Packard 845 Deluxe Eight Dietrich Sport Sedan, Rob & Jeannie Hilarides, Lindsay
2nd 1932 Lincoln KB Dietrich Coupe, Patti & Jim Shacklett, Lafayette Hill, Pennsylvania
3rd 1931 Marmon Sixteen LeBaron Club Sedan, Gary Severns, Long Beach
Class C-3: Packard Open
1st 1932 Packard 906 Twin Six Dietrich Convertible Sedan, David & Linda Kane, Bernardsville, New Jersey
2nd 1930 Packard 734 Speedster Runabout, William & Helen Vaccaro, Bedminster, New Jersey
3rd 1934 Packard 1107 Twelve Coupe Roadster, Charles & Amy Spielman, La Jolla
Class D: Mercer
1st 1913 Mercer Model 35 J Raceabout, Ray Scherr, Westlake Village
2nd 1931 Mercer Prototype Merrimac Raceabout Convertible Coupe, Dave & Denise Sanders, Bristol, Indiana
3rd 1925 Mercer Series 6 Raceabout, Johnny & Christine Crowell, San Ramon
Class E-1: Maharaja
1st 1935 Duesenberg J Gurney Nutting Speedster, The William Lyon Family, Newport Beach
2nd 1930 Bentley Speed Six H.J. Mulliner Saloon, John & Gwen McCaw
3rd 1925 Hispano-Suiza H6B Kellner Cabriolet, The Keller Collection, Petaluma
Class E-2: Maharaja Rolls-Royce
1st 1925 Rolls-Royce Phantom I Barker Sports Torpedo Tourer, The Hon. Sir Michael Kadoorie,, Hong Kong
2nd 1937 Rolls-Royce Phantom III Thrupp & Maberly Tourer, Keith Sherper & Kenneth Sherper, Bluemont, Virginia
3rd 1937 Rolls-Royce Phantom III Thrupp & Maberly Drophead, William B. Ruger, Jr., Newport, New Hampshire
Class F: Saoutchik Coachwork
1st 1928 Mercedes-Benz 680S Saoutchik Torpedo, Paul & Judy Andrews, White Settlement, Texas
2nd 1936 Hispano-Suiza J12 Saoutchik Cabriolet, William E. "Chip" Connor, Hong Kong
3rd 1939 Delage D8-120 S Saoutchik Cabriolet, John W. Rich Jr., Auburn, Pennsylvania
Class G: Duesenberg
1st 1931 Duesenberg J Derham Tourster, Joseph & Margie Cassini III, West Orange, New Jersey
2nd 1930 Duesenberg J Murphy Convertible Sedan, Peter & Marijane Thornton, Key Largo, Florida
3rd 1932 Duesenberg J Rollston Torpedo Berline, Richard & Elisa Stephens, San Francisco
Class H: Rolls-Royce
1st 1933 Rolls-Royce Phantom II Hibbard & Darrin Transformable, Greg & Renee Wood, Henderson, Nevada
2nd 1930 Rolls-Royce Phantom I Hibbard & Darrin Transformable, The Mitchell Collection – Richard & Irina Mitchell, Montgomery, Texas
3rd 1930 Rolls-Royce Phantom I Springfield Brewster Tourer, Robert M. & Agata Matteucci, Jupiter, Florida
Class I: Mercedes-Benz
1st 1938 Mercedes-Benz 540K Cabriolet A, The Nethercutt Collection – Helen & Jack Nethercutt, Sylmar
2nd 1939 Mercedes-Benz 540K Special Roadster, Thomas & Rhonda Taffet, Chatsworth
3rd 1936 Mercedes-Benz 500K Special Cabriolet, Ing. Alexander Schaufler, Vienna, Austria
Class J-1: European Classic: Sports Racing
1st 1933 Alfa Romeo 6C 1750 Gran Sport Figoni Coupé, David & Adele Cohen, West Vancouver, NA
2nd 1931 Alfa Romeo 6C 1750 Gran Sport Aprile Spider Corsa, Mercurio S.r.l., Milano, Italy
3rd 1931 Bugatti Type 55 Roadster, Audrey & Martin Gruss, West Palm Beach, Florida
Class J-2: European Classic: Grand Touring
1st 1937 Bentley 4 1/4 Litre Windovers Drophead Coupé, Neal Kirkham, Saratoga
2nd 1938 Steyr 220 Gläser Roadster, Peter T. Boyle, Oil City, Pennsylvania
3rd 1929 Bianchi S8 Graber Cabriolet, Roy Sayles, Jamul
Class J-3: European Classic: French Grand Touring
1st 1937 Talbot-Lago T150C Figoni & Falaschi Cabriolet, The Patterson Collection, Louisville, Kentucky
2nd 1932 Delage D8 SS100 Figoni Cabriolet, The Keller Collection, Petaluma
3rd 1937 Peugeot 302DS Darl'mat Pourtout Cabriolet, Peter & Merle Mullin, Oxnard
Class K: Fiat
1st 1911 Fiat Tipo 6 Holbrook 4 Passenger Demi-Tonneau, Alan & LaDel Clendenen, Corona del Mar
2nd 1904 Fiat 75 HP Alessio Touring, George F. Wingard, Eugene, Oregon
3rd 1933 Fiat Balilla Roadster, Michael & Barbara Malamut, Thousand Oaks
Class L-1: Prewar Preservation
1st 1932 Stutz DV-32 LeBaron Sedan, Jim Callahan, Oakland
2nd 1905 Fiat 60 HP Quimby Touring, David Geisler, Murdo, South Dakota
3rd 1929 Alfa Romeo 6C 1750 Super Sport Mille Miglia Zagato Spider, Fica Frio Limited, Jersey, United Kingdom
Class L-2: Postwar Preservation
1st 1954 Ferrari 500 Mondial Pinin Farina Coupe, Jon & Mary Shirley, Medina, Washington
2nd 1952 Ferrari 212/225 Inter Touring Barchetta, Petersen Automotive Museum, Los Angeles
3rd 1962 Mercedes-Benz 300 SL Roadster, Les Wexner, New Albany, Ohio
Class M-1: Ferrari Grand Touring
1st 1955 Ferrari 375 Plus Pinin Farina Cabriolet, The Golomb Family, Springfield, Illinois
2nd 1964 Ferrari 400 Superamerica Pininfarina Coupe, Lammot J. du Pont, McLean, Virginia
3rd 1952 Ferrari 212 Inter Pinin Farina Cabriolet, Ken & Dayle Roath, Newport Beach
Class M-2: Ferrari Competition
1st 1951 Ferrari 212 Export Touring Berlinetta, Kevin J. Caulfield, Minneapolis, Minnesota
2nd 1958 Ferrari 250 GT LWB Scaglietti Berlinetta, Peter & Kacey McCoy, Beverly Hills
3rd 1965 Ferrari 275 GTB Alloy Scaglietti Berlinetta, Andrew Gordon, Los Angeles
Class N-1: AC
1st 1960 AC Ace Roadster, Jonathan Parker, Vancouver, NA
2nd 1960 AC Ace Roadster, Jim & Stacey Weddle, St. Louis, Missouri
3rd 1956 AC Ace Bristol Roadster, Jerry F. Rosenstock, Encino
Class N-2: AC Cobra
1st 1964 Shelby Cobra 289 FIA Competition Roadster, Steve Volk, Boulder, Colorado
2nd 1965 Shelby Cobra 427 Prototype Competition Roadster, Harry Yeaggy, Cincinnati, Ohio
3rd 1964 Shelby Cobra 289 Street Roadster, William H. & Cheryl K. Swanson, Boston, Massachusetts
Class O-1: Postwar Sports Open
1st 1949 Jaguar XK120 Roadster, Jeff Lotman, Los Angeles
2nd 1955 Lancia Aurelia B24 Pinin Farina Spider America, Joe & Sharon Hayes, Chicago, Illinois
3rd 1952 Allard J2 Roadster, Dana & Patti Mecum, Walworth, Wisconsin
Class O-2: Postwar Sports Closed
1st 1956 Maserati A6G 2000 Zagato Coupé, David & Ginny Sydorick, Beverly Hills
2nd 1958 Pegaso Z-103 Touring Berlinetta, Richard Kocka, Redding, Connecticut
3rd 1959 Lancia Flaminia Zagato Coupé, Larry & Jane Solomon, Woodside
Class O-3: Postwar Sports Touring
1st 1948 Talbot-Lago T26 Grand Sport Franay Cabriolet, Michael Kaufmann, Ennsdorf, Austria
2nd 1950 Alfa Romeo 6C 2500 SS Touring Coupé, Larry & Jeanne Klein, Santa Rosa
3rd 1946 Delahaye 135 M El Glaoui Figoni & Falaschi Cabriolet, Richard Mahoney, St. Louis, Missouri
Class U: American Sport Customs
1st 1948 Norman Timbs Emil Diedt Roadster, Gary & Diane Cerveny, Malibu
2nd 1947 Vince Gardner Studebaker "Bubble Top" Roadster, John N. Allen, Naples, Florida
3rd 1939 Paul Planette Coachcraft Mercury Roadster, Derby & Paula Ahlstone, Ventura
Class V: Open Wheel Race Cars
1st 1911 Franklin D Race Car, Ted Davis, Oklahoma City, Oklahoma
2nd 1914 Mercedes Grand Prix Race Car, The Revs Institute for Automotive Research at The Collier Collection, Naples, Florida
3rd 1914 Mercer Model 45 Race Car, George F. Wingard, Eugene, Oregon
Class X: German Motorcycles
1st 1934 BMW R7, BMW Group Classic, Munich, Germany
2nd 1954 BMW R68, Jeffrey M. Dean, Madison, Wisconsin
3rd 1968 Munch Mammoth, Dale Keesecker, Washington, Kansas
SPECIAL AWARDS
Alec Ulmann Trophy
1936 Hispano-Suiza J12 Saoutchik Cabriolet
William E. "Chip" Connor, Hong Kong
Ansel Adams Award
1919 McFarlan Type 125 Touring
Fountainhead Antique Auto Museum, Fairbanks, Alaska
Art Center College of Design Award
1955 Lancia Aurelia B24 Pinin Farina Spider America
Joe & Sharon Hayes, Chicago, Illinois
Briggs Cunningham Trophy
1962 Shelby Cobra 289 First Production Roadster
Bruce Meyer, Beverly Hills
Classic Car Club of America Trophy
1930 Packard 740 Custom Eight Roadster
Margaret Dunning, Plymouth, Michigan
Chairman's Trophy
1930 Hispano-Suiza H6C Kellner Transformable
Hugo Modderman, Monte Carlo, Monaco
Charles A. Chayne Trophy
1911 Franklin D Race Car
Ted Davis, Oklahoma City, Oklahoma
Dean Batchelor Trophy
1953 Mameco-Ardun Glasspar G2
Mark & Newie Brinker, Houston, Texas
Elegance in Motion Trophy
1939 Delage D8-120 S Saoutchik Cabriolet
John W. Rich Jr., Auburn, Pennsylvania
Enzo Ferrari Trophy
1955 Ferrari 375 Plus Pinin Farina Cabriolet
The Golomb Family, Springfield, Illinois
FIVA Prewar Trophy
1911 Franklin D Race Car
Ted Davis, Oklahoma City, Oklahoma
FIVA Postwar Trophy
1964 Shelby Cobra 289 FIA Competition Roadster
Steve Volk, Boulder, Colorado
French Cup
1931 Bugatti Type 55 Roadster
Audrey & Martin Gruss, West Palm Beach, Florida
Gran Turismo Trophy
1954 Ferrari 500 Mondial Pinin Farina Coupe
Jon & Mary Shirley, Medina, Washington
The Lincoln Trophy
1932 Lincoln KB Dietrich Coupe
Patti & Jim Shacklett, Lafayette Hill, Pennsylvania
Lucius Beebe Trophy
1924 Rolls-Royce 20 HP Barker Tourer
Arvind Singh Mewar, Maharana of Udaipur, Rajasthan, India
Mercedes-Benz Star of Excellence Award
1928 Mercedes-Benz 680S Saoutchik Torpedo
Berthold Albrecht, Essen, Germany
Montagu of Beaulieu Trophy
1930 Bentley Speed Six H. J. Mulliner Saloon
John & Gwen McCaw
The Phil Hill Cup
1914 Mercedes Grand Prix Race Car
The Revs Institute for Automotive Research at The Collier Collection, Naples, Florida
Road & Track Trophy
1933 Alfa Romeo 6C 1750 Gran Sport Figoni Coupé
David & Adele Cohen, West Vancouver, NA
The Tony Hulman Trophy
1908 Benz Prince Heinrich Two Seat Race Car
Bruce & Jolene McCaw, Bellevue, Washington
The Vitesse - Elegance Trophy
1950 Alfa Romeo 6C 2500 SS Touring Coupé
Larry & Jeanne Klein, Santa Rosa