The ultimate "King of the Road" model
Acapulco Blue over black vinyl
428 cu. in. "Cobra Jet" V-8 engine; four-speed manual transmission
One of just 125 Shelby Fastbacks ordered with the 428 "Cobra Jet", four-speed, and factory air conditioning for 1968
Accompanied by build sheet, Shelby Automotive order form, invoice, window sticker, temporary ownercard, owner's manual, and Deluxe Marti Report
Listed in the SAAC Registry; benefits from previous restoration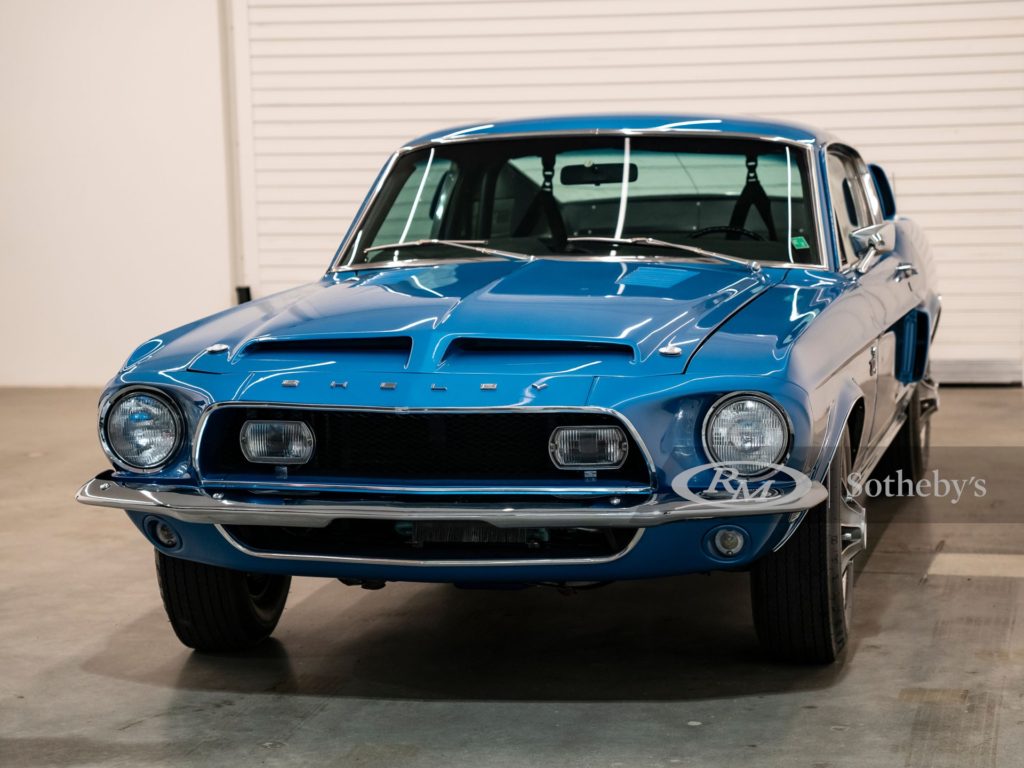 1968 Shelby GT500 KR Fastback Courtesy of RM Sotheby's,
In 1965, Ford Motor Company asked Carroll Shelby, the renegade Texan who built and sold the legendary 289 Ford Shelby Cobra and 427 Shelby Cobra, to apply the Shelby magic to Ford's hot, new Mustang. It was a match made in heaven. By 1968, however, the competition was catching up, and Ford needed a car that could beat its emerging rivals head-to-head.
Shelby's 360-horsepower, 428-cubic inch GT 500 was performing respectably, but when the special Cobra-Jet engine was developed, how could Shelby resist? Thus, the GT 500 KR—the King of the Road—was born. The Cobra-Jet 428 engine was rated at "just" 335 horsepower as a ruse to fool the competition and the insurance companies. The engine, in fact, pumped out at least 400 horsepower and 440 foot-pounds of torque. The KR included a number of engine modifications over the 428 Police Interceptor engine in standard GT500s, such as: low-riser heads from the famed 427 engine, a beefier crank, rods, and pistons. Additionally, the KR had larger brakes, under-hood suspension bracing, and staggered rear shocks to prevent axle wind-up and wheel hop, making the KR the best of the best.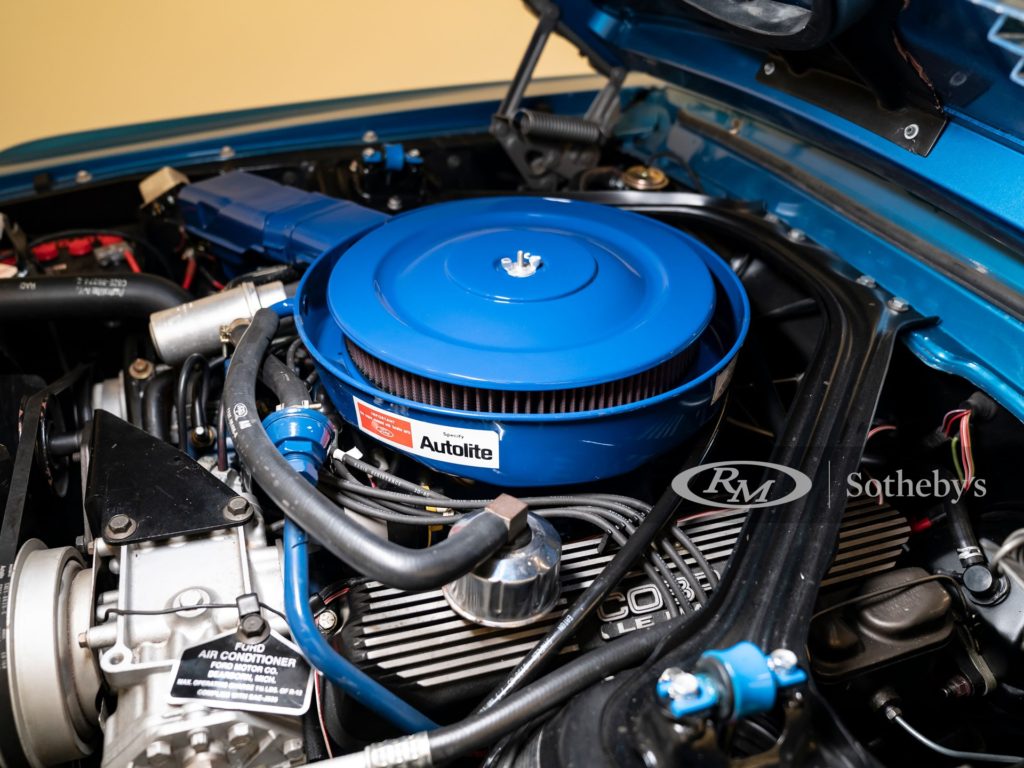 This Acapulco Blue 1968 Shelby GT500 KR is one of just 1,053 Fastback examples produced for the model year. It was built on 16 July 1968 at Ford's Metuchen, New Jersey plant. Powered by the legendary "Cobra Jet" engine, it is backed by a four-speed manual transmission which sends power to a 3.00:1 Traction-Lok rear differential. This Shelby was further equipped with the GT equipment group, visibility group, sport deck rear seat, power steering, power front disc brakes, tilt-away steering column, air conditioner, AM radio, interior décor group, and tinted glass. It was released on 17 July 1968 for delivery to Holiday Ford in Sunnyvale, California. Holiday Ford was invoiced $4,469.81 on 2 August 1968.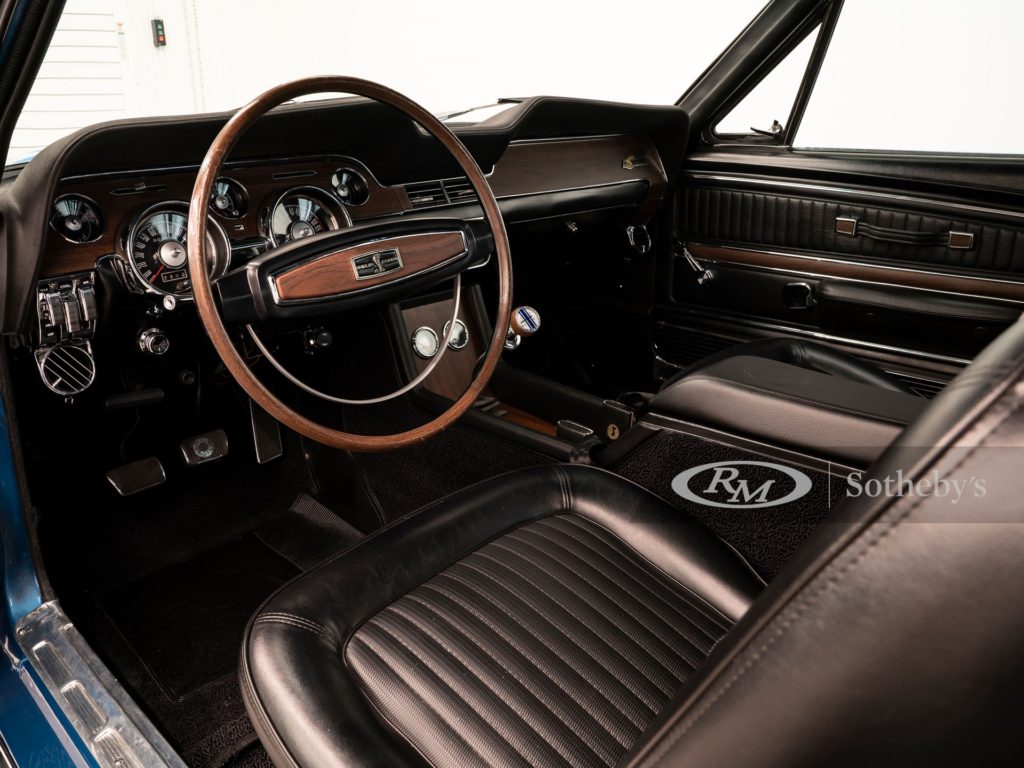 On 30 December 1968, the car was shipped as a used car to Friendly Ford in Fresno, California; Presumably, this was done because Friendly Ford was a non-Shelby franchise. The car was eventually sold through Friendly Ford on 27 February 1969. According to the Deluxe Marti Report, which accompanies the car, this GT500 KR is one of 125 Shelby Fastbacks for 1968 equipped with the 428 "Cobra Jet," a four-speed, and air conditioning.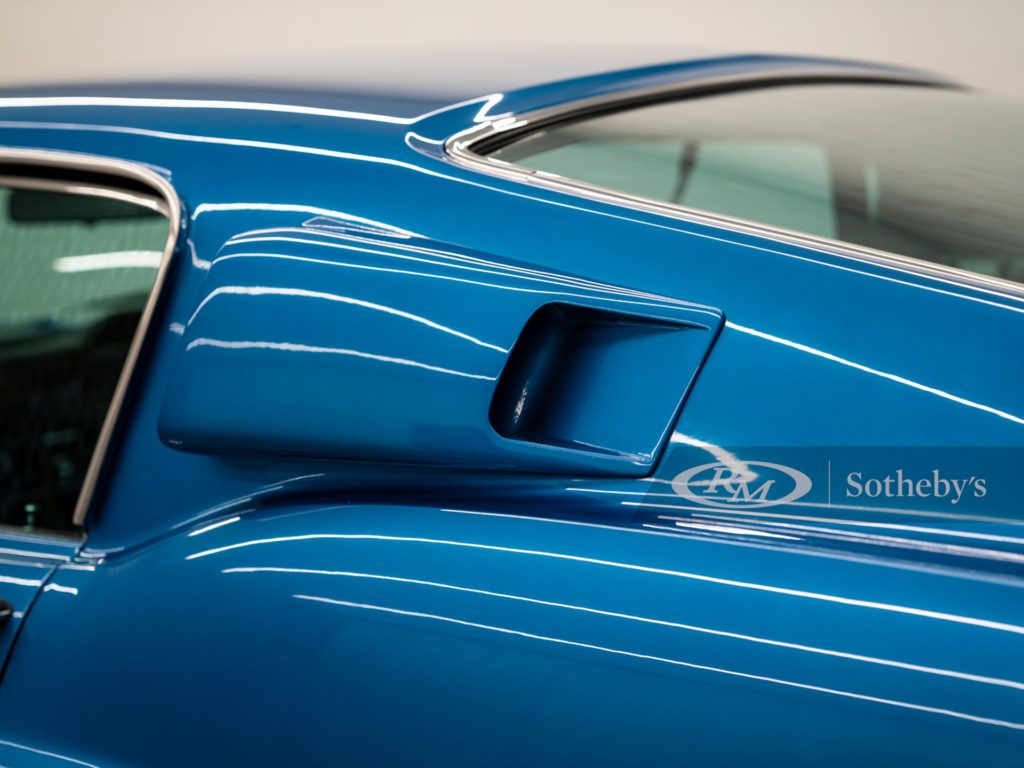 In 2013, the Shelby was treated to a restoration which saw the fastback body stripped and refinished in its factory-correct shade of Acapulco Blue. At the same time, the engine was rebuilt and rebalanced to stock specifications by specialists at Keith Craft Racing of Arkadelphia, Arkansas. The suspension, undercarriage, and Traction-Lok rear axle were similarly addressed and new a set of reproduction Koni sport shocks were fitted at each corner to ensure the correct handling characteristics. The Shelby's interior finishes and exterior brightwork were also reportedly reconditioned as needed, and new wiring was supplied where required.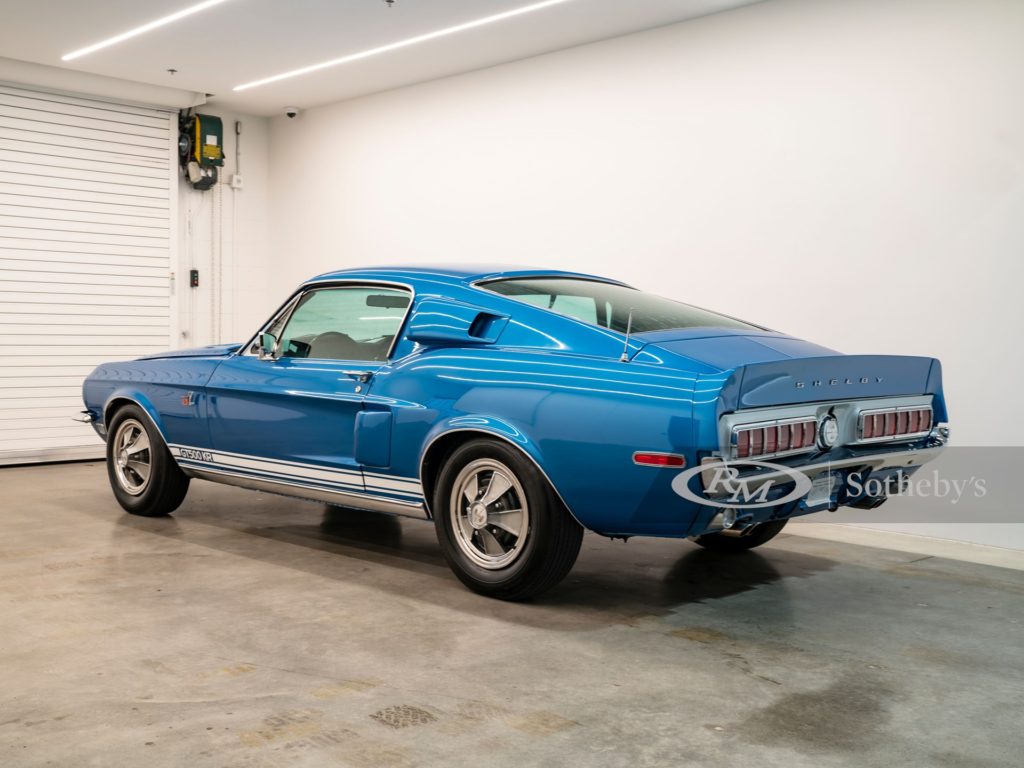 This attractive GT500 KR is accompanied by its build sheet, Shelby Automotive order form, invoice, window sticker, temporary ownercard, owner's manual, and Deluxe Marti Report. Furthermore, the passenger-side sun visor was autographed by Carroll Shelby in December 2008, as confirmed by an included Certificate of Authenticity issued by the Carroll Shelby Children's Foundation.