Published on Monterey Car Week (Daytona 365)
Est. 380 bhp, 4,390 cc DOHC V-12 engine with six Weber 40 DCN21/A carburetors, five-speed manual transaxle, front and rear independent upper and lower wishbone coil-spring suspension, and four-wheel hydraulic disc brakes. Wheelbase: 94.5 in.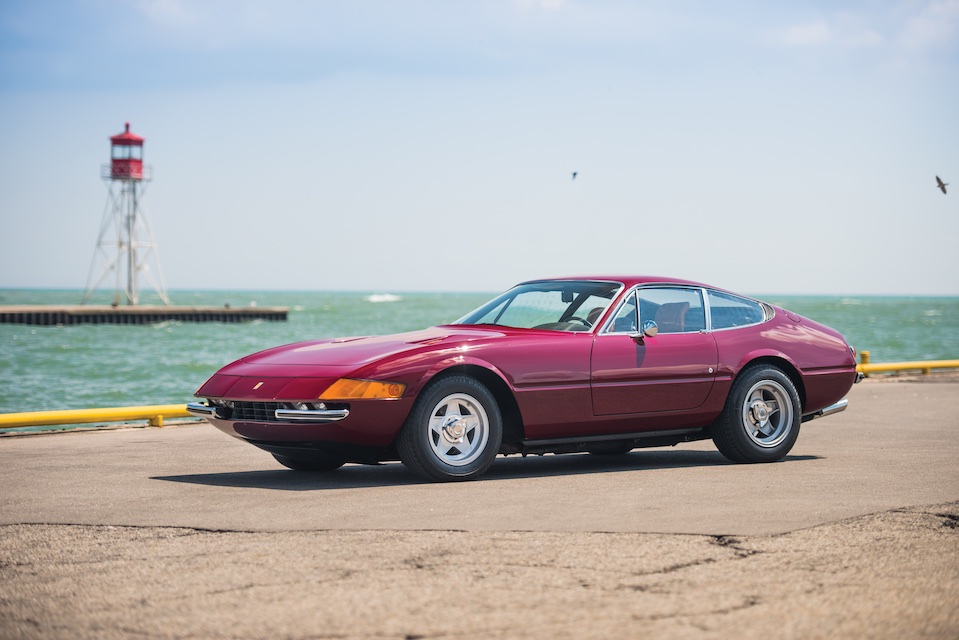 Ferrari's Daytona 365 GTB/4 is an indisputably iconic automobile, practically born to buck the status quo! In appearance alone, the car struck the most extreme, rakish image of the "long hood, short deck" sports GT ethos in the face of its mid-engined wannabe competitors. The design was penned by Pininfarina stylist Leonardo Fioravanti, and he created a sublime form that stands alone among the Ferrari historical catalogue. Its unique, predator-nosed, fastback profile was breathtakingly modern, resembling neither the cars that came before or after it in the Ferrari lineage.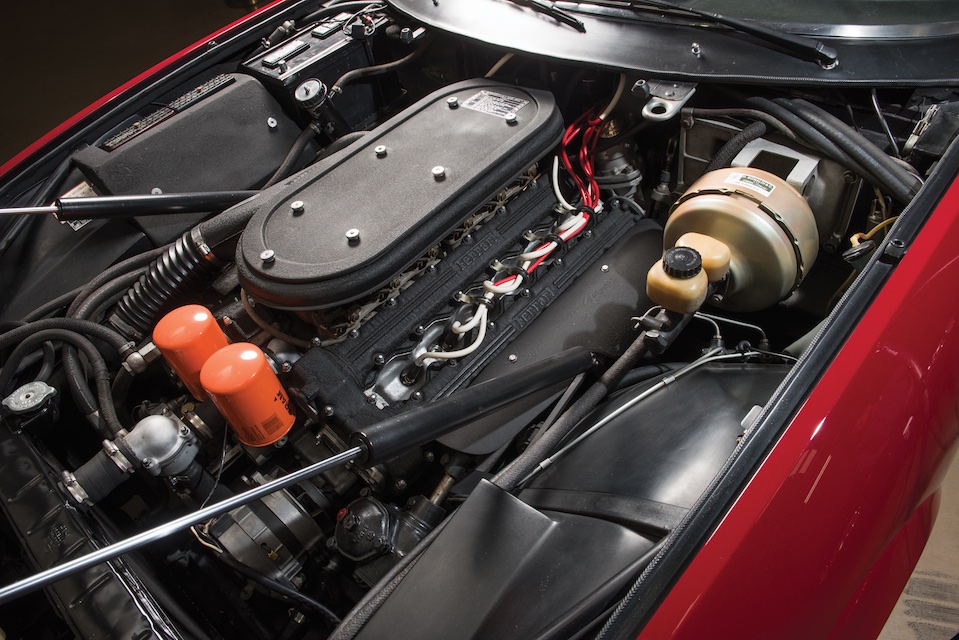 Even the Daytona's name was a point of controversy. Very few Ferraris are popularly identified without a numerical nomenclature; indeed, the name Daytona was not even an official factory term. Reputedly chosen in honor of the manufacturer's 1-2-3 sweep of the 1967 24 Hours of Daytona, the name was swiftly disavowed by Maranello when it leaked to the press prior to the model's debut.
Daytona 365
The moniker caught on nevertheless, and the Daytona was even modified to race by the factory and private teams, the last of the true competition berlinettas. The model was so well engineered that it had an impressively long competition shelf life, remarkably claiming a 2nd-place finish at Le Mans in 1979, a full decade after its introduction.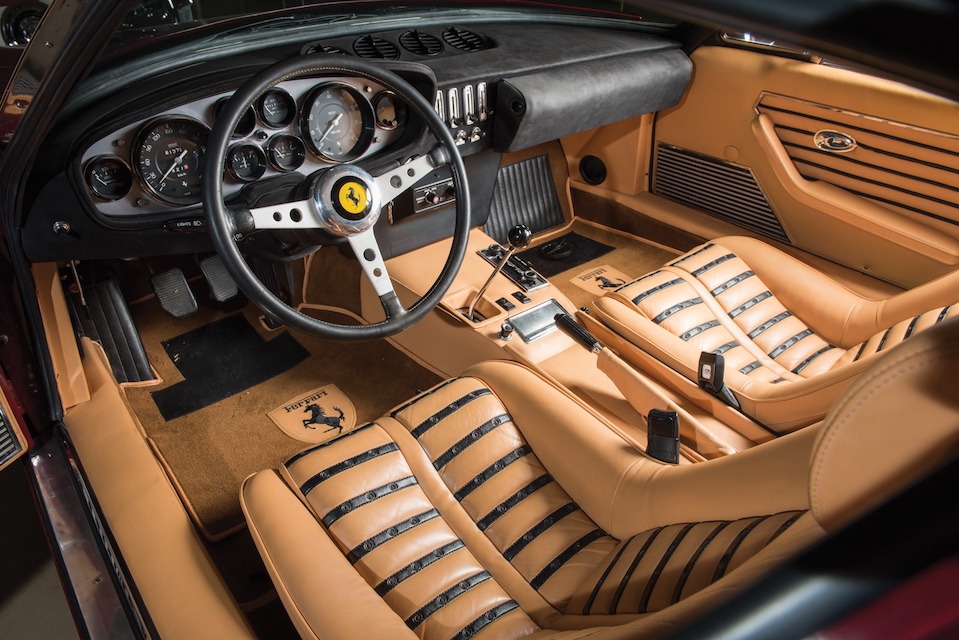 The Daytona 365 offered here is recorded as having been originally delivered in Italy, via the official Ferrari dealer Gastone Crepaldi of Milan, in 1973, finished in Argento Metallizzato (106-E-1) with a Nero (VM 8500) interior with grey seat inserts. As an original European-specification car, it was factory-equipped with a less restrictive exhaust header, allowing the superb V-12 to produce roughly 25 horsepower more than a U.S.-specification Daytona. It was also optioned with air conditioning, a feature rarely found on "Euro-spec" Daytonas, and one which it retains to this day.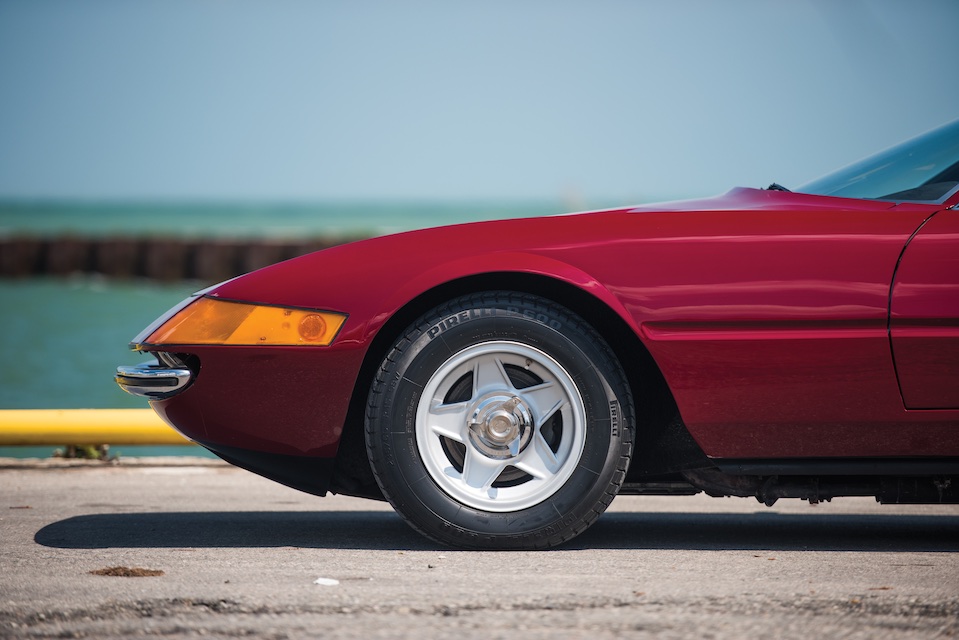 In 1977, the car was brought to the United States with its acquisition by Ted Waibel of Lakewood, Colorado; at the time, it was finished in metallic blue. Subsequently legalized by David Kehl, it remained with Mr. Waibel until 1984 and was sold that year to Bob Panella of Stockton, California. The Daytona 365 next passed to Bruno Bori and to another collector, both also in California, remaining in the latter's ownership for a full 15 years. Finally, in 1999, it was sold to Carey Kendall's CLK Vintage Motorcars of Santa Barbara, California. Two further Golden State owners followed, most prominently the well-known enthusiast and prominent member of the California motoring scene, Larry Alderson of San Juan Capistrano.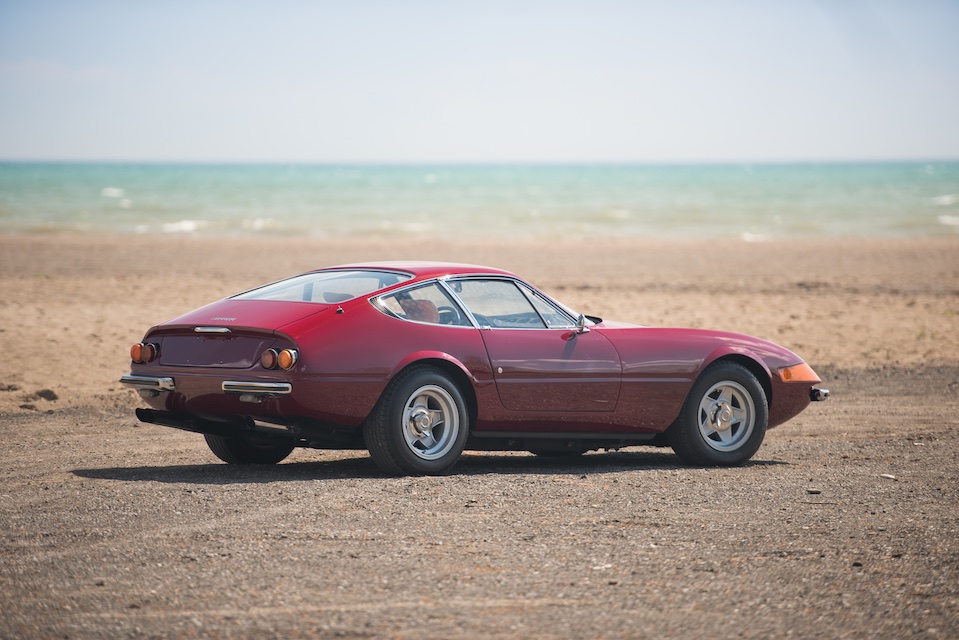 The Daytona 365 had by that point been refinished in Rosso Rubino, the shade that it wears today, an original Daytona color and arguably the most flattering factory hue, and the interior redone properly in tan leather. Both have been well-maintained in the car's more recent ownerships in Canada, most prominently with a well-known collector in Ontario who has treasured the Daytona and admired it for several years.
Inspection of the car shows the paint and interior to be in beautiful condition; under the hood is well-presented, with correct hood quilting, Framm air filters, and crackle-finished cylinder heads. The air conditioning system is still intact, as is a Becker Mexico radio and aftermarket seatbelts, and the glass all around is correct Securit panels, clear and beautiful. Panel fit throughout is very good, with the doors closing as a Daytona's doors should. The wheels are iconic Cromodora "throwing stars" with an absolutely beautiful finish.
Work had been performed on the car in previous ownership by RM Auto Restoration, including minor detailing and repair throughout, rebuilding of the rear differential half-shafts, a re-coring of the radiator, and compression and leak-down testing, and it has been well-maintained since. Further, the car was recently driven by an RM Sotheby's specialist who spoke rapturously of its driving abilities, noting that "it runs and drives superbly." The car is accompanied by a correct jack in its leather bag, both manuals and their folio, and a tool set.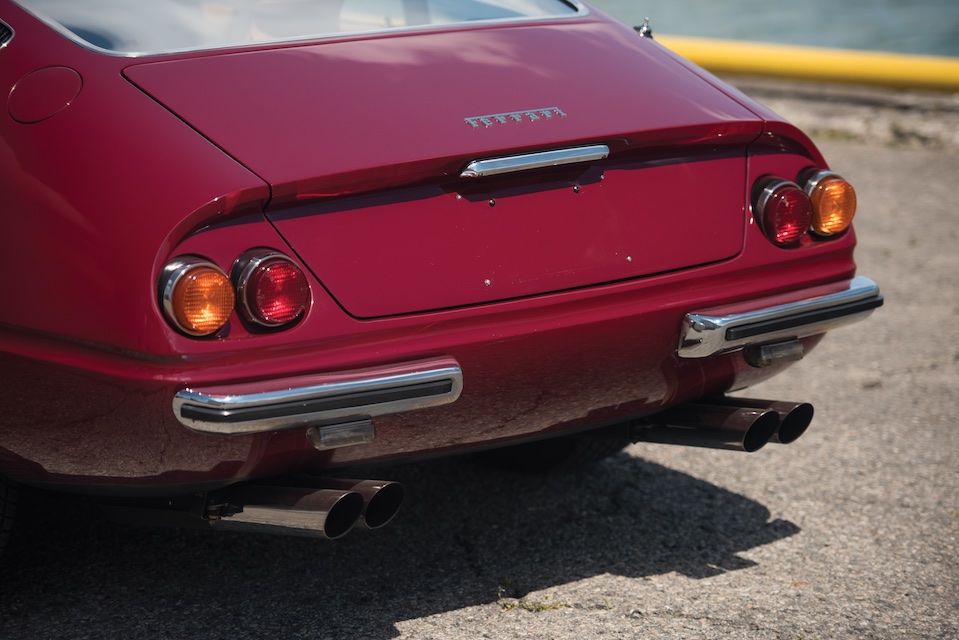 Neither over-restored to an obsessive standard or a worn-down driver, this is a beautifully presented, authentically detailed, historically honest, and deeply attractive Daytona that all but invites a new owner to slip behind the wheel and drive it home. It is a wonderful, satisfying Ferrari in every way and a car that RM Sotheby's is proud to present in the Motor City.
Editor's Note: Thanks to RM Auctions for permitting Monterey Car Week to publish this informative article and great photos of a 1973 Ferrari 365 GTB/4 Daytona Berlinetta by Scaglietti that will cross the auction block at the Motor City Auction July 2016.