Silver cars on their way to the silver jubilee: the Goodwood Festival of Speed, the world's largest historic motor racing event, celebrates its 25th edition from 12 to 15 July. Audi Tradition is participating in a fitting way with two silver-colored cars from its more than 100 years of history. An Auto Union Type C racing car from 1936 and a 1939 Wanderer Streamline Special will be competing in the event.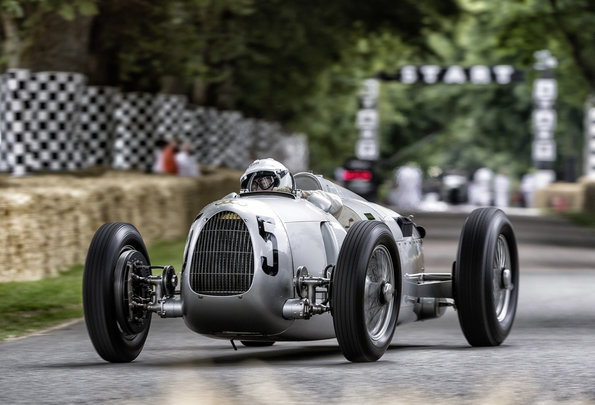 For the 200,000 visitors who are expected at Goodwood, the Auto Union Type C is an old friend – the model's presence at the Festival of Speed has always been one of the highlights of the event. With its 16 cylinders, 520 hp, top speed of 340 km/h and the engine located behind the driver, this racing car was viewed as a futuristic marvel when it was first presented in 1936. In the same year, Bernd Rosemeyer won the European driving championship and the German hill-climb championship. This year, Hans-Joachim Stuck will be taking the wheel of Audi Tradition's rebuilt Type C. It will be a very special moment for the former Audi Sport driver: in the 1930s, Stuck's father Hans was a member of the Auto Union team and when it came to hill races, he was almost unbeatable. Every time he drives a Silver Arrow, Stuck junior dons his father's original gloves and racing goggles.
Audi Tradition is also sending another jubilee guest of honor to the race track: the Wanderer Streamline Special will be presented for the first time at Goodwood. Eighty years ago, Auto Union AG enrolled three of these models for what was then the world's toughest rally, Liège-Rome-Liège. The car had to do at least 50 kilometers per hour over the entire 4,000-kilometer course. On this race of around 100 hours, the drivers hardly stopped except to refuel. These high demands on drivers and material took their toll: in 1938 only a third of the cars reached the finish and, in 1939, only 21 out of 51 did. Among them, the three Wanderer Streamline Specials from Auto Union. The company thus won the most important award for a works team: the brand ranking.