2010 Motorworks Revival
Published by Monterey Car Week (2010 Motorworks Revival)
By D. Brian Smith
Photography: D. Brian Smith
Monterey Auto Week gets underway every year with the Gordon McCall's 2010 Motorworks Revival at the Monterey Jet Center, a rip-roaring party on the Wednesday evening just before the big weekend. Revelers are always dressed to the nines. The jet and corporate aircraft, the vintage planes and helicopters, the classic, muscle cars, street rods, vintage sports cars and the creme de la creme of the exclusive new automotive brands, all the eclectic mix of motorized wizardry on display makes for a wonderful way to set the tone for this most festive week of automotive worship.
This is the second year that Monterey Car Week has covered Mr. McCall's Motorworks Revival, and we must say that it's our favorite automotive and historic transport-themed party that we've ever had the opportunity to cover. Being an automotive aficionado, Mr. McCall hand selects the vintage and custom machines that will be displayed each and every year. Then, he mixes in the exclusive corporate and private jet companies, in addition to the premium brand automotive clients, like Lotus Cars, Bentley, Audi, Saab/Spyker and Porsche to provide something for everyone to be dazzled by during the night's festivities. Given MCW's racing proclivities, you'll usually find us photographing or lusting over the vintage racing machines or the new offerings from Lotus and Morgan. But, of course, not far from MCW, celebrants might be checking out the new Audi R8 Spyder, to see how they fit, or maybe checking out a Bombardier corporate jet, after sipping a bit of the bubbly.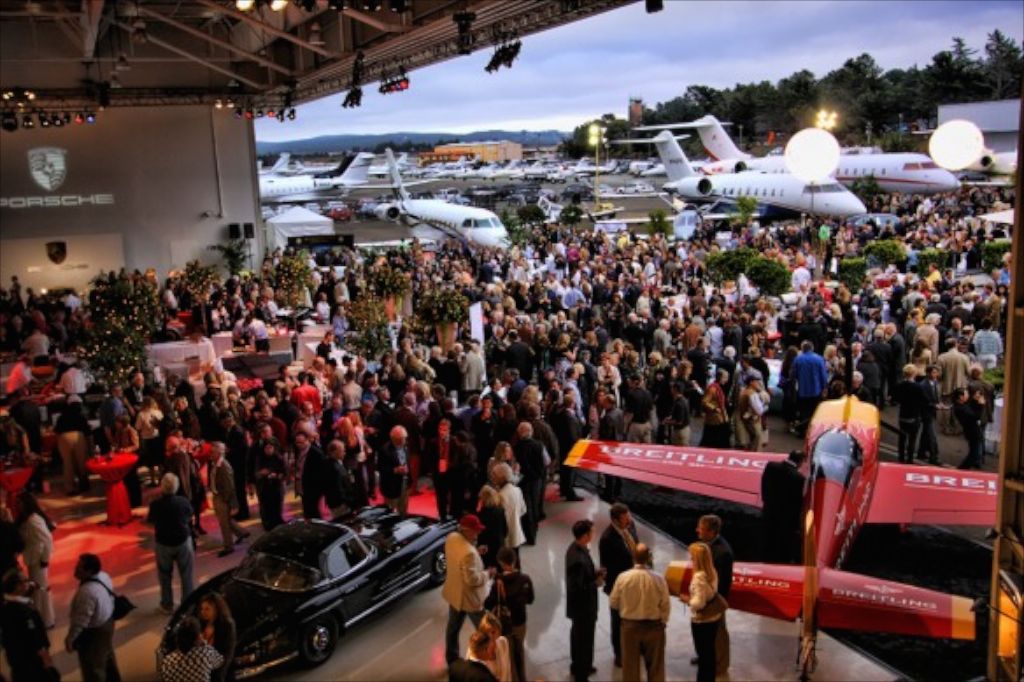 Whether you go to spot celebrities, view the latest offerings from the most exotic and intoxicating automotive brands or you simply wish to enjoy a comfortable evening with your auto, aircraft, and/or motorcycle-mesmerized friends, the Motorworks Revival sets the tone for living the good life in Monterey, if only for a week. Yes, Monterey Car Week spotted several stars from Hollywood. We recognized a handful of luminaries from the corporate world. We even had the opportunity to chat with some automotive racing and engineering living legends. As usual, there was so much to see, we couldn't possibly post everything on the pages of MCW. Like the Revival, we offer a diverse mix of what most captured our fancy on that magical evening at the Monterey Jet Center. For more information on this year's Revival and when next year's Monterey Auto Week kick-off celebration will take place, visit http://www.mccallevents.com/index.cfm/home.htm.